By Kingsley Adegboye
The Lagos Waste Management Authority, LAWMA has unveiled plans to construct 20 Transfer Loading Stations, TLS to serve 20 Local Governments and 37 Local Council Development Areas across the state.
The acting managing director of the authority, Mrs Abimbola Jijho-Ogun disclosed this at the second "Waste to Food" initiative programme held at Agege Stadium, Lagos last weekend.
'Waste to Food' is an annual event targeted at children during the holiday period that seeks to inculcate the waste sorting and recycling culture them (children) at the early stages of life". Mrs. Jijho-Ogun explained that the programme is to integrate children and corporate organizations into recycling initiative.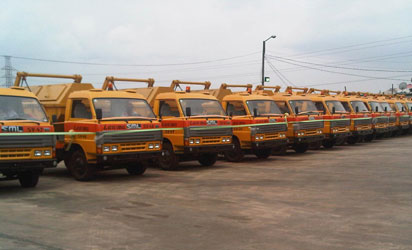 According to her, the success recorded last year and the need to reach out to kids in other areas of the state, made LAWMA to make the initiative an annual event.This year's programme which taught children the advantages of integrated solid waste management with recycling as the future of waste management, was organised in collaboration with UAC Foods and Coca-Cola.
The LAWMA acting MD maintained that the initiative will ensure that recyclable materials collected by children are rewarded with food and gift vouchers that are redeemable at designated depots. The approach is an incentive to encourage the children to participate actively in the recycling programme.
Jijho-Ogun said the introduction of the recycling initiative has seen LAWMA creating recycling banks across the State for the collection of papers, cans, aluminum scraps and plastics.
The LAWMA boss said the organisation has embarked on the production of green energy which is evident at the Olusosun Landfill site where it has developed gas well to manage and recycle municipal solid waste.
"As part of our drive towards clean and sustainable environment through modern waste management practices, the Authority has two Transfer Loading Stations, with the third one on its way. This is part of the plan to have 20 to serve the 20 Local Governments and 37 Local Council Development Areas".
The Oshodi Transfer Loading Station has the installation of healthcare waste treatment equipment which is first of its kind in West Africa sub-region that has a combined capacity to treat a total of 1000 metric tonnes of municipal solid waste and 24 metric tonnes of healthcare waste per day.