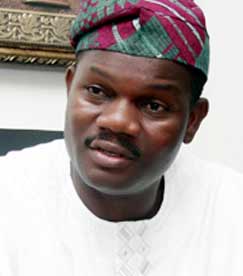 Ade Dosunmu
Lagos State Governorship Candidate of the People's Democratic Party (PDP) in the 2011 election and former Director-General of the Nigeria Maritime Administration and Safety Agency, NIMASA, Dr. Ade Dosunmu, MON, in this interview calls on the Federal Government to embark on holistic measures capable of engendering social security as a way out of the current security challenges facing the country. Excerpts:
By Bashir Adefaka
Nigeria was relatively peaceful and secured in the time of our founding fathers. How did we get to where we are?
When we refer to the time of our founding fathers, I want to believe you are referring to close to 50 years ago. Definitely you will agree with me that the situation is not the same in terms of population, diversities and awareness on the part of the citizens.
Another reason that could be responsible for this is that the world is now a global village and the level at which information are disseminated and shared is at an unprecedented rate. This may be responsible for the various terrorist incursions into our system. I also believe that these are challenges for a country that is developing. In the early 60s, the population of Nigeria was less than 60 million but now with a population of over 160 million and as the most populous black nation, we should have planned to address things like this.
What then would you say we are not doing rightly as a people?
It is obvious that the rate of our development is not keeping up with the expectations of the people in terms of providing for their psychological needs and taking care of their social pressures. We need to come up with a more robust and aggressive development plan that will address the challenges that usually come with development as a nation.
Agitation against marginalisation
This is not happening for the first time, it has happened to some other countries that have passed through our stage and we are expected to learn from them.
Islamists in North and militants in South are fingered as root causes of the whole problems. Can there be smoke without fire?
Going by my training, I don't want to assume that the insecurity situation in the country is purely religious or due to agitation against marginalization. Rather, I want to see it as a kind of revolt against the inability of the state to provide for the social-economic needs of the people.
Take for instance, developed countries like US, UK and Canada where they have good social security systems, which serve as succour to prevent social tension. If you take a sample of the budgetary provisions that these countries spend on social security schemes, it runs into billions of dollars or pounds depending on the country and the justification for it is in the ability of these schemes to reduce social problems like militancy, destitution, drug addiction and other forms of social vices that can threaten the existence of the state.
I want to say that the security problem that we have in Nigeria is a product of lack of social security. In developed societies, people, who are not employed, get paid to keep body and soul together.
In the case of Nigeria, such people may not necessarily be paid but holistic measures should be put in place to empower them to be able to do things for themselves. We have very adventurous people here who do not rely on the government. If you look at the population of those in the public service, they are not up to 10 million.
What is that compared to the increasing population of Nigerians which now is put at far above I50 million? What the people need is an enabling environment for whatever lawful businesses they are doing for themselves to thrive.
When government creates enabling environment for industries to thrive, people will be able to establish businesses. Investors will come in and put industries on the ground country whereby they will help themselves and at the same time help others by way of employment.
Boko Haram challenge: All the challenges by Boko Haram in the North-East and militants in the South-South are as a result of lack of social security. If, for instance, the power system is working fine and young people are occupied in doing things for themselves: artisans, hairdressers, welders, and small businesses that people have the capacity of doing will be able to go on smoothly.
Updated position
The country also has the issue of population explosion on its hands. Yet, there is no effective planning to get updated position of our population figure to aid the job of budgeting. How then do we have effective budgeting?
Before you do budget at all, our national planning office should have been able to know our population accurately, and then forward same to the budget office which will put together the budget that the planning office will use in a way that the generality of Nigerian masses will benefit.
See the number of students that seek for admission in Nigerian universities; how many of them actually get admitted? And it is so because there are no adequate facilities in the university environments to accommodate them. In a society where the planning office works effectively, all these should have been detected ahead of time and provisions made for them.
If you also look at the programmes that are run in the universities, many of them are not arranged in accordance to the needs of the industries. You see, where people offer Arabic, Philosophy, Yoruba, etc, which are okay but do not really go with the demands of the industries in need of services of graduates, what you would have is unemployment like we have currently. In essence, I am saying that the majority of graduates that our universities are producing nowadays are not employable. What the industries need today in the world is in the range of engineering, medicine and some in the arts.
An effective planning will check this wastefulness from the standpoint of admission to the arrangement of courses and programmes. Students can still be made to study Arabic, philosophy, etc, but not in the higher percentage as may be required of engineering, medicine and others.
What is your suggested panacea for the security problems?
Our government at all levels must take serious look into the issue of planning for our teeming population of young Nigerians who have a lot of energy that should be channeled to productive areas.
There is no doubt that our rate of development is not commensurate with the growth of our population while our population grows at geometric progression the former grows at arithmetic progression thereby leaving a lot of people un-catered for. What the government needs to do is to focus on creating a conducive and enabling environment that will make private sector and small and medium-scale enterprises thrive.
So, rather than people waiting for employment from government they can be self-employed. The government also needs to come up with intervention fund that will assist young people who are desirous of establishing their own businesses to assess funds with minimal hindrance.
President Jonathan's presidency is said to have put more money to projects than his predecessors but that his administration lacks monitoring. What is your take on that?
Mr. President has done what is needful and because he is not the governor of any state, you cannot expect him to be everywhere. I think he needs to have his own independent monitoring agents, who will feed him with information regarding the progress of work on each and every aspect of the projects he is funding.
Once the people in charge of executing those projects are aware of the fact that the president is getting direct situation report other than the one they conjure to him and once they know that the president is going to take a bold step at firing anyone who fails to deliver, they will sit up and things will change.
On why he congratulated Governor Babatunde Fashola after the 2011 election
The main reason I contested election was to enable me render service to my people and I mean the people of Lagos State. But let me tell you one thing, in every contest, there can be only one winner. In every election, there is always one winner. The Independent National Electoral Commission, INEC, conducted the state governorship election and in Lagos, in their own judgment they said it was Babatunde Fashola, who emerged as winner. What do you expect me to do since I do not believe that politics should be a do-or-die affair?
So, it was naturally needful that I congratulated him which was what I did. True, people from my party did not really like it, but now we can all see the sense in my allowing things to go peacefully. If I had gone to court at that time, the truth that has revealed today about the inability of the Action Congress of Nigeria, ACN to run a people-based government would not have come naturally.