By Ben Agande
Abuja—The Inspector- General of Police, Mr. Mohammed Abubakar, yesterday, charged the Rivers State Police Commissioner, Mr. Joseph Mbu, to be a professional police officer by providing safety and security for the people and development of the state.
He also said that the police should not be dragged into the politics of states.
Addressing State House Correspondents after paying the traditional Sallah visit to President Goodluck Jonathan in Abuja, Abubakar said: "We are not politicians, we cannot be brought into the politics of this country. Professional police officers are supposed to do what they are supposed to do: to protect lives and property  and that is why we remain where we are and we charge the Commissioner of Police (Mbu) to be a professional police officer by providing safety and security for the good people of Rivers State and for the development of the state."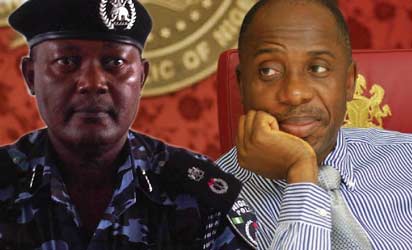 On the dismissal of a police Sergeant caught on video, while  extorting a motorist in Lagos, he said same was to send a strong message that he would not preside over a corrupt police force, noting that the fact that the police officer was caught in the act meant that he did not deserve any punishment less than what he got.
He added that the dismissal of the Sergeant  was an indication that the police authorities closely monitor the personnel to check their misdemeanour.
He said: "You can see that we are information technology compliant. We know what is happening on YouTube, we know what is happening all over the world. And because we believe that we have to do what is right, we warned our officers and men, sometimes we set them up, to ensure that we catch them in the act. And whoever is caught in the act is dismissed.
"There is a process that is on-going. If the man involved is willing and ready to give evidence in court, the dismissed police officer will also be charged to court."
Speaking further, he explained that the peace being experienced during the Sallah celebration was as a result of collaboration between the police and other security agencies as well as the cooperation of Nigerians in fighting insecurity in the country.
"We want to thank Almighty Allah for His mercies, for His grace that the country is becoming more peaceful than ever before. We shall continue to pray and I want to use this opportunity to thank Nigerians for their support, cooperation, partnership in fighting crime and criminality in the country," he added.