By Austin Ogwuda, Asaba
MINISTER of Agriculture and Rural Development, Dr. Akinwumi Adesina, yesterday narrated how the present administration stopped politicians from hijacking subsidized fertilizers meant for genuine farmers, describing the high level of corruption devised by the politicians-turned farmers as incipient.
He stated this in a paper presented at the on-going Nigerian Guild of Editors Conference holding in Asaba, Delta State, titled, 'Agriculture: The Value Chain Road Map' as contribution to the theme of the conference 'Nigeria Beyond Oil: Role of the Editor'.
His words, "the backbone of any agricultural revolution is access of farmers to modern agricultural inputs, especially fertilizers and seeds. For decades, successive governments in Nigeria procured and distributed fertilizers.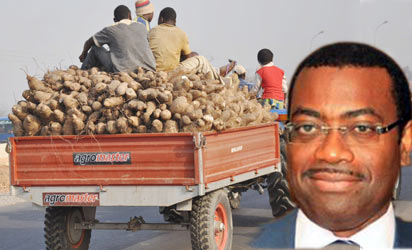 "The government system was corrupt and undermined the private sector. It did not deliver fertilizers to genuine farmers. Instead, rich and powerful political farmers hijacked the subsidized fertilizers. As a result, no more than 11% of all the farmers in the country got the fertilizers distributed by the government.
"Corruption was incipient, as sand was mixed with fertilizers and sold to government, payments were made for fertilizer not supplied, and subsidized fertilizers were resold back to government, with a lot more sold off to the neighbouring countries.
"To put it bluntly: government was not subsidizing farmers; instead it was subsidizing corruption. Farmers' powerlessness worsened as high quality seeds and fertilizers they need to raise their farm productivity were taken over by the elite, the rich and politically powerful. For the few fortunate farmers that got fertilizers, they often got them in bowls, like beggars. Farmers lost their dignity.
"But we have changed all that. Within the first 90 days of this administration, we ended the forty year-old fertilizer sector racket and corruption. The old system of government buying and selling fertilizers was scrapped, and all fertilizer companies were required to sell directly to farmers, not to government warehouses. We embarked on the Growth Enhancement Scheme (GES), which provides subsidized farm inputs directly to farmers. To reach farmers directly with seeds and fertilizers, we developed the Electronic Wallet System, which allows farmers to receive subsidized electronic vouchers for their seeds and fertilizers on their mobile phones."
"The system", she went on, "bypasses middlemen and reaches farmers directly, with no government distribution. Nigeria is the first country in Africa – possibly in the world – to develop the electronic  wallet system for targeting farmers with subsidized farm inputs.
"The system worked successfully. In 2012, 1.5 million smallholder farmers got their subsidized seeds and fertilizers using their mobile phones. This impacted on 7.5 million persons.To expand and reach even more farmers, we embarked on the nations first ever registration of farmers. This year, we registered 10 million farmers. Farmers now have identity cards that allow us to use their biometric information to target them more effectively.
"So far in 2013 over 3.4 million farmers have so far received their subsidized inputs via the GES program and Electronic Wallet Scheme. We expect to reach close to 5 million farmers by the end of the dry season", she stated.
Subscribe for latest Videos