BY UDEME CLEMENT
As the on-going reform in Nigeria Customs Service (NCS) completes four years in August 2013, stakeholders are of the opinion that the reform has impacted positively to promote professionalism and efficiency, even as it tranformed  NCS to operate in line with global trend.
The Customs Area Controller (CAC), of  Tincan Island Command,  Comptroller Zakari Jubrin,  who has spent 31 years in Customs, serving in Apapa, Seme, Bauchi, Cross River state, Abuja, MMA2, Port and Terminal Multi-Service Limited (PTML) and other Commands, speaks on  what Nigeria's economy  stands to benefit from the reform in NCS.
August 2013 marks four years of tremendous  reform embarked upon by the Comptroller General of Customs, Dikko Inde, in the Service. What are the economic benefits of such reform?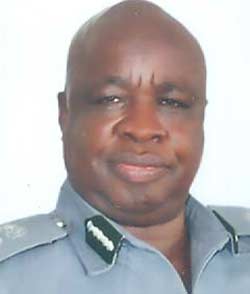 To start with, the on-going reform has transformed every aspect of Customs operations, in terms of revenue generation for government, the anti-smuggling campaign, in-depth capacity building, Information Communication Technology (ICT) and other areas. The Service through the initiative of the current CG has been restructured in such a manner that makes Nigeria to gain international recognition for best practices in Customs operations.
You mentioned revenue generation. Can you give us statistics in naira and kobo about the current revenue profile of NCS?
At present, Customs generates over N100billion every month for government. It is important to note that before the managerial framework of the current CG, the revenue profile was only N30billion monthly. You can see the astronomical increase in revenue collection compared to what obtained before the reform.
For instance, in Tincan Command alone, we raked in over N127.3billion from January to July 2013. We  also recorded seizures with Duty Paid Value (DPV) of N355.2million between January and June this year. Some of the seizures include furniture, printed wax, television sets, bags of rice, automotive batteries, used clothes, generators, used tyres, lace materials, and cartons of whiskey among many others.
Aside from revenue profile, what will you say are other outstanding achievements of Dikko in his four years reform of NCS?
In the area of capacity building, Nigeria is one of the best in the world now. For example, the Customs College in Abuja has world class standard and even people from other African countries come here regularly for training programmes. I can say categorically that NCS in the last years has trained about 80 per cent of officers within and outside the country in different Customs procedures, which include e-processes of all relevant documents for operations, risk management, and other skills needed to facilitate trade for more productivity in the economy.
As the officers are being trained, they are also promoted as at when due. If you get to three years and pass your examination, you a re promoted without any discrimination.
Also, aside from facilitating trade in line with international standards, we are working tirelessly to police the borders in order to curtail influx of offensive goods into the country.
For example, we had cases where the MMA2 Command intercepted air pistols loaded in many cartons. Such prompt action prevented those dangerous items from being circulated in the country. A recent example is the interception of 56,750 rounds of live ammunition by Oyo/Osun Customs Command. Imagine the danger, if such offensive items had gone into our economic ambience un-checked. That is why we are commending the insight of the current management in restructuring the Service.
This is because hard work and intelligence brought to bear in Customs operations by officers steamed from regular training and improved welfare package for them.
The NCS is working hard to prevent proliferation of small arms and light weapons in the country, while also seeking collaboration with Customs administrations across the world as well as other relevant agencies to curb criminal activities at the nation's borders.
The records are available for people to see. This is the first time in the history of Nigeria that Customs experienced tremendous reform, which has repositioned the Service to an enviable position in the world. The on-going reform in the Service is outstanding and laudable.
The current management by Dikko has the best records in the history of NCS. Customs reform in the last four years has not only repositioned Nigeria 's economy for greater growth but has impacted positively on the entire West African Sub-region.  For example, the Customs College in Abuja is adequately equipped to deliver world-class capacity building programmes for officers in Nigeria and within the sub-region.
Dikko made history as the first Customs CG to address over 1,000 stakeholders made up of importers, manufacturers and agents in Lagos trade fair. He is also the first Customs Boss to embark on border community projects like provision of boreholes, clinics and schools, with a view to ensuring development of border communities.
Can you give us more insight into Customs migration to Single Window platform?
The current CG initiated Migration to the Single Window platform, which allows parties involved in trade and transport to lodge standardised information and documents with a single entry point to fulfill all import, export and transit-related regulatory requirements.
Before 2009, capacity building for officers did not receive the deserved attention because the training was limited to ASYCUDA and refresher courses in Kano and Lagos training Colleges. Later, a department of Human Resources Development was formed by the CG. So far, the department has completed the training of over 18,036 officers, both locally and internationally.
Many officers benefited from trainings in the US , Japan , Switzerland ,,South Africa , Hong kong and other countries, which contributed greatly in transforming the Service positively to what we have today. My advice is for smugglers to desist from illegality and allow sanity in our economic environment. The media should partner with Customs to check criminal activities in our country.