By Helen Ovbiagele, Woman Editor
There were no dry eyes in our group when we discussed the story of 24 year old Gloria Asuquo, who was diagnosed HIV positive which she had got from blood transfusion, at the tender age of 12, and who sometime later, had thought that death would be the best option for her situation.
The report of a chat Vanguard Health Editor,  Sola Ogundipe, had with her in Abuja the other week, could melt the stoniest heart.
She was preparing to go to JSS1 when she was diagnosed.  There were drugs to control the condition at that time but her family was too poor to afford them.  Her father, however, was determined to do his best to purchase what he could for her, but the mother protested this because she thought it was a waste of scarce money to spend on someone who has  'already been condemned to death'.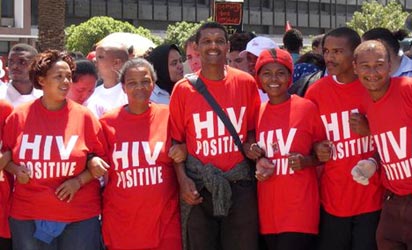 The woman sought counsel from the pastor of their church, who was reported to have announced Gloria's status to the community, and who advised that she should be taken to one of the general hospitals and abandoned there to die. Her father refused, asking the pastor if he would allow similar fate for a child of his.   However, at home, she was separated from the rest of the family, and apportioned a part of the house to live in by herself.
When the stigma was too much to bear, she reportedly broke through a window and escaped to an unknown village to live in the bush. She just wanted to die.  She found her way to Jabi Park in Abuja.  She had stopped taking her drugs, and it was like life was collapsing around her.  She went to NTA  and shared her story.
Fearful about how the exposure would affect her young life, she said the staff there asked her to cover her face while narrating her story on screen, but she refused saying she wanted everyone to know what has killed her if she died from the condition.  What a brave heart!
God must have blessed that effort of hers not to disguised her ailment because she later met a Dr. Anthony Agu a lecturer at the University of  Nigeria, Nusska, who took her to live with his family, enabled her to continue her education and in 1996, she completed her studies.  Dr. Agu then told her that drugs had become free.  So she went to Gwagwalada Hospital, was placed on the relevant drugs, but she said she never went back home.
Other medical professionals looked out for her to help her too, but it was Godwin Odemijie of Radio Nigeria who went to look for her and brought her back home, and that today, she's a testimony in her family, and there's no event on the condition at which her opinion is not sought.   We thank God for all the people who were used to encourage her to live and have hope for the future.
She's pleading with the authorities and anyone in the country who can help, to make the relevant drugs accessible to all HIV positive people, especially young people and women who are the most vulnerable, and helpless.  She would want to become a medical doctor so that she can help find a cure for the condition.
At only 24, she still has many years ahead of her, by the grace of God, to do all that her heart purposes to do, but would one call those who thought that death was the only thing that she was entitled to at the age of 12, heartless?  Certainly not!  Her dad was unfailing in his support for his daughter, but the mother also loved her too.
In a village, access to correct information about 'strange' medical conditions is zero, even now.   When the HIV condition was diagnosed on these shores, people recoiled with horror from victims because the first information about possible cause was that it was got through sexual intercourse.  You can imagine the reaction of the families of young unmarried girls who were diagnosed the condition!
It could only mean that the girls had been leading a sexually promiscuous life!  Now we know that it could be contracted through unprotected sexual intercourse of any type, blood transfusion, shared needles for tattoos, drugs, or even used syringe needles for injections at hospitals, or at laboratories.  Shared toothbrush could be risky too, due to likely bleeding gums.
In those early days too, people believed that hugs, handshakes, using the same plates and cutlery, toilets, beds and chairs with a victim, were all contagious.  It's been proved that this belief is wrong. Thank God for that.  If Gloria's mum, relatives and her pastor, etc. had known this, I'm sure she would not have been treated by them like an outcast, and someone destined for early death.
The truth is, the condition knows no race, age, or social status, and it isn't something you can diagnose merely by looking at someone.  A blood test has to be done to determine a person's status.
At present, the condition and the sufferers are no longer dreaded as before, by many of those who dwell in the urban areas of our country.  This is thanks to the efforts of  NGOs on the condition, who, in partnership with the media, have been using seminars, conferences, talks at grassroots level, in schools, at motorparks, and market places, to educate people on HIV, and how to relate with victims.
Prodded by these organizations, the government has been trying its best too, to educate citizens, and bring help and relief to those affected, and to their families.  Some religious bodies have been helping too by bringing in experts to talk to their members.
Still, there's a lot more to be done, particularly in the rural areas, before we can be satisfied with the control of the condition.  Citizens should be sensitized to the need to go for blood tests, which should be free in all government health institutions in the country.
Right now in Lagos, where many parents who want nannies and house-help know that it is important for those they employ to be tested for HIV and Hepatitis B first, the fee is two thousand naira for each test in private hospitals.  In my view, this is too high.
Not every home which needs a domestic for young children can conveniently afford this; as they may have to pay for more tests if the first person proves positive.  The Ministry of Health should ensure that private health institutions can do these tests for five hundred naira at most.
Then there should be ready counselling and immediate supply of drugs for those diagnosed positive in any hospital – private or public.  The giant of Africa can easily afford this.  Public money is not just there for those who serve in any capacity to line their pockets with.  It is there to be used for the good of all citizens, rich or poor; high or low.
Instead of investing in frivolous projects which usually end up abandoned after the tenure of the initiator, we should invest in the good health and welfare of Nigerians.
Subscribe for latest Videos