By Ebele Orakpo
Mr Amed Demirhan is the Director of Library Services at the American University of Nigeria (AUN) in Yola. In 2006, he started the first digital library in the University of Kurdistan, Iraq. In November 2011, he moved to AUN as  Director of Library Services where he has transformed the library from a traditional library to a digital library and now, AUN is about to unveil its new smart library, all in a bid to go green and make education cheaper.
In this chat with Vanguard, Demirhan speaks on how the institution, strongly supported by its President, Dr. Margee Ensign, is leading the movement toward digital libraries around the world. He says if AUN could achieve this to become Africa's only global library, other institutions in Nigeria can achieve that too.
Excerpts:
According to Demirhan, AUN is doing something unique in the area of library services not just in Nigeria, but internationally. Recently, the AUN e-library project received the American Library Association's (ALA) Presidential Citation for Innovative International Library Projects. One of the reasons given by ALA for choosing AUN was that AUN has created a digital library model for other libraries that is affordable, sustainable and increases availability of resources for users.
"We are applying information technology both to organisational structure, space and collection. Those are the things that created the magic. So that was why this year (2013), the AUN was selected as one of the best innovative international projects in library and I think every Nigerian should be proud of that. Also, a publication by The Guardian of UK singled out AUN, along with Oxford, New York, Manchester, and six other universities around the world, for its extraordinary achievements.  It was the only African library to make the list.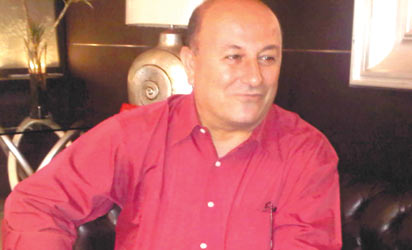 "This is really bringing us close to the founder's dream of creating efficient, functional, competitive institution that could be replicated all over Nigeria and Africa. We are not saying we are doing this because we are better than everybody else, we are saying we are doing this and we can prove everybody else could do it.
We want every university, every school in Nigeria to know they can do what we are doing regardless of their resources because this did not cost a ton of money. We create sustainable, affordable libraries. In the last two years, we have moved from traditional to digital and now to smart library. We are constantly improving. Only very few universities in the world have done it."
Advantages:
"A smart library is basically like a smart phone – multi-functional, efficient, has more services and because you deal with e-resources, you don't need too much space, so we have more space to add more services. We use more mobile applications. For instance, the scanner, desktop computer, laptop, photocopy machine, and telephone have been replaced by smart phones, tablets and netbooks, thus providing a new level of efficiency and effectiveness. It saves money, more environment-friendly, consumes less electricity and takes up less space.
We have a business and entrepreneurship centre, radio and television studio, communication department, all located in the library. That is why it is called smart library. That is efficient use of space and we did not spend so much money to get to where we are. We spent much less than what the Petroleum Trust Fund gives to a university library in Nigeria. Every library gets about N30 million from the fund. Almost every university is erecting new buildings; but if they can put that money into tablets or other devices, every university with the cost of one building, can become an AUN as far as e-library goes.
"We used to pay about $11, 360 for 76 newspapers and magazines plus the cost of handling, displaying and archiving them. With that money, we can buy tons of e-books and thousands of e-journals. So e-learning is money saving, it is effective and that is why I am saying this is an equalizer for developing countries. It is not magic. When I talk with others from universities in Nigeria, they tell me 'you have all these resources because you have all the money. The issue is really nationally critical for development," he said.
"An organisation visited AUN and observed that the whole place was so organised and clean and I tell them 'look, the people who do the job are Nigerians, they are not from the moon so Nigerians work for you and work for us too. So if they can do this for us, they can do it for you too. It is so simple. But the difference is not being Nigerian or American or Japanese or whatever; the difference is organisation, functionality and efficiency. That is the key and everyone can do it," said Demirhan
Community service:
"The use of the latest technology has dramatically increased both the library's e-collections, and user access (24/7), regardless of location.
"The community benefits from our Open Access resources. We offer them training on how to use resources and evaluate them. Open access is the best investment for expansion of global education and development. Through that, we are able to help other Nigerian universities and independent researchers. In 2012, we trained 147 faculty and administrative staff from the Federal College of Education, Yola and 20 faculty members from Modibbo Adama University of Technology, Yola. As at today, the library has subscribed to more than 210,000 e-books. This is more than most university libraries' e-book collections in America.
"People in the community who want to start their own business can come to our entrepreneurship centre in the library and get free advice and may be application forms."
Subscribe for latest Videos