By Victor Gotevbe
Henry Ogbemudia with a stage name 'XSOD Brown' is  multi-talented and he specializes in anchoring corporate events and executive mirror painting. The self acclaimed Executive Finest Comedian (EFCC) and the special adviser to the president of the federal republic on humor matters believes that arts is making a huge difference in our society. Excerpts:
Please tell us about your background
I am from Edo State, Nhude Local Government area of Benin city. I was born in Bauchi State into a Christian family as the 6th of 8 children. I began my educational journey in Sanya Grammar School where I had both my Primary and Secondary School education, thereafter, I proceeded to the University of Lagos where I am presently Studying Business Administration.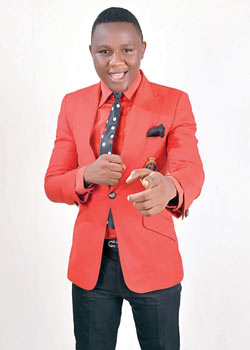 I am a devout Christian, and I am equally associated with several religious and philanthropic organizations. I am single but not searching.I started my painting career in 2004 and later diversified into comedy professionally after being exposed to the money making aspect of the talking business by Emeka Smith.
What has been your greatest motivation in life?
God through the agency of the Holy Spirit has been and will always be my motivation. Also, the burning passion to turn sorrow into laughter by sharing rib-cracking jokes that deliver the solutions to people's problems..
What makes you stand out in the creative arts?
The reason I do creative art is because mirror painting is the only tool through which I believe I can showcase the beauty of life. Also, I wanted to make a difference, rather than do oil painting on canvass and wood, I resorted to mirror painting. Having reached that conclusion, I met a pastor friend who fed my desires with the basics and since then the rest is history.
I love mirror painting because of its uniqueness, originality, style and class. Mirror painting is something you can't find anywhere in the world except in Nigeria and I am one of the originators. I usually give an example when I am talking about the uniqueness of mirror painting. If you have a plastic cup and a glass cup in your house. Which will you prefer? You'll certainly choose the glass cup over the plastic cup because it's unique and expensive. I don't believe in having it cheap. This is one of the factors I considered before going into it.
You are also in comedy, could you tell us about this and how you are thriving in the industry.
Through comedy I have not only traveled to over 10 states in Nigeria but I've been privileged to mount the stage of almost all the biggest comedy evenst in Nigeria along side one of the brightest stars in the nation and continent including AY Live, Stand Up Nigeria, Night Of  A Thousand Laughs etc. Apart from emerging second rumour up in AY Open Mic National Comedy Challenge, I have anchored top – events like MTN End Of The Year Party Cassie Group. Recently, I also anchored the wedding  of Governor Chibuike Amechi's younger brother.
More also by leveraging on comedy I have been able to customize mirror portraits for high profile personalities like Senator Leye Imoke, Governor of Cross River; Governor Mimiko of Ondo State, Dele Mamodu, Bishop Oyedebo of Living Faith Int. Including great acts Tu Face, Dbanj, Don Jazz, AY, Ali Baba, Yaw, KC to name but a few.
For an emerging entrepreneur like yourself, what challenges do you face doing business in Nigeria?
Like other businesses, lack of access to sophisticated machines that will make mirror painting easier.The cost of advertisement on the right platform which is best used by the premium target audience of work. Getting an art gallery to display my work in the right environment. Again, people have not started "appreciating it" that is  paying for the correct value.
In what way are you giving back to the society?
What else? Rib-cracking Jokes… I have a non-ticketed gospel comedy platform called Laugh Bus Stop where I bring top comedians and resource persons to entertain and empower young people, thus channeling their energy and focus forwards a better future.
Any advice for other young Nigerians who want to tow your line of  business?
Don't wait for what your country will do for you to move forward, always look for what you can do to move your country forward. Look for a need & meet it. There's nothing in this world that is unachievable. There's no such thing as lack of resources, but only lack of resourcefulness.  Like my "Oga at the top", Victor Gotevbe, would say "think big, start small and grow fast".
Do you think your skills are marketable internationally?
Let me ask first this rhetorical question: which do you prefer, good quality or bad quality? I bet you have good quality; good clothes, shoes, cars, furniture, food and accommodation. The same thing applies to mirror painting. It is of superior quality, style and class compared to oil and other forms of painting. It serves a dual purpose too; you can use it as an art work to beautify your home, office and business environment and at the same time use it as mirror to check yourself up after dressing.
You can still use mirror painting to tell stories and share the corporate vision, mission and objectives of your organization with your target and fence. You can also use it to do partitioning that will inspire your staff to produce more results. I see the possibilities of walking into firms in countries like America, France, China and so on.
I also see my name inscribed in the portraits of their countries' presidents rather than the regular photography we usually see. Finally, with regards to the market ability aspect of mirror painting, I see the prospect of mass producing and selling the portraits of presidents, governors and celebrities world wide. To achieve this, I hope to stage art exhibitions in different countries  to further promote, sell and internationalize the work and brand.
YOUNG NIGERIANS MAKING THE DIFFERENCE
MRA/IofC organizes Trust Building Forum
Moral rearmament/Initiatives of Change hosted its monthly forum at its Ikoyi centre last Saturday, August 17, 2013. The forum focused on the Power of Trust Building with several professionals in attendance.  Mr. Oluyinka Adeoti, a volunteer who concentrates on Youth Development and direct mentoring and who uses the tool of speech to speak to mixed audiences with preferred informal mood led the session creatively. Mr. Adeoti also works with the Travel Section of the United States Consulate. Participants came out  of the meeting realizing that the glue that holds all relationships together— including the relationship between; the leader and the led is trust, and trust is based on integrity.
The movement has scheduled  free trainings on Project Management on September 21 and 28, 2018 which will be anchored by a Project Management guru (Eyitayo Ogunmola) and Information Management on a later date.  Meanwhile, Saturday, August 31 will hold at the Ikoyi centre  as it is being set aside for MRA/IofC Volunteers' day.
Subscribe for latest Videos