By Charles Kumolu
…We'll send him back to Lagos
Senator Akinlabi AbdulRasheed Olasunkanmi is a PDP governorship aspirant in Osun State. He was a Senator between 2003 and 2007 and later served as Minister of Youth Development in the Yar'Adua/Jonathan regime for four years. In this interview he speaks on the PDP in Osun State and the elections of 2014 and 2015.
What are your expectations from Governor Dickson's Reconciliation Committee?
The establishment of that committee is one of the smartest moves by the PDP in recent times. Before its establishment, everything was heated up. The crisis in the PDP was getting to a boiling point. But you can see that within a short time the tension is coming down. The crisis in Ekiti has been stemmed if not completely resolved. That of Anambra State is already being nipped in the bud. I am sure that if the Committee continues with this vigour and pace normalcy will be returned to the PDP nationally.
What is the nature of the crisis in Osun State and how easy would it be for the Committee?
Osun State PDP is relatively peaceful. I don't think the Committee will have any major assignment to carry out on Osun. The party is one and the chairman is Alhadji Gani Olaoluwa who is doing his utmost best to ensure that the party remains one indivisible entity.
There are four of us who have indicated interest in contesting for governorship next year and we are all working hard to get the party's ticket. Aregbesola is our common enemy and we have resolved among ourselves that he must go back to Lagos next year. So, there are no factions.
On which side of the divide are you in the national politics; Is it Obasanjo or Jonathan?
That question may not be necessary because both of them are national leaders and statesmen who are on the side of Nigeria. And if we are talking about partisan politics, I am very certain that both of them are on the side of our party; PDP.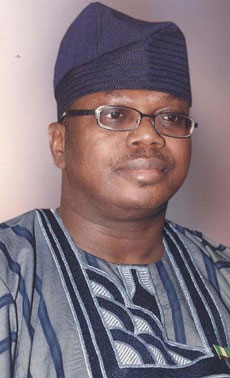 President Jonathan recently visited former President Obasanjo where he said he was a son to the former President. My only prayer is that God will touch the heart of the gladiators who are magnifying the perceived differences between these two leaders.
Is it true that Osun PDP has endorsed President Jonathan already and has gone ahead to open a campaign office for him in Osogbo?
I am not aware of another endorsement by Osun PDP. But, I was actively involved in the South West meeting that took place at the Airport Hotel in Lagos where the entire zone adopted him for a second term. I am very certain and categorical that Osun State PDP leaders and stakeholders have not held another meeting for this purpose. As for opening a campaign office for the President in Osun State, I think that will be putting the cart before the horse since Mr. President has not formally pronounced or declared that he is contesting.
For the records, don't forget that I coordinated his campaign in Osun State in 2011 when I was a Minister that represented him in Osun State. If you ask me whether the President should contest for a second term in 2015, my answer is in the affirmative.
What gives you the confidence that you will be your party's candidate and go on to win against Aregbesola?
Fair is fair. From my party I believe I am the most qualified and most experienced to fly the flag. I have served this country as a Senator and also privileged to have served as a minister. I have solid academic background and nothing about me is shrouded in controversy. I served without blemish. I am a very compassionate person and a bridge builder who loves Osun State with a passion. Since my party seriously desires to win back Osun State I believe they will do the right thing by giving me the ticket through democratic means.
I firmly believe that we have to return Osun State to the path of rectitude. Osun State government under Aregbesola should stop treating our people with disrespect. The government should be more humane in its programmes and allow some real human feelings to prevail over physical development.
The entire Urban Renewal Programme has been carried out without government's sensitivity to the feelings of the people of Osun State. It was wrong for the government to start demolishing homes and businesses of the people before consulting them. But the government said it has paid compensation to the tune of several millions of naira to people whose properties were demolished.
The government has been playing politics by publishing different figures as compensation to owners of properties whereas evidence shows that most of the affected people are yet to be paid anything. I have challenged the government to publish the names, addresses and the amount paid each affected individual for verification and authenticity of such payment claims.
Since the beginning of the year, different officials of the Osun State government have announced different figures like N54m, N132m and now N600m as compensation already paid out. If these claims are true, the government should douse tension in the state by making public the list of all those that have been paid.
But when real compensation would be paid, every citizen should benefit from it because such payments in the past were given to those who have proper building approvals and other documents, which most of those owners never had.
Census of buildings
In my opinion, I believe that a census of buildings and other properties ought to have been taken before the demolition exercise; while those with valid documents are paid full compensation those without should be paid estimated amounts as compensation. Nobody should be made to vacate his property empty handed without adequate and commensurate compensation.
The issue of debt has generated furore between those in opposition and the Osun State government. What is at stake here?
Nothing is at stake than Osun state and its future. We are worried that the government is mortgaging the future of unborn generations by taking loans indiscriminately. The government is busy giving excuses and accusing the previous PDP government. The government is living a new lifestyle of debt to sustain itself in office. It is common knowledge that the stock of uncompleted projects dotting the state are being funded with debts.