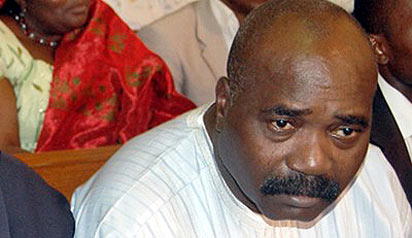 *Lucky Igbinedion…Gives succour to orphans
By SIMON EBEGBULEM, BENIN CITY
Many people may not be happy with the achievements of Chief Lucky Igbinedion while he was governor of Edo State, but there are thousands of persons whose lives he has touched through charity. Since he left office in 2007, apart from attending to his businesses, the former governor has been busy giving help to the helpless in different orphanage homes in Edo State.
In fact, as at the time of filing this report, he was building a storey building for the staff of Project Charilove, an orphanage home in Benin- City, just as he provides food and shelter for leprosy patients and people with disability. Sunday Vanguard learnt that Igbinedion was into charity even before he became governor. The Coordinator General of ChariLove Center, Mr Chris Omusi, who himself gave up his job in the United States of America to come and serve humanity in Nigeria, describes the former governor , in this piece, as an exceptional person.
How we started project in 1990
At the beginning, it was like starting with my own little savings, but before then, I had worked with Shell, and as a senior civil servant at the federal level. I also had a brief work experience in the United States where I was able to have some little money that I came back to Nigeria with to start the project. But along the line, we were not having enough money to do what we wanted to do.
But there are some Reverend Father friends that helped, then there was this big leap we had when Chief Lucky Igbinedion, then he wasn't governor, came into Charilove and, at the end of that particular year, he became our biggest single donor. And when he became governor, the first pleasant surprise he gave to us was when we were being thrown out of where we were before, we had nowhere to go; it was like we were in the jungle.
So we had this government property, we had asked the previous government to give the place to us but whether they were eyeing it for their personal use, I really cannot tell. We met Igbinedion and requested if he could allow us to have the place and he just readily granted us the use of the place and that was how the place became ours. It was a jungle in the middle of the city and a hide-out for hoodlums.
The houses were dilapidated and we needed to renovate them to make the place habitable; so we met with the governor again and asked him to give us a fraction of what we will spend for the renovation; we asked for N500, 000, but it was like he knew the enormity of work that was going to be involved in fixing the place and making it habitable. Instead of the N500, 000 we asked for, he said his government would give us N2 million. It was the biggest single donation we ever had. And when we thought it was a political statement, a few days later, officials of the Ministry of Finance came and asked for our bank account which we gave to them and, shortly after that, the N2 million was sitting in our account. We made a judicious use of it.
Financially, a lot came through him and from him. A few years later, we started our soup kitchen project and he said he was amazed that his own family, the house of Igbinedion, had ventured into this soup kitchen thing in the past but it failed because of people's attitude towards it and wondered how we were going to manage it because it was capital intensive. He committed the state government to giving us N250, 000 monthly.
At that time, the soup kitchen was feeding 50 to 60 people on daily basis except Saturdays. We were encouraged by the government and, from the 50 to 60 that we started with, the Charilove soup kitchen is feeding about 300 school children every school day. We stepped up our services and other people have been donating to the soup kitchen and that is why we have been able to sustain it up till today and thank God successive governments have continued to sustain that N250,  000 monthly donation even though it has become inadequate.
Igbinedion out of office
After he left government,we were surprised that Igbinedion still remembered Charilove. Something that still amazes me about him is how he was able to identify the sincerity of Charilove and to identify with it.  Charilove is all about service to humanity as a way of glorifying God, as a way of expressing my loyalty to God, the Supreme and that Lucky Igbinedion could come and be so supportive is so splendid and, as at the last time he visited us, we showed him our on-going projects which had been dragging for years because we didn't have the resources.
One of them is our administrative building and he asked us how much it was going to cost to complete it. Our structural engineers told him and he agreed to handle it. He brought the first instalment and we now told him we had a lot more pressing need than the administrative building; what was uppermost in our hearts was a more conducive accommodation for our residents as about 8 to 9 of them were clamped in one room.
We agreed that the money was going to go a long way in building a dormitory for the residents and he approved that whatever we thought was our need, we should spend the money on it and today we are building a dormitory and it is Chief Lucky Igbinedion that is sponsoring that. He is soft hearted and generous person. When the dormitory is completed, it will take, conveniently, 24 children not including the caregivers. These children are not easy to manage, some have multiple disabilities, some are orphans and they are all young people, so we really need to have enough accommodation for the caregivers.
Motivation
The need has always been there but people were not paying attention to it; so we started to see how much of the need we could fill, we know we can't do everything and government too cannot do everything, but we just felt that if we do a little, by God's grace, that little we do will inspire people to also do in their own different ways or to support us to do more.
There must be caring for the weakest members of the society and that is the reason we are doing this. I must not fail to mention this that without Christ, nothing would have made it possible for us to do this because, in Nigeria, it is not only thankless, people will even persecute you for doing what you are doing and we have so much persecution, but it is the special grace of God that has been sustaining us.
Challenges
We have had so many reasons to feel very frustrated, but one thing that beats my imagination is that we have never really had that urge to quit. I think that is where the special grace of God is at work because if you see some of the people who are here, the way they look down on me and I know if I wanted to pursue money, pursue prestige, pursue position, many of them will not be fit to be my secretary.
But today they come here, they look down on us, they talk to us anyhow, they classify us as those who needed to be given pittance, they feel they want to be worshipped and some of the people in the positions to help, they even constitute themselves into a band of discouragement and that can be very frustrating. Those you think will come around to give some support are even thinking of how much they will get out of the place.  We have about 97 persons but our services go beyond here, like the soup kitchen takes food to indigent children at the Central Hospital.
We have many indigent patients there, those who have been abandoned by their people and they are just there in the hospital, the soup kitchen takes food to them when the social welfare department brings their list. The list is always updated. Beyond Benin, there is Osiomo leprosarium which you classify as a place of the poorest of the poor perhaps in Nigeria. There are so many children and grandchildren of ex-leprosy patients. In those days, you see them on the highway between Edo and Ijebu Ode but, to a great extent, we extended the soup kitchen to them and it did some miracle.
Because they go there with their children to win sympathy, many of the children were usually knocked down by vehicles when people throw bread and Naira notes and they run to pick them. We were thinking of address that when our finances improve but we wanted to start from the home base at Osiomo. We had discussions with the Reverend Sisters resident there and they told us where we could start is let our soup kitchen give food to the children and so we started with the children.
The school there was almost closed down because the children go to the roads with their parents. We had about 40 to 50 children there and the soup kitchen was giving them food, but, by the time those other children with their parents on the highway heard that food was being given to those in school there, they started trooping back to the school and now the soup kitchen feeds about 200 of those children every school day.
How I met Igbinedion
He has a friend, Samuel Ogbemudia Jr, who is also a friend of Charilove. I believe it was Sam who told him about what was going on in Charilove and it caught his imagination and wanted to see for himself; he came, he saw and he fell in love.
Message to the privileged
The message is that everyone is going to be judged, all the money, we are not taking any of it out of this world and true happiness does not lie on how much one has but in how much we are really able to touch the needy. I am doing what I am doing not because I was given money but I am happy with it and answering the call of God, that is my joy. As an individual, Lucky Igbinedion is one of the most compassionate Nigerians I have met.