By Iyabo Aina
Adokiye Kyrian Yvonne popularly known as ''Adokiye ''started her musical journey at an early age, after being influenced by music icons such as Onyeka Onwenu, Aretha Franklin, King Sunny Ade, Lauryn Hill and Bob Marley.
The Caritas University graduate of architecture just dropped a new single titled 'Back up' produced by Ik Ogbonna an ace producer.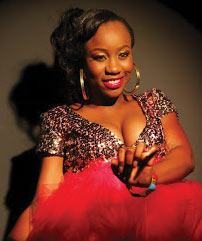 However for the talented and energetic artiste signed to AEON Music; singing and writing songs are not the only things that keeps Adokiye busy as she flexes her talent as an entrepreneur by mastering the art of marketing and also enjoys empowering the less privileged from all works of life. In her words, 'I've been on the charity movement since high school with any little thing I have . I enjoy taking it out to share with less privileged'
Adokiye disclosed that within the short period of her sojourn into professional music in 2012, she has worked with producers like Charles, Embrace, Yiseng, Preccy P, and Breezy; and artistes like Splash, Black70, Sym19, Hitmaker Tep (New York), Evil (London), Flyer (New York) and Olamide (Nigeria).
With an unflinching love for Nigerian kind of music Adokiye who adores musicians like 2face Idibia, D'Banj and Rihanna (whom she dreams of working with some day) says, 'I wanna do music for the rest of my life' a die-hard assertion and belief for her.