BY SONI DANIEL, REGIONAL EDITOR, NORTH
*You are unfit to speak for North, Abdullahi, Mohammed reply Abba-Gana…
Former Federal Capital Territory Minister, Mohammed Abba Gana, has come under attack from northern political leaders for daring to canvass for four more years for President Goodluck Jonathan.
The former minister incurred the wrath of the northern leaders when he advocated in Lagos on Monday that giving Jonathan another four years would not hurt the North in any way.
Abba-Gana, who was flanked by a lawmaker from Taraba State, had argued that giving Jonathan a second term would enable the North to use the period to groom a successor to the President.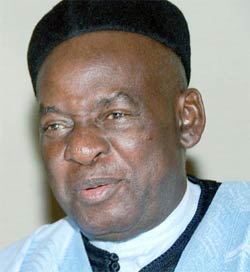 But the Secretary General of the Northern Elders' Forum, Professor Ango Abdullahi and a second Republic lawmaker, Dr. Junaid Mohammed, dismissed Abba-Gana's suggestion for a second term for Jonathan as ill-conceived, pointing out that the President did not deserve it.
According to the two northern leaders, Jonathan has failed to tackle myriad of challenges confronting the nation, thereby showing that he lacks the capacity to move Nigeria forward.
They said another four years for Jonathan would push the country into the abyss and Nigerians cannot afford to take such a risk, pointing out that Abba Gana was not qualified to speak for the north, going by his antecedents.
 Junaid Mohammed and Ango Abdullahi dismissed Abba-Gana as a politician who had always fraternised with the wrong political group for his personal interest and asked him to speak for himself and leave the North alone.
In separate interviews with Vanguard, Abdullahi and Mohammed insisted that Abba-Gana did not have the pedigree to serve as an advocate for the north and should not be taken seriously by Nigerians.
Abdullahi said: "Even in Borno where Abba-Gana hails from; he has never been part of the mainstream political arrangement and for that reason, he lacks the locus standi to speak for Borno and the North.
"Abba-Gana is more of a businessman than a people-oriented leader from the north. Having failed to advance any reason why the north should wait for another four years to enable Jonathan to run again, he should hide his face in shame.
"His advocacy is an insult to the north and a product of compromise," the former ABU Vice Chancellor said.
Adding his voice to the debate, Mohammed described the former minister as someone who lacked clout and challenged him to show one thing he had achieved in his state of origin to qualify him to speak for the entire northern Nigeria.
Mohammed said, "Abba-Gana was one of the errand boys when we were in active politics and should not be taken seriously because he has no political clout even in Borno State.
"If the former minister insists he should speak for the north, he should be kind enough to demonstrate his political relevance in Borno, his home state or shut up forever. He does not really merit any response from right-thinking northerners".
But while cautioning the northern elite on their utterances, Abba-Gana said if the North had produced between eight and nine heads of state and presidents, with poverty as a proof and underdevelopment, then, four years of Jonathan would not kill them.
Abba Gana noted, "some people in the North want Jonathan to come back and some don't want him to return. But allowing Jonathan another four years will not take away anything from us. We've had between eight and nine heads of government. But what do we have to show for it? Poverty and underdevelopment!
"So, if their person did not bring development to them, another four years of Jonathan will not cause any havoc.
  "The North needs the four years to plan, learn, relate better with other parts of the country, work harder, talk less and groom a leader that will unite the nation and tackle the challenges facing the country."