JOHANNESBURG (AFP) – A day after turning 95, Nelson Mandela was Friday visited by fellow peace laureate, archbishop Desmond Tutu, who praised him for continuing to inspire the world even from his sickbed.
"We have a special gift in a man who can unite not only South Africa but the world, even from his sickbed," Tutu told journalists outside a Pretoria hospital where the anti-apartheid icon is critically ill.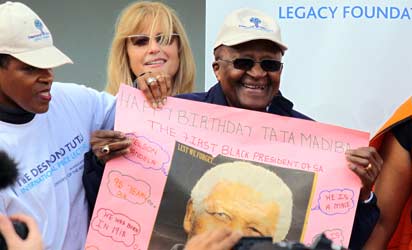 Tutu said he found Mandela asleep but managed to hold his hand.
"He inspired us to become a great country and the world to become compassionate," he said.
Tutu also read the messages of support posted by the public on the wall of the MediClinic Hospital.
Mandela celebrated his 95th birthday on Thursday, six weeks after he was admitted in hospital for treatment for a respiratory condition. The much-loved icon spent the day surrounded by his family in hospital and also received a visit from President Jacob Zuma and other prominent politicians.
Mandela's granddaughter Ndileka described him as "steady and improving."
His condition had in the last two weeks said to have been "precarious".
Mandela's birthday, which was in 2010 declared by the United Nations as the International Mandela Day, is dedicated to good courses.
People are urged to spent 67 minutes of their time doing charity work. The number symbolises the years Mandela spent in politics.
Mandela was rushed to hospital on June 8 with a recurring lung infection that had already put him in hospital three times in less than a year.
Subscribe for latest Videos