By BENJAMIN NJOKU
Yenagoa, the capital city of Baylesa State, was temporarily brought to a standstill last Saturday night  when it played host to over 1000 guests for this year's edition of the prestigious Most Beautiful Girl in Nigeria, MBGN, pageant.
But besides the glitz and glamour that pervaded the event, this year's MBGN was a celebration of the    beauty in the Nigerian woman.
Like the previous editions, the  event, which held at the Banquet Hall of the Bayelsa State Government House, was laced with music,dance and professional displays. Expectedly, the 32 contestants took  time out to flaunt  their fabulous figures, curves and  good looks on the runway. At the end of the show, 18 year-old   Anna Ebiere Banner, representing Bayelsa State, cemented her  place in the grand finale by emerging  the winner of the keenly contested crown.
For Banner, it was an  overwhelming feeling to be declared the new queen. "There are no words to describe how amazing it feels," she said.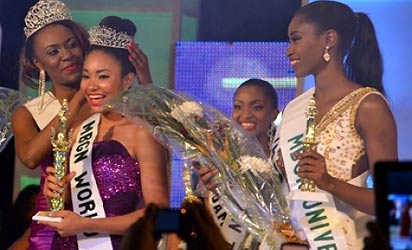 As rightly pointed out by Ben Murray Bruce, Chairman of the Silverbird Group,organisers of the yearly event, over the years the pageant has transformed the lives of not only the beauty queens but also, that of their families. Indeed, it was a night to remember.
I'm overwhelmed with joy – Anna Banner,MBGN winner
Eighteen  year-old Anna Ibiere Banner spoke with Showtime  shortly after she was crowned Most Beautiful Girl in Nigeria 2013. To say the 100-level student of Linguistics and Communications, University of Port Harcourt was reeling from achieving the extraordinary feat is  an  understatement…
How do you feel  winning the competition?
I feel awesome. I'm  so glad and I'm overwhelmed with joy.
When you were announced the winner, what went through your mind?
A lot of things were passing through my mind. But actually, my mind was kind of  blank initially  because I didn't clearly hear my name when it was announced. I don't really know what to say, but I'm so happy.
Have you ever looked forward to occupying this position someday?
Yes, I have. I have always dreamt of occupying this position someday. I have always had this passion for helping humanity. So, I have always wanted a platform that could help me achieve my dream.
How did you get to know about MBGN?
A friend of mine introduced me to the pageant. His name is ambassador Uche.
How would recount your experience in the camp?'
The experience was wonderful. There was a lot of fun, a lot of talking and laughing. So many memorable things happened while we were in the camp. There were good memories.
Governor Dickson immediately appointed  you his aide and cultural ambassador of the state. How do you intend to combine the position as well as  your office as the Most Beautiful Girl  in Nigeria?
I'm really going to try my best to ensure that I make my state proud. No matter how difficult it may be,  I put in my best and ensure that the best comes out of my one-year reign.
What project do you intend to embark upon?
Education. I just want to help my people in terms of propagating the values of education. I want to create the awareness not only as it concerns formal education but also, informal education which has to do with skills acquisition.
Were you surprised that you won the crown?
Yes, I was actually surprised because there were a lot of beautiful girls that contested for the crown.