Lagos – Amb. Mokgethi Monaisa, Consul-General of the South African High Commission in Nigeria, on Sunday urged Nigerians to join in prayers for former South African President, Dr Nelson Mandela's quick recovery.
Monaisa in Lagos, said that South Africans were "earnestly praying" for their former president's recovery, and would also need the prayers of the Nigerian people.
"As we all know, our former president is in hospital right now. South Africans are holding special prayer sessions for him, because we cannot afford to miss him.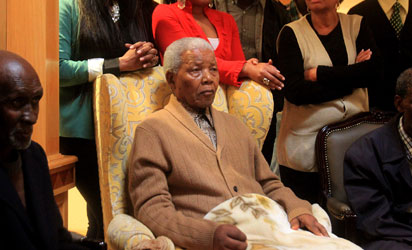 "We are also calling on our Nigerian brothers and sisters, to join us in praying for his quick recovery. We know that Nigerians and the rest of the world also hold him in high esteem.
"We believe that Nigeria and South Africa are close allies. So we need to jointly pray for him to live for many more years," he said.
The envoy said that Mandela's leadership qualities, as exemplified in the emancipation of South Africa, would forever remain indelible in the minds of the people.
Monaisa also recalled Mandela's role in the fight against apartheid, racism, poverty, corruption and inequality in South Africa.
"We still need him, because he contributed immensely to the attainment of today's South Africa.
"We were all happy when the UN set aside an International Day for our illustrious son. How many other African leaders have had such global honour bestowed on them.
"We can all see how important, and why we all need to pray for him to see more years," he said.
The consul-general said there was a lot for present and upcoming African leaders to learn from Mandela's "selfless leadership qualities".
He added that one of the ways they could achieve that was to "shun corruption, poor governance, self-aggrandisement and politics of rancour".
The UN has declared July 18 as the Nelson Mandela International Day, as a way of recognising the Nobel Prize winner's contribution to reconciliation.
Mandela, who turned 95 three days ago, is spending his 43rd day in hospital,, with complications associated with old age. (NAN)
Subscribe for latest Videos