BY Emeka Aginam, St. Petersburg, Russia
NO fewer than 309 students from 71 countries have gathered in St. Petersburg, Russia to compete in three main categories like World Citizenship, Games and Innovation in the global finals of  the 2013 edition of Microsoft Imagine Cup Competition.
The Microsoft Imagine Cup is a software contest regarded as the football world cup equivalent in software deign and engineering. More than 60 per cent of projects on showcase were housed in the cloud through Windows Azure, an online market for buying and selling finished software as a service (SaaS) applications and premium data.
Team Nigeria
With support from National Information Technology Development Agency, NITDA, Dell, Nokia and  MainOne, members of Team Life Saver from Nigeria comprising Afolabi Olamide, Oluwole Michael, Akinlaja Solomon and Adewale Adeyinka had competed in  the national finals  in the category of World Citizenship.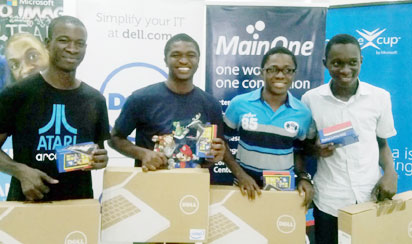 However, of the 87 finalist teams currently competing, 10 teams are from Africa, including Nigeria, South Africa, Uganda, Egypt, Morocco, Ivory Coast, Botswana , Tunisia among others. More than $1m in cash and prizes are up for grabs,and in the last ten years, more than 1.65 million students from more than 190 countries have participated in the Imagine Cup.
The Nigeria team developed an application called CardioLife, which helps prevent heart attacks by monitoring heart readings on the fly via the Microsoft Windows Phone. It also provides a rehabilitation programme for stroke patients using the Kinect sensor. Just before departure, Developer and Platform Evangelism Lead, Microsoft Anglophone West Africa, Mr. Shina Oyetosho had told Team Nigeria members during a farewell party to make the country proud  by showing their best innovation.
"Do not be intimidated by students from other countries. You are the best. Do your best. Show your best. Show your passion. Make friends. Dell, Nokia, NITDA and MainOne have given you the tools. Microsoft has given you the opportunity and knowledge. Bring the Cup to Nigeria," he xhorted them.
Earlier in in his remarks during Press and Sponsor's reception, President, Central and Estern Europe of Microsoft said that students who have gathered for this competition were the winners. According to him, the students should not relent in taking further their solution to the next level after the showcase. The competing students should be their own boss in software entrepreneurship after graduation, he said.
Highlights of projects on parade
Meanwhile, of the 87 teams on showcase, 12 teams use gamification for personal improvement, including interactive learning and physical rehabilitation. This is even as 90% of finalist games were created for the Windows OS, showing the popularity of the PC as a gaming platform for young developers.
While more than 30% of all projects focused on inspiring fun, 36% of teams use Windows, Windows phone and Windows Azure together crossing platforms and devices to show how software can make hardware interesting.
As 38 teams have Windows store apps that are or will soon be available for download, 15 teams use Microsoft technologies in projects that monitor the well being of people and things in real life time, such as heart rate, sun exposure and bee hive health. Interestingly, all three Windows 8 challenge apps combine education and fun, including a social tourist guide and an interactive vocabulary. Similarly, 10 innovative projects combine the NET framework, Windows 8 and Windows Azure to boost productivity.
Health solution
Nearly 40% of world citizenship teams use technology in innovative ways in the medical field, with more than half of those using the Kinect SDK.