By Paul Bassey
Not many people know him as Tobias Igwe.
For track and field followers, he is TOBLOW, the versatile coach who as far back as 1978 was running and coaching.
Ask him how he got the nickname "Toblow" and he will burst out laughing. "…..As far back as 1975, 800 metres was my specialty and I had a unique style of starting powerfully and ending same way, so my fans will encourage me to go all out and "blow" the event…."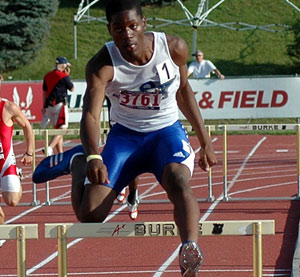 The story of Toblow can be as pathetic as interesting. As you are reading this, the man who was instrumental to the discovery of the Ezinwa brothers, Mary Onyali , Tina Ihegwam and Clement Chukwu among others has been out of a job for over two years and his landlord is on his neck.
How can a man who still holds the Lagos State record in3000 metres steeplechase, who is presently contracted by the AFN to tutor some athletes be out of a job? How can such a talented coach beg his state Imo to be engaged? Anyway that is a topic for another day.
I remember Toblow today because he never ceases to accuse me of writing only about football to the detriment of other sports. Last week, Toblow quickly got in touch to appreciate my concern over the flop at the Ukraine IAAF junior Athletics championships.
He then went ahead to explain what "seemed like a failure". According to him the Warri Championship was not a fluke, but that unfortunately, in those events where we are champions of Africa, we are not the best in the world. In other words, Nigeria can dust all African countries in the sprints and relays but when we get to the world stage we still have to queue behind the Jamaicans and the Americans, " whereas the Ethiopians and Kenyans dominate both the African and world stage in the long distances."
However that is not Toblow's main problem. His grouse is with the system. Nigeria he says will continue to do badly if we do not get our priorities right. He laments the situation where AFN is starved of funds and the AFN President has to use his money to keep the Federation going. "…For how long will he continue to do this?" He asked.
Also Coach Toblow queries a system that has no youth development plans. " Tell me, show me   a school in this country that has a certified or qualified games masters or mistresses. None.
" If therefore a child goes through school up to secondary level without the benefit of basic upbringing, tell me how that child can do well in his or her chosen discipline.
"The result is that by the time that child is discovered at age 16 or 17, you need not less than seven months of coaching for him or her to be able to create any impact. Our Warri champions had less than two months training before going to Ukraine. There is no way they could have excelled" He emphasized.
" We need long term planning, we need early training, we should not be coaching at old age. This country is full of potentials even in all sports but we need to sit down and ask ourselves what we want.
He said he saw the youngsters before they left for Donetsk, "…they are   potentials…..give them to me for seven or eight months and I will turn them to world beaters….."
He advanced the argument to the Russian Championship and said the only athlete we have is Okagbare. All others he said will not do well.
Mobil Producing Nigeria is going the Toblow Way. Operator of the NNPC/MPN Joint Venture, the company has decided to veer out of its 13 uninterrupted years of sponsorship of track and field competition in Akwa Ibom State.
This year there is the pioneer decision to put the champions of the last two years in a Holiday Camp and give them the best of coaching and training under a select group of experienced coaches.
The company, synonymous with athletics sponsorship in the world and in the country believes " It is not enough to just discover these talents. We should also give them the benefit of proper training in a conducive environment that will afford them the use of tartan tracks, starting blocks and so on.
Coach Toblow agrees. " I thank them. This is what we need and it should be done consciously and consistently. There is no substitute to training and exposure. Put those kids in a camp for one month, return them again whenever the opportunity arises and you are in the verge of producing a gold mine of athletes advantage Nigeria"
The MPN Holiday Camping and Training programme comes up at the U. J Esuene Stadium Calabar early August and will have over 165 student athletes in attendance.
See you next week.