Abuja – Kabiru Umar, a terrorist suspect, accused of masterminding the bombing of St. Theresa Catholic Church in Madalla, Niger State, on Dec. 25, 2011, opened his defence at the Federal High Court on Monday in Abuja.
Giving evidence, Umar, alias "Kabiru Sokoto'', who assumed the status of a witness, said the police and the State Security Service (SSS) extracted statement from him.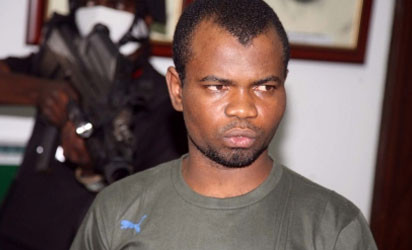 "I am aware of the charges brought against me; but, My Lord, I was tortured and mistreated several times to confess.
"All through the period of the investigation, I could not confess to the offence because I did not commit any offence.
"One of the operatives of the SSS asked me whether I knew one Habib Bama and I said no.
"He said to me that Bama was the actual mastermind of the bombings in Madalla.
"I was afraid of being killed, that was why I ran away from the custody the first time; I am innocent,'' he said.
However, the prosecution counsel, Mrs Chioma Nwiegbu, prayed the court to adjourn the matter to July 9 for cross examination of the witness.
Umar was arraigned on April 19 in connection with the Christmas Day bombing.
He is alleged to have had information about the bombing but failed to inform law enforcement agents.
The suspect is also charged with being a member of a terrorist group, known as Boko Haram,between 2007 and 2012 at Mabira in Sokoto, Sokoto State.
He was also allegedly found to have facilitated the execution of a terrorist act within the period.
According to the charge, the suspect committed an offence contrary to Section 15(2) of the Economic and Financial Crimes Commission Act 2004.
The two-count charge attracts life sentence, but the accused has pleaded not guilty. (NAN)