By Ebele Orakpo
On June 5, 2013, the Society of Environmental Toxicology and Pollution Mitigation, SETPOM, joined the rest of the world to celebrate the 2013 World Environmental Day, WED, at the University of Lagos with a public lecture. The theme for this year's WED was "Think, Eat, Save."
Delivering the lecture, Gbolahan Solabi, Executive Director/Chief Executive Officer of Rambigas Nigeria Limited who spoke on "From Farm to Table: Eating to save the Environment", noted that the continued survival of man on planet earth will depend on his ability to maintain a balanced ecosystem and sustained resource base.
The lecture, according to him, was "to sensitise the public on the global concern for food waste/loss worldwide." He harped on the need for "the evolution of sound management strategies so that we can leave the environment better than we met it."
Solabi said; "the main environmental impact from food wastes is emission of greenhouse gases measured in tonnes of Carbon dioxide equivalent (tCO2 eq/t).  Research data shows that for every ton of food waste generated, 1.9 tCO2 eq/t is emitted.
"Global food production will increase by 50 per cent – 70 per cent by 2050 to feed world population (UNEP, 2010); about one third (33.33%) of food produced are wasted/not eaten (BIO Intelligence Service, 2010). We lose about 25 per cent of all cereal and 50 per cent of fruits, roots crops and vegetables," said Solabi, noting that "with the above challenges, our choices of food intake alone and our increased agricultural produce will not save the environment.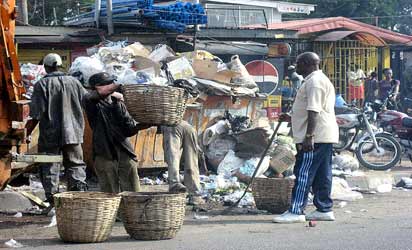 "While global attention had been on control of food losses/waste at both the primary and secondary phases of production, little or no attention is paid to the uneaten food or leftovers globally."
Environmental implications of food wastes:
"The adverse impacts of food waste at restaurant and household levels are virtually the same. At both levels, tertiary food production as well as consumption occur.  "By 2020, food waste generation may hit 126.2 million tonnes and 239.8 million tonnes of CO2 equivalent," regretting that Nigeria has no statistical information on locally generated food loss at service/restaurant and household level.
"While there are substantial available data on food losses/wastes at primary and secondary food production stages as well as their environmental implications, the same is not true for huge losses/wastes generated at the tertiary production level.
"Apart from the negative environmental impacts of greenhouse emissions, the food wastes impact surface and ground water quality/safety adversely."
Measures to reduce food waste in Nigeria:
"Food services, restaurants and households are sectors of neglect in our nation and causes of food loss/waste are common to both sectors," he said and named food preparation, portion size served, storage, labeling & packaging, awareness, preferences, cultural tendencies, planning, socio-economic factors and affluence as factors that promote food wastage.
To prevent/reduce food wastage, Solabi said there must be consumer behavioural paradigm shift.
Explaining, he said; "Africans generally and in particular Nigerians, have a culture of food wastage. For example, Yoruba people say Ajesiku ni ai mo ayo (food left unconsumed in the plate is an indication of satisfied appetite.) This saying is practised by the Yoruba on daily basis. Annual food waste generation should run into million tonnes in the country among the Yoruba alone.
"Our culture encourages visitors to our homes to be fed, whether or not they want to eat. This certainly is another source of generating food waste at household level," he explained.
He advocated educational training and awareness campaign programme, the NAFDAC approach on Fake & Counterfeit Drugs in the nation to achieve this consumer behaviour change.
In a keynote address, Director-General, Federal Institute of Industrial Research Oshodi (FIIRO), Dr.  Gloria Elemo represented by Dr. Chima Igwe, Director, Department of Chemical, Fiber and Environmental Technology, said 14 per cent of greenhouse gases were associated with "growing, manufacturing, transporting and disposing of food and by reducing the amount of food wasted, we can reduce greenhouse pollution. Recycling food waste has many environmental benefits such as improving soil health and structure, reducing drug resistance, reducing the need for supplemental water, stabilizers and pesticides. Food waste can be turned into renewable energy and soil amender through anaerobic digestion," he stated.
Two students, Awoyemi Olusola and David Bamigboye received the inaugural award of SEPTOM worth N20,000. According to the organisers, the award was to enable them undertake their research studies, adding that in future, the amount will be increased.
The Dean of Science, University of Lagos, Prof. Matthew Ilori chaired the occasion. Dr Adebayo Otitoloju, founder of SETPOM said it was formed to "provide a platform for environmental stakeholders to share best practices in environmental management."