JOHANNESBURG (AFP) – South Africa's Nobel Peace Prize laureate Desmond Tutu Thursday pleaded with Nelson Mandela's family not to "besmirch" his name after they engaged in a public spat fuelled by a legal dispute over a burial site.
The family of the global icon has been involved in a bitter legal squabble over the reburial of Mandela's three children whose remains were exhumed from a family graveyard in Qunu in 2011 and reburied in Mvezo.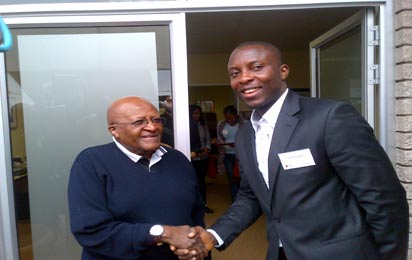 The remains were dug out by Mandela's oldest grandson Mandla, without the family's approval.
On Thursday the remains were reburied in Qunu, Mandela's childhood village, after more that a dozen family members led by Mandela's daughter Makaziwe, applied for an urgent ruling forcing Mandla to return them.
"Please, please please may we think not only of ourselves. It's like spitting in Madiba's face," said Tutu in a statement.
In dramatic scenes on Wednesday, authorities forced open the gates to Mandla's estate to exhume the remains, following a heated legal battle.
Mandla said he had been surprised by the court order and publicly lashed out at his family, accusing Makaziwe, who is his aunt of "trying to sow division and destruction" in the family.
Tutu told the family he could not imagine the difficulty endured by the family when they were separated from the anti-apartheid icon for 27 years while he was in prison, "only to share him with the world when freedom came."
He continued; "your anguish, now, is the nation's anguish – and the world's. We want too embrace you, to support you, to shine our love for Madiba through you."
The rift comes as the 94-year-old former political prisoner, who became South Africa's first black president, lies critically ill in what is now his fourth week in hospital.
"Please may we not besmirch his name." Tutu said.
The exhumed graves belong to Mandela's children who died between 1969 and 2005, one of them is Mandla's own father Makgatho.
Mandla had stated that he had a right to determine where his father ought to be buried.