By Ifeyinwa Obi
For his commitment in taking the Nigeria Customs Service to the next level, the Comptroller General, Alhaji Dikko Inde Abdullahi, CFR, was recently given an award by the Bulgaria Alumni Association. He has also won several other awards both in Nigeria and abroad.
However, in this interview with Vanguard Customswatch, he said that he has done well in many areas especially in capacity building and education. He said he regards his achievements as  service to the nation, adding that he would do more to maintain the standards or go above it. Excerpt.
HOW do you feel today after receiving the award?   
Well, I feel great today because these are people that we have stayed together for almost six years in Bulgaria. Some I met, some I left there. So today, the re-union is giving me great joy. I thought we would not meet again, but as God would have it, we are all here together as a family, and we remember those old good days, when we were together in Bulgaria. So, I thank Almighty Allah, and I'm highly elated.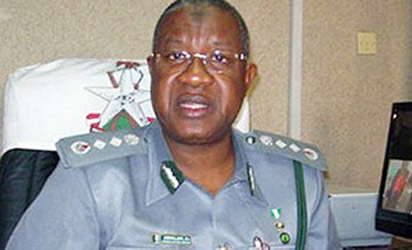 What does this award mean to you, in terms of your daily contribution to nation building, particularly the transformation of the Nigeria Customs Service?     
Well, it's like I'm challenged because what I'm doing is service to the nation, but people are actually watching what I'm doing. They feel that I'm contributing to the nation, so I have to do more to maintain the standards or go above the standards.
In London, you were given an award; now in Lagos, you have been given another award by your former institution. Can you remember a little about the school?    
I can tell you that we learnt  Bulgaria language then, but having come back to Nigeria, one has to learn another language. But what actually made us exceptional from others is the hardwork and perseverance.
You want to see yourself as a servant, not a leader or a master. There was a lot of discipline in what we learnt. One of the core values we learnt was that it's dutiful to do all you have to do before you leave office for the day, or you go to bed.  In terms of administrative expertise, and how to carry yourself, we learnt value in whatever we were doing. So, I must say I'm grateful to the school.
What are your words of advice for Nigerians who are going abroad to study?  
They should be themselves and understand they have no other country greater than Nigeria. They are going there for a purpose and immediately they achieve that purpose, they have to come back. That's how nations are built. Others have learnt and they came back.
What's your message for Nigerians in diaspora, especially professionals? 
They should come back home. I'm here and I have been given an opportunity by His Excellency, President Goodluck Jonathan, and I have excelled. If they come back, they will also be given an opportunity. If we have about 10 professionals like me in the Service, I believe Nigeria will be like another United States of America.
Sir, your achievements have been enumerated today, and I believe you are proud of yourself, which of your achievements gladdens your heart most when you remember?
I believe to whom much is given to, much is expected of. . In terms of capacity building and education, we have done well. The two factors are really the key to our success. It's also pleasing that officers in the Service are willing to learn and virtually everyone has embraced modernization, which is why they are now the key to the reforms. It's also on record that virtually all the officers in the Nigerian Customs Service are now computer literate, that's why we are motivated to taken care of them.