BY LAJU ARENYEKA
'Western education is a sin.' That is what Boko Haram means in the English language. Little wonder, the sect has unmercifully punished those deemed perpetrators of that sin; like the 29 students, and one teacher who were murdered last weekend in Yobe state, or the nine students killed in a private school in the Jajeri suburb of the city of Maiduguri last month.
Painfully, the list goes on and on. In June, 13 people, including secondary school students and teachers, were killed when Boko Haram gunmen attacked a boarding school in Damaturu, the capital of Yobe state. Boko Haram has so far burnt down more than a dozen primary schools in northern Nigeria. In addition, in late April, more than 16 people were killed in attacks on two Sunday services at Bayero University. The administrative block of Gombe State University was destroyed during an earlier attack.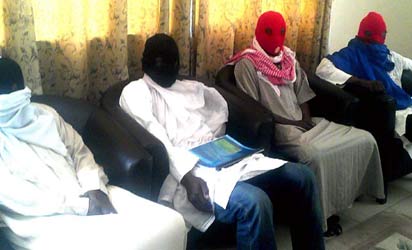 After losing his 10 and 12-year-old sons to terrorists' bullets last weekend, Mallam Abdullahi, a farmer, swore to withdraw his remaining three children from a neighbouring school.  "It's not safe," he told journalists. "The gunmen are attacking schools and there is no protection for students despite all the soldiers." For Abdullahi, the grief of losing two children out of five, by far surpasses the heart wrenching statistic that one in five Nigerian children is out of school.
No doubt, these recent killings are already beginning to take a toll on the already depreciating educational sector in the north. Governor Ibrahim Geidam of Yobe State, reacting to the recent massacre had in a statement directed that "all secondary schools in the state be closed down from Monday July 8, 2013 until a new academic session begins in September." September is two months from now; about the same amount of time between when Yobe was declared a state of emergency, and last Saturday's attacks.
Human Rights group, Youth and Conflict Resolution Initiatives, (YCRI), in a release by its Director of International Relations, Mr. Efemena Agadama, said; "This is Yobe State that is so educationally disadvantaged that the Federal Ministry of Education had to give the state two (2) as cut-off mark while Anambra has 139, yet, you find some group of people kill the few innocent children who love education. It's a shame for such to happen in such a state and in a democratic nation like Nigeria."
Meanwhile, the Education rights Campaign (ERC) boss said that "these attacks on students in the north are bound to reverse the efforts by the government to achieve education for all by 2015. However, it is very likely that 10 years from now, the government will blame the poor level of education in the north on terrorist sects, forgetting that before these attacks, the government already had a lackluster approach to funding the education sector."
Only last week, a recent report held that about 80 per mcent of teachers in the north are not qualified. This, coupled with the threat on teachers' lives, foretells a bleak future for education in the north. The National President, Nigerian Union of Teachers (NUT), Comrade Michael Alogba said; "For the education sector, this is sure to take a negative toll. It is threatening to increase the level of decay in the sector. We as a union are becoming really worried that no one is safe in this country.
"Innocent children are being killed for no just cause. Teachers face constant threat to their lives. We would like to call on the authorities to provide leadership in this area. These killings must be investigated and the perpetrators brought to book. The government should also ensure that the family of the teacher that was killed in the last attack is not left to suffer."
With the highest number of out-of-school children in the world – 10.5 million – it is not farfetched why the international community is worried about these unfortunate events.
Lucy Freeman, Amnesty International's Deputy Director for Africa told newsmen shortly after the attack, that "the protection of children's lives is paramount, and the Nigerian government has a duty to ensure that the country's educational sector is not further threatened by the killing and intimidation of students and teachers and the destruction of school buildings. Such attacks violate the right to life and undermine the right to education for thousands of children in northern Nigeria. They must stop immediately."