LAGOS — Veteran journalist, Alhaji Alade Odunewu, popularly known as Allah De, is dead. Alhaji Odunewu, an indigene of Ikorodu in Lagos State, died Thursday at St Nicholas Hospital, Lagos, at the age of 85.   He will be buried today at Vaults and Gardens Ikoyi,  Lagos at 3 p.m.
Reacting to his death, Publisher of Vanguard Newspapers, Mr Sam Amuka said: "He was a fine fellow, we will miss him".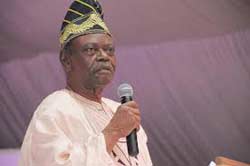 Alade Odunewu, was a prominent Nigerian journalist who became famous for his satirical essays and his 'Allah De' columns written when he worked with the Daily Times of Nigeria. He later went on to publish a book, 'Winner Takes All', a compilation of some of his writings.
He once headed the Nigerian Guild of Editors, an association he co-founded and also served as the President of the National Press Council.
Educated St John's School, Aroloya; St Cyprian, Port Harcourt; New Bethel College, Onitsha and the Regent Street Polytechnic, London, Odunewu began his journalism career in 1950 as a sub-editor with the Daily Service.
He later became an editor with the Service. In 1956, he became the managing director of the Nigerian Tribune and later worked with the Allied Newspapers of Nigeria as the editor-in-chief. In 1964, he moved to the Times group where he became the editor of the Daily Times, and rose to become Editor-in-Chief of the Times Publications.
He served as a commissioner for tourism in Lagos State in 1973 and was later a member of the Federal Electoral Commission, FEDECO.
Odunewu was known for his advocacy of fairness and ethics in reporting. He served as the president of the Nigerian Media Merit Award, a project that is designed to reward excellence in journalism. He was also pioneer chairman of the National Press Council (NPC) inaugurated in 1992 to regulate journalism.