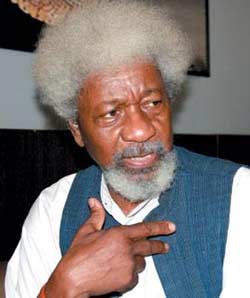 Soyinka
By Morenike Taire
WHEN Kongi takes on erstwhile occupants of the Nigerian powerhouse, amusement, rather than angst, is elicited. Viewed from whatever angle, the scale is set up not to be balanced.
Wole Soyinka will beat any administration we have ever had in a popularity contest, particularly while the latter is in power. In addition, he is a man so accustomed to poetry, that he entertains the audience away from the point being made by government.
The people will be tickled by Wole Soyinka's timeless metaphors. The opposition will over react, and get trapped into trying to match the professor punchline for punchline. They will fail woefully in this regard; the people will be entertained even further and draw their inevitable conclusion. It has happened before, it is happening now!
It is such a conclusion that is being drawn in the war of words, if you will, between Nobel Laureate and society watch, Wole Soyinka; and wife of the president, Patience Jonathan: Mrs. Jonathan is a crowd-renting female who would never even be speaking to a man of Soyinka's status were it not for our warped political systems.
It is an unfortunate conclusion, considering that she is not the worst read or even most salacious First Lady we have ever had. But it seems whenever there is trouble between Abuja and the Niger Delta creeks, the name of the First Lady turns up.
Patience Jonathan has all the makings of a mother figure. Her figure is full and round and homely and cuddly, the kind of figure a harried man such as Mr. President would be comforted to return home to. Her personal style is indicative of a true African woman, one who is comfortable in the local dress, and uncomfortable with foreign couture. Few people had believed the rumour that the First Lady had gone abroad for a liposuction cosmetic surgery operation, known in local parlance as 'tummy tuck'. It just is not her style.
Not for Patience the $9,000 Prada purse and Dior lipstick. Save for the pretentious prefix, Dame Patience Jonathan is a woman who is very comfortable, from all indication, in her own skin.
Beyond the physical, Dame Jonathan scored big points when she put to shame the entire propaganda paraphernalia of the presidency as she gave thanks to God for bringing her back from the dead after a protracted illness for which she had disappeared abroad for months for treatment. She appeared to Nigerians as a down-to-earth and relatively honest individual. Her misdemeanours of the past were quickly forgiven and forgotten.
Slim as it is, the Nigerian feminist community was the first to go up in arms over the appellation given to the first lady. Referring to a woman, unpopular as she is, as a "mere domestic appendage" is as politically incorrect as possible. A small minority of observers not so keen on Kongi's openly friendly relationship with the ACN leadership in the South west have also criticized him for not beginning his charity from home.
A woman of incredible momentum and boisterous ambition, it is unclear what Dame Patience really is about. Her hustle is for power rather than for rights, but therein is the irony: she already has enough of power. Still, there is something that eludes her, something that for her is worth squandering all her newfound goodwill in the search of.
Rather than taking on Kongi, whom she referred to unconvincingly as an 'embarrassment', she might for instance have made a statement concerning the statement credited to brawling Rivers lawmaker Evans Bipi, who referred to her as his 'mother', and 'Jesus Christ on earth'!
Increasing conviction
Her PR function could have tagged Bipi an understatement, and distanced the first lady from such an odious character and his activities, particularly the violent ones. This is in the face of increasing conviction from the rest of the country that far from bringing the balance and the sense of justice the country so desperately needs, a South south presidency has brought nothing than trouble.
The most recent Rivers debacle- which now has the First Lady at its centre – is simply a symptom of a simpering disaster and as former Abia governor, Orji Uzor Kalu, has said, "it will end up tearing the entire nation apart, because those involved in the fight are too powerful and connected to be ignored …"
Rather than kick at Soyinka's description of her, she could have consolidated her position as a "domestic appendage" by paying visits to the flood ravaged residents of her native Bayelsa. Let there be pictures in the papers of her cuddling sick children and on television speaking words of courage to individual victims. This would have stood the president in much better stead than he is currently in with all her frenetic prancing about.
Had Rotimi Amaechi been impeached by the intrigues of the anti-Amaechi segment of the Rivers Assembly, Dame Patience would have gone down in history as the first First Lady to bring down a governor in the Nigerian nation. Not bad for a lady of such attestable humble beginnings.
Amaechi has done well to set up a committee to look into the issue of July 9 and 10. By the end of the three months during which the nine-man committee will come up with its long­ winding report, perhaps tempers would have cooled somewhat. Perhaps our famous national amnesia would have kicked in, and we would have forgotten all the fine points which we find so offensive now. Even more money would have been squandered and hopefully, Rotimi Amaechi would still be the governor of the oil-rich State.