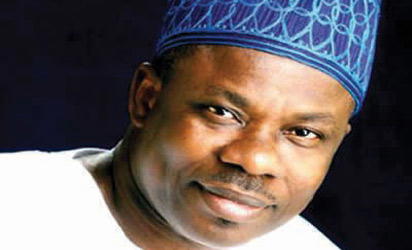 Gov Ibikunle Amosun
IT began as an innocent question but soon degenerated into a heated argument. And what is this question, one might? Between Lagos and Ogun, which has more industries? The Lagos fans would not imagine any state in the country taking the lead in terms of commerce and industrialisation. They were ready to put their last kobo on the line.
They readily cited the ports and some industries around the Ogba and Ikeja axis. But after a thorough analysis, it was generally agreed that Ogun State is now the industrial hub of the nation. The state governor, Senator Ibikunle Amosun attested to this recently during the administration's second anniversary.
Senator Amosun would tell anyone who cares to listen that Ogun has the largest number of industries and that the state is now a preferred choice destination for investment. And this boast is not hot air. An accountant of repute with many years of experience, Gov. Amosun has been able to muscle industries in the state which hitherto paid taxes and levies to the Lagos State to put their money where their mouth is. And he has succeeded in this regard such that from a base of an Internal Generated Revenue, IGR, of N730m as at May 2011 every month, it rose to N3.8b in May 2013 and is still counting.
Thus, according to the Governor,"today, Ogun State is not only open for business, it is business".
For him, the economic gains are there for all to see. With 123 companies showing readiness to locate their manufacturing outfits in the state and 32 of this figure  already on ground at different levels of operation, while 27 have fully commenced operations, Ogun no doubt is gradually becoming the hottest 'industrial hub' in town. Perhaps, it is against this backdrop that the State government says its Bureau of Lands and Survey is being restructured to make it more efficient with transparent and accountable operations.
Accountable operations
Amosun said the state government is about completing the implementation of the Geographic Information System, GIS, with full automation land administration. This, he said, would pave way for the mapping of the entire State, facilitating easier access to land for local and foreign investors.
In addition to this, the state government is equally pursuing with vigour infrastructural development such that it can presently be described as a huge construction site.
Besides the six-lane Ita-Eko-Sokori-Totoro road and Grade separation (Flyover) bridge at Ibara roundabout which is the first of its kind in the state, there is also another flyover at the Lagos Garage along Folagbade Street and Mobalufon junction along the Sagamu-Benin Expressway.
Another such work in this axis is the Sagamu/Benin Express junction-Oba Erinwole junction project. There are also on-going projects on the Ilishan/ago-Iwoye road, Ilara/Ijoun/Egua/Oja Odan/Ilase road, the Mobalufon-Ejinrin road, the Lafenwa-Ayetoro, Ofada/Mowe/Ibafo road, amongst others.
According to a state government official, over 400km of rural roads have been opened up in the 20 local government areas in the state. In addition to infrastructural development, an area that the State government has continued to expend energy on is security.  According to the Governor, despite the fact that the security agencies belong to the Federal Government, "we have continued to expend funds and other resources in order to ensure security of lives and properties of our people."
As proof of this effort, residents of Sagamu trooped out in their hundreds recently when the State government commissioned some state-of-the-art armoured personnel carriers, APCs, during the second anniversary celebration of the administration. According to a resident in the area where the commissioning took place, that was the third in the series of APCs delivered to the area.
Said he: "We're really grateful to the Governor for the effort he has put in to ensure our safety here. In fact, this is the third attempt of bringing this APC here. The first two were damaged before they were used because someone poured diesel where he's supposed to put oil. I believe it was sabotage." Continuing he said, prior to the provision of the APC, robbers were always on the rampage, terrorising banks and residents.
Securing lives and property
"So bad was the situation that the banks shut their doors to the public. Imagine the loss of revenue, both to the banks and State. So, we're very glad that the Governor had gone to great length to secure lives and properties in this area," explained this resident who simply describedhimself  Ayodeji.  All together, a total of 13 APCs, 200 security patrol vans fitted with security and communication gadgets and other security implements have been provided.
Besides the economy, Governor Amosun can also be said to be winning in the education sector. The construction of 18 model schools across the state is a testimony of this feat. The schools which are located in Ilaro, Onijanganjangan, Itele, Ado-Odo, Yemoji, Idi-Aba, Ofo, amongst were jump-started to take care of over 22,000 students who would have began roaming the streets as a result of the hand over of mission schools.
Indeed, it was a sight to behold as school children lined the street leading to one of these school projects  in Sagamu. They waved the national flag as the Governor's convoy drove past. The scene was reminiscent of colonial Nigeria and this reporter did not hestiate to make this observation when the opportunity presented itself.  As the Governor walked round the project site, this reporter spotted a gentleman whom she assumed was one of the teachers in the area. Her assumption was right.
Why were children made to line up in the heat of the sun waiting for the Governor. He gave a secretive smile, took a deep breath and said it's a double-edge reason. What do you mean? this reporter asked.
" Well," he began by way of an explanation, "first, it's a good opportunity for the children to see their governor and by waving at him, it is their own way of appreciating him for the good work he's doing. In a way too, the children are encouraged to aspire because amongst them, some might want to take up public office in future," he said as though delivering a lecture and he was not yet done.
Continuing, he said: "Even the adults you see were not coerced to be here. They came on their on own. I guess it's a demonstration that they love what the state government is doing and this is their own way of saying thank you." One wasn't so convinced with this explanation.
Why for crying out loud would an entire village turn up for a mere project inspection exercise. The conclusion this reporter came to was this must be a political rally of some sort. The Governor was probably testing the waters for 2015. That certainly explained the huge crowd at every school project site. My friend (he refused to disclose his identity) shook his head in disagrement.
Annual allocation to education
"This government has done so well for us in terms of education and the people are happy. It's not a political rally. This is just their way of telling the government we appreciate what you're doing and like you to do more.  You understand why I said the reasons for been here are two fold, he said and disappeared into the crowd.
Indeed, the government is holding its own in this sector also. What with its free education in all public primary and secondary schools. Official statistics put the annual allocation to education at between 22 and 25 percent in line with UNESCO's recommendation.
What this means is an increase in school enrolment in government owned schools. Added to this is the rise in performance at external exams.  For the state government, this positive yield leads to one direction- that Ogun youths would be eligible for tertiary education.  And for Governor Amosun, with this development, a solid foundation for the production of high calibre manpower needed for the socio-economic development and industrialisation of the state is in sight.