By Dayo Benson
Mr Sunday Ehindero is former inspector general of police. A lawyer by profession, he has been in private legal practice since his retirement in 2007. An author of several law books, Ehindero holds the record of being the police lawyer to appear before the high court, Court of Appeal and the Supreme Court.
An active bar man, he has attended several NBA and IBA conferences. In this interview, he spoke on his days in the police legal department which he set up, the legal profession and the security situation in the country among other issues. Excerpts.
As former Inspector General of Police, how has life been in retirement?
Life in retirement is stress-less. As a retiree, I now have enough time to do those things I had no time to do while in service. You know it is now over six years since I retired from the Police Force. Immediately I retired in June 2007, I had so many things in my agenda to perform.
There was the need to establish my legal practice and perhaps to set up a publishing company. Of course, I had the desire to publish the second editions of the six books I wrote while in service. These include Police and the Law in Nigeria published in 1986; Constitutional Development of Nigeria,1849-1989 published in 1990; The Nigeria Police and Human Rights published in 1998; The Policeman as a Prosecutor published in 2003. I have added a new one in retirement which will, by God's grace, be published this year in 2013. I also find time to contribute to intellectual discussions on matters pertaining to the Nigeria Police Force. As a lawyer in practice, I also attend International Bar Conferences.
It was Mitch Alban who said in life there is no retirement. 'All endings are also beginnings, we just don't know it at the time.' I have closed my career as a police officer and opened another chapter as a lawyer.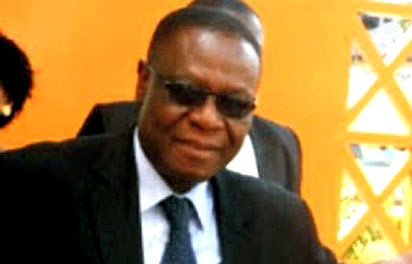 Looking back at your days in the police what will you say you miss most?
I miss the opportunity to serve. Policing is about care. It is about treating your fellow human beings with equal respect and concern. You will read more of these in my new book. As the Officer in Charge of Crime, Alagbon, in 1984 I wept with suspects in detention whose innocence were not in doubt. But you must quit at a stage to allow others to serve.
I recall in December, 2005 when I put in my papers to retire voluntarily, my tenure was extended by Government for a year beginning from 20th March, 2006. My tenure was also extended the second time on March,2007 culminating in my retirement in June, 2007. This had never happened in the history of the Nigeria Police Force. I served the Nigeria Police for over thirty-four years without a single query. All I had were commendations and awards.
Do you have any glorious moment you want to recall?
Yes, I had so many glorious moments. The first, though not in chronological order, was when President Obasanjo approved my proposal for the establishment of Police Chaplaincy in 2006. It brought spirituality into the Nigeria Police Force. The second was when I pioneered police prosecution in the Superior Courts.
I was the first police officer to appear before the High Court. Court of Appeal and the Supreme Court since the establishment of the Nigeria Police Force in 1930. The third was when I was appointed acting Inspector General of Police in January,2005.
What was glorious about this appointment was that at the time of my appointment, I was the only one left in the Nigeria Police Force out of twenty five of us, Cadet ASP, who commenced training in Police College Ikeja in 1973. Some have died, some had retired, others had changed their callings. I was the lone ranger and I was at the apex of my profession. Was it my making? Of course not. It is only God that maps the race of life for all.
As a lawyer how would you compare your experience while in service and now that you are in private legal practice?
In and out of service I give glory to God. God had been faithful to me. You know when God puts you in a position, He sustains you. When I was appointed IG, I least expected it. When it was time for me to be confirmed, three months after my appointment in March 2005, the Chairman Police Service Commission petitioned the Police Council why I should not be confirmed.
His main complaint was that I did not allow him to post policemen especially Commissioners of Police in State Commands. That petition came in on the eve of the Police Council's meeting to deliberate on my confirmation. That petition delayed my confirmation for six months.
But when the confirmation came, it was with the honour of CFR and the extension of my service for one year. That is how God works. In and out of service as a lawyer, I have not lost any case in Court. God is the God of increase. He has prospered me more than when I was in Police Service. Remember all your efforts are in vain without Him.
What will you consider as your major achievements in the Police Legal Department?
My major achievements were three-fold. First, with the authorization of the IGP Ibrahim A Coomassie then in 1995, as the CP Legal, I was able to establish Police Legal Sections in all the State Commands. They were properly funded. At Alagbon, the Legal section was compartmentalized into the legal Advice, Civil Litigation, Prosecution and Administrative sections.
Each Police State Command was able to prosecute cases as well as attend to civil litigations against the police. They were also encouraged and sponsored to attend NBA courses and legal seminars. Second, the police legal Section worked in close cooperation with the Federal Ministry of Justice during the tenure of Ibrahim Abdullahi SAN as the Attorney General of the Federation.
He requested the Police Legal Section to send six Police Lawyers to assist in decongesting the Ministry of Failed Bank Cases. This I did by sending six lawyers headed by Mr. Nuhu Ribadu. These police lawyers, to the credit of the force, not only vetted the cases but also assisted the Ministry of Justice in the prosecution.
Third, was the degree of confidence reposed on the legal advice given by the section. This made the AIG Inusa Isa to give an order that cases reported to Alagbon must be vetted by the legal section before investigation could be commenced. With legal section vetting these complaints more than 80% of the complaints were refused as civil or trivial. These included land matters, land lord and tenant cases.
Would you like to mention some landmark cases that you successfully prosecuted?
I assumed office as CP Legal in 1995 at a time the image of Nigeria was battered by 419ers. The first case I prosecuted personally was that of Bright Ezekuse who obtained under false pretenses from a German National, Narinda Singh Bajwa US$353,900. He offered me gratification of N5million which I rejected.
He was successfully prosecuted and jailed for 52years. This was the first conviction ever made in the prosecution of 419 suspects in this country at that time. The second landmark was the case of Gani Fawehinmi V IGP where the Supreme Court held that the police cannot be compelled by mandamus to investigate a crime.
The third case was that of the Accountant-General of the Federation V IGP where the Court of Appeal held that the Police and the Attorney General of the Federation share coordinate positions in the initiation of criminal prosecution.
Some are of the opinion that police officers who are lawyers should not be appearing in courts to handle cases. Do you agree?
No I don't agree. I have forwarded my opinion on this issue to the National Assembly. While I agree that policemen who are not lawyers have no business appearing in court to prosecute cases, the same cannot be said of policemen who are lawyers. After all, police lawyers attend the same University and the same law School.
Why should being a policeman be an inhibition? There are about one thousand lawyers in the Nigeria Police Force. More than what you have in the Ministries of Justice in the 36 States of the Federation and the Federal Ministry of Justice combined. Should you waist such manpower?
Are you satisfied with the current standard of legal practice in the police?
Of course, I am not. You need more activism and dynamism. It all depends on who is in charge of the Legal Section. If he is a dead wood, he can't initiate anything. The person posted to head the section in addition to being a lawyer must be interested in the job. Moreover, Police lawyers need constant training. Don't be surprised that I attend Training Courses even at retirement. I also attend International Bar Conferences in addition to Courses organised by the Nigerian Bar Association.
What is your assessment of the general standard of legal practice in the country vis-a-vis the conferment of the rank of Senior Advocate of Nigeria?.
Professionalism is in terminal decline not only in the police force but also in other professions including the legal profession. Professionalism can be seen in the description of behaviour as unprofessional. For example, habitual lawyers late comers to court, not taking pride in lawyers job, lawyers' appearance, courtesy or personal hygiene.
All these are explicit reference to standards. Apart from standards, there is also specialisation within the profession that should come into play. The NBA needs to strengthen expertise, service delivery, professionalism and public protection against commercialisation and commoditisation to allow access to court by continued legal education.
I am aware that some have advocated the scrapping of the title of Senior Advocate of Nigeria. I defer. The conferment of SAN is a privilege bestowed on those who meet the laid down criteria for the award. Once the process of selection is transparent, the conferment should continue to be made.
What is your assessment on the security situation in the country and do you think government is on the right track?
The security situation in the country calls for all hands to be on deck. It is not only Nigeria that is challenged by security threats. The world is challenged by the clashes of civilization. The crises in the Middle East find ripples in Nigeria as recent discovery of arms and armament in Kano revealed.
The stick and carrot approach of government is commendable. You grant Amnesty to those members of Boko Haram who may wish to renounce violence while using the force of the law through Emergency Declaration and Military Operation on those who are fool-hardy. The security problems we now have in Nigeria are transient. They will disappear in no distant future. We had gone through worse moments during the Maitasine period in the 1980s.
There were media reports  that ICPC had a complaint against you in court. Is it true?
You see, I heard it but i refrained from commenting on the matter. I allowed the scriptures to guide me in all that I do. There were false and mischievous publications in the media that I, Ehindero stole/diverted to my personal use the sum of N16million from the N557,995,065.00 meant for the purchase of arms and ammunition for the Nigeria Police. At one time the false publication was that I stole M557million.
It may interest you to note that the arms and ammunition had been purchased by the Ministry of Police Affairs with the N557,995,065. Also, the arms had been delivered to the Police and are being used. The N16million interest complained about was used for operational purposes.
My initial reaction is to disregard these malicious publications. Because my scripture teaches me that sometimes silence is the best response to a false charge. We should be swift to hear but slow to speak. But at other times we must speak up.
I am aware that the case is sub judice. The proceedings of the court are there for everyone to see. It is a public document. Right from the day I was invited by ICPC, I demanded to be shown the complaint made against me. Even as IGP retired, I was denied.
It was only in court I came to know that there was no complaint against me to ICPC. My name was not in any letter of complaint to the organisation. The complaint was against the former commissioner of police of Bayelsa state and his men. It was anonymous and not signed.
Rather than investigate this complaint, those police officers I adjudged were incompetent who served under me while I was in office who later found their way to ICPC as Operations Officers used the investigation as a vendetta against me. But I prayed for them when they invited me to ICPC that may God allow them to retire the way I did. There were other officers who were not happy that I recommended Mallam Nuhu Ribadu to be promoted AIG. Their grouse was that with such promotion Ribadu would e
ventually get to the IGP post and rationalise them. You know what happened to Nuhu. But for the Intervention of Government he would have been mesmerised or even eliminated. Some police officers don't even greet me in retirement because they claim they did not get 'good' postings from me when I was IGP.
The new Chairman of ICPC could not have known of the vendetta and the fact that the matter had been looked into in the past and a verdict of no case entered. How can I who rejected N5million in 1995 from a 419er who I prosecuted and gained a conviction of 52 years jail now condescend to diverting N16million for my personal use as an IGP?
What I am going through is the price I have to pay for leadership. I know that my Redeemer lives. And I do not ask why this should happen to me. Why should it not? This trial is a test of my faith in God which remains unshaken. I retired in 2007 only to be charged in 2012. I believe justice will be done in this case.