By Ed Dove
I have occasionally been accused of being a pessimist, of being a fatalist, when it comes to Nigeria. I'm not, I can assure you, but it feels sometimes like too many of us are.
Certainly, I bemoaned the loss of Ogenyi Onazi through injury for this competition, but who wouldn't?
I was excited about the prospect of the young midfielder continuing his development and testing his mettle against the exalted Spaniards, and the side are indisputably weaker without his industry and energy in the heart of the park.
Similarly, there is a tendency to reference the absent stars of Victor Moses, Emmanuel Emenike and, to a lesser extent, Kalu Uche, because there are palpable holes in Nigeria's attack. The offence of the first two, in particular, was so effective in lighting up a continent at the 2013 Africa Cup of Nations.
I'm not being negative, these are just realistic problems and tangible issues with Stephen Keshi's side that we are all aware of, and which need to be addressed.
I want this piece to be a positive article, and inarguably so. They aren't always easy to write after defeats, particularly losses that make tournament progression exceedingly unlikely. This article, however, should be a pleasure, as I, like many of you, was warmly encouraged by what I saw in Salvador last night.
There are, however, two further complaints that I wish to make…before I begin gushing.
First of all, as I alluded to before, Nigeria's attackers have not covered themselves in glory during this cup, and questions must be asked about some of Keshi's personnel decisions.
Ideye Brown may offer punch and dynamism, but he only managed to bag one goal at the Cup of Nations and has contributed very little since.
Ahmed Musa, while possessing promise and pace, is still an exceptionally raw talent, and has generally failed to replicate his CSKA Moscow form for the national side.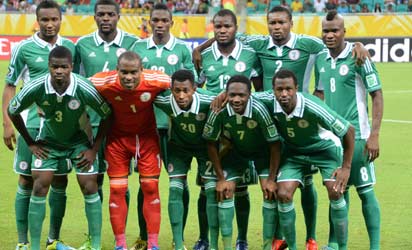 The supporting cast have been hugely underwhelming. Koln's Anthony Ujah received his chance to replace the misfiring Ideye but has failed to grasp it, stuttering spectacularly on occasion against Tahiti.
So too, Joseph Akpala; I have often written that the Werder Bremen forward has all the tools to make it at with the national side, but despite several Naija coaches seeing fit to call him up, he has never made a compelling case for sustained inclusion.
Then there is Kano Pillars forward Mohammed Gambo—an 'unknown quantity at international level' if ever there was one.
It is hard to argue that this motley collection are more effective up front than a stable including Michael Eneramo, Obafemi Martins, Shola Ameobi, Victor Anichebe and Ike Uche…even though I recognise that these men all have their different individual reasons for not being present this summer.
My second concern, and this is not indirectly linked to the first, is the apparent decline of Sunday Mba.
The Afcon hero has appeared to be a pale comparison of himself ever since his glorious tournament in South Africa.
Certainly, one couldn't expect him to recreate that magic all of the time, and doubtless, his transfer wrangle between Enugu Rangers and Warri Wolves must have taken its toll; nonetheless, Mba's decline has made for uncomfortable viewing, and Keshi only saw fit to introduce him as a late—and ineffective—substitute against Uruguay.
The key symbol of Nigeria's Afcon victory, and once apparent courted by Arsenal no less, Mba already, remarkably, has work to do to maintain his reputation.
With that out of the way, now I can begin to express the pride and encouragement I felt watching Keshi's collective taking on the South American champions last night.
First of all, John Obi Mikel: what a touch, what a moment, what a man!
While Mikel has received his critics in the past, and still continues to at club level, he is blossoming into the midfield general that Nigeria have long craved. He was masterful at times during the Cup of Nations, and last night, once again, demonstrated his class.
His goal–a rare but sublime finish–set the pulses racing, but his whole showing was excellent. His composure and dictation in the centre of the park steadied the side, brought diverse players into the action and gave the team a rugged, elegant point of reference from which to operate.
The thought of Mikel spraying passes around and navigating the action behind a frontline including Moses, Emenike and Musa at next summer's World Cup is one that should get Nigerian hearts racing.
Mikel's conversion from prodigal attacking midfielder to plodding anchor man at Chelsea has been well documented, but in flashes last night, in delicious glimpses, we saw the player that John Obi might have once become.
A quick word for Fegor Ogude too. The midfielder has received a lot of criticism from Nigeria fans for his fairly clunky style. Certainly, he's no Xavi…hey, he's no Nwankwo Obiorah, but his grit and gristle does a job in the midfield, tidying up, hassling and harassing, and he contributed to Naija's platform last night.
Finally, despite conceding two goals last night, one sloppy, one thunderous, I think all Nigerians should be encouraged by the prospect of our defence taking on the world's finest next summer.
Despite their slender years, Kenneth Omeruo and Godfrey Oboabona are developing into a top class pairing. Omeruo was solid and wholly dependable last night, taking the ball out of defence with the refinement of a much older professional.
Oboabona has been a revelation since forcing his way into the starting line-up, and it is remarkable that he appears to be so established despite being only 22. Recently, he has begun to be bolder in his play moving forward, and Super Eagles fans can look forward to the development of this exciting talent and his sustained service to the national side.
The Confederations Cup isn't over for Nigeria, but Keshi and Co. will be acutely aware that with defeat against Uruguay, their easiest route to the semifinals has disappeared. While few will expect us to pull off a shock against Spain, Super Eagles fans should be fairly optimistic about the prospect of a valuable learning experience for this young and talented side.
Ed Dove writes from Brazil and can be followed @Eddydove