JOHANNESBURG (AFP) – Nelson Mandela is in a critical condition in hospital, the South African presidency said Sunday, 16 days after as the anti-apartheid icon was admitted with a recurrent lung infection.
"The condition of former president Nelson Mandela, who is still in hospital in Pretoria, has become critical," Mac Maharaj, presidential spokesman, said in a statement.
The condition of 94-year-old who entered the hospital on June 8 was said to have deteriorated over the weekend.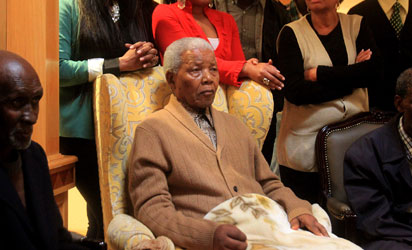 President Jacob Zuma broke the news after visiting Mandela Sunday evening and was told by doctors "that the former president's condition had become critical over the past 24 hours."
Mandela, who became South Africa's first black president in 1994, is due to celebrate his 95th birthday on July 18.
He has been hospitalised four times since December, mostly for the pulmonary condition that has plagued him for years.
Zuma moved to assure the country that medics were doing all they could to save his life.
"The doctors are doing everything possible to get his condition to improve and are ensuring that Madiba is well-looked after and is comfortable. He is in good hands," Zuma said, using the revered leader's clan name.
"The doctors also dismissed the media reports that Madiba suffered cardiac arrest. There is no truth at all in that report," said Zuma.
Zuma was accompanied to the hospital by the ruling ANC deputy president Cyril Ramaphosa.
The two also met with Mandela's wife Graca Machel at the hospital and discussed the condition of the Nobel Peace laureate.
Zuma appealed to South Africans and people worldwide to pray for Mandela, his family and the medics attending to him "during this difficult time."
With the latest hospitalisation, many South Africans have come to terms with the much-loved hero's fragility.
The announcement come after unconfirmed media reports that Mandela's condition was worse than what authorities and relatives had been saying in recent days.
US news channel CBS had at the weekend given details of failing organs and said that Mandela was "unresponsive" and "has not opened his eyes for days".
But authorities had refused to comment on the speculation.
It also emerged that the military intensive care ambulance that rushed Mandela to hospital in the early hours of June 8 developed engine trouble, resulting in a 40-minute delay until a replacement ambulance arrived.
The presidency said that Mandela suffered no harm during the wait for another ambulance to take him from his Johannesburg home to a specialist heart clinic in Pretoria 55 kilometres (30 miles) away.
"There were seven doctors in the convoy who were in full control of the situation throughout the period. He had expert medical care," said Zuma.
The African National Congress said it "has noted with concern" that Mandela's condition had worsened.
"The African National Congress joins The Presidency in calling upon all of us to keep President Mandela, his family and his medical team in our thoughts and prayers during this trying time."