By Victor Gotevbe
A quick contact with the story of any blind person, you may likely think of Stevie Wonders or our own Nigerian, Cobhams being the sunshine of the musical lives of many. Julie (29) is however not a musician, but a young woman whose works drew inspiration from the first studio album by the solo project of DeerHunter, Lead vocalist, Bradford Cox., titled: Let the Blind Lead Those Who Can See but Cannot Feel.
The Kogi born Nigerian refused to let the world address her as disabled and determined that she would step out of her history and into a better one. Julie tells about the music of her mind, her inner visions and battles of life. Excerpts:
How I went blind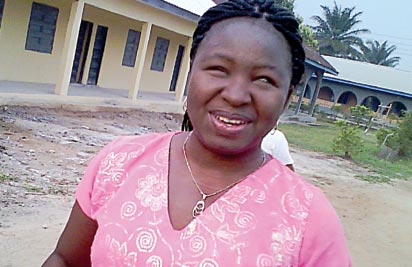 On July 26, 1984, I was born into the family of Air Commodore and Mrs. Raymond Emaiku in Port Harcourt, Rivers State. I was not born blind but the unfortunate incident happened when I was barely two months old. In my innocence, I screamed from my beautiful sleep and my mother immediately noticed the change in the colour of my eyes.
From then on, I battled for years though I could see faintly with one of my eyes and I could identify different colours. Things took a new dimension when the only eye I could see with posed a danger to my brain and required surgical operation to avert imminent danger. This was when my family accepted it as God's permissible will.
Getting a University education?
Hmmm, I would say I have always been a determined child, and I knew what I wanted as my physical challenge or what people call disability is not a barrier to achieving my dreams. I started school in Gindiri School for the Blind in Plateau State. During this period, I could travel sometimes on my own back home (Jos) from school when my parents couldn't come in time to pick me up. Thereafter, I proceeded to CMML Special School , Iyale in Kogi State for my secondary education.
My determination provided me with the opportunity to study Special Education in University of Jos. I must confess, life in the University was very challenging but I got help from family members, reverend fathers and other good people who stood by me through out my years in the university. Indeed, I must say God saw me through all the trials and difficulties that confronted me. Today, I am a proud graduate and I am rounding off my National Service in Akwa Ibom State.
Call to National Service
I was originally posted to Sokoto State for my NYSC where I joined in the advancement of the MDGs, although this was short lived; I was redeployed to Akwa Ibom State due to personal reasons.
During my service year, I decided to carry out a project aimed at reaching out to the environmentally challenged children or children with learning disability at St. Louise's Special School, Ikot Ekpene, where I did my primary assignment. This turned out to be successful with the help of funds solicited from the State Government.
Ability in Disability
As I earlier said, I had my own challenges but as some people would say, I can see even though I may be blind, I looked beyond the challenges. My mind's eyes can see opportunities and I maximize them. You will seldom believe that I got a handset in school and amazingly, my ability to use the phone.
If you give me your number you will be astonished as I could easily memorize it and when you call me I would know who is calling me. Also, I could do my own cooking, my laundry, sweep and even clean. There was nothing a person who is not blind could do that I couldn't do.
For an example, when I go to my sister's house, I helped her out with her domestic chores and I go to the market myself. I therefore would state categorically that I am not a liability to anyone and I am very smart in whatever I do. To God alone is the glory. I would advice other young people to see beyond their present circumstances. If you can see it, then you can seize it.
What the future holds
I am like any other normal human being who desires to be an independent person where by I do not have to rely on others to pay my bills or take care of my needs. It is my hope that I get a good job, have my own family and continually live a happy life.
YOUNG NIGERIANS MAKING THE DIFFERENCE
Young laureates organizes career day
Young Laureates, a group of young like-minded individuals from diverse backgrounds with skills and learning dedicated to serving the youth of Amuwo-Odofin Community put together a successful a Career Day programme to prepare the young people for the careers of the future as many students leave school without an idea of what kind of jobs or professions they want to pursue.
The Career Day is envisioned to be an innovative workforce development tool designed to provide secondary school students with hands-on exposure to diverse and growing careers.
The programme shed light on the choice of careers available and the appropriate steps to take in achieving career success. Motivational speakers in various fields were present to share their experience on the job and further give words of encouragement to over 350 students from various secondary schools in Amuwo odofin. Vanguard Youthful Vibes was also present.
Muyiwa Azike, one of the executives of Young Laureates shared with Youthful Vibes that "We are on a mission to provide educational, recreational and social programmes to help the youths discover themselves and maximise their full potentials, thereby making Amuwo-Odofin community a home of leaders."