PRETORIA  (AFP) – A critically ill Nelson Mandela showed tentative signs of improvement on Thursday as South Africa-bound US President Barack Obama led a chorus of support for the "hero for the world".
South African President Jacob Zuma, who had abruptly cancelled a trip abroad to be near the 94-year-old anti-apartheid icon, reported he "remains critical but is now stable".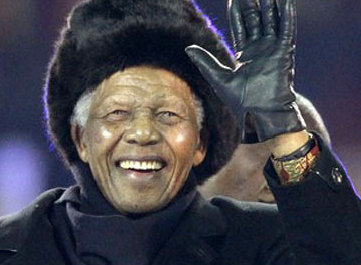 "He is much better today," Zuma said in a statement without giving more details. "The medical team continues to do a sterling job. We must pray for Tata's (father's) health and wish him well."
Grandson Mandla Mandela said the Nobel Peace laureate's fate "lies with God and our ancestors".
"Every improvement in my grandfather's health is cause for celebration."
But with Mandela still fighting for his life after three weeks of intensive care, South Africans remain braced for the worst.
A large number of family members gathered Thursday at the hospital where he was admitted on June 8 with a recurring lung infection.
"I won't lie. It doesn't look good," daughter Makaziwe Mandela said. But "if we speak to him he responds and tries to open his eyes — he's still there."
"Anything is imminent, but I want to emphasise again that it is only God who knows when the time to go is," she told local radio.
Clan elder Napilisi Mandela told AFP late on Wednesday that the former South African president was "using machines to breathe."
A group of family members on Thursday walked to the wall of messages and flowers where emotional crowds have been holding vigils, offering their prayers for one of the greatest figures of the 20th century.
Supporters, including members of Mandela's African National Congress, sang songs in tribute to the man who led the transition from centuries of white minority rule to landmark multiracial elections.
"There is no sadness here. There is celebration. He is a giant," said Nomhlahla Donry, 57, whose husband served time with the revered leader.
Meanwhile messages of goodwill flooded in from overseas.
"He is a personal hero," US President Barack Obama said in Senegal, the first leg of a trip of an African tour that will see him land in Pretoria on Friday.
"I think he is a hero for the world, and if and when he passes from this place, one thing I think we all know is that his legacy is one that will linger on throughout the ages."
The US president recalled how Mandela had inspired him to take up political activity, when he campaigned for the anti-apartheid movement as a student in the late 1970s.
UN leader Ban Ki-moon said the whole world was praying for "one of the giants of the 20th century".
"I know our thoughts and prayers are with Nelson Mandela, his family and loved ones, all South Africans and people across the world who have been inspired by his remarkable life and example," Ban said.
Mandela — whose 95th birthday is on July 18 — has been hospitalised four times since December, mostly for a stubborn lung infection.
The man once branded a terrorist by the United States and Britain walked free from prison near Cape Town in 1990.
He went on to negotiate an end to white minority rule and won South Africa's first fully democratic elections in 1994.
He forged a path of racial reconciliation during his single term as president, before taking up a new role as a roving elder statesman and leading AIDS campaigner.
He stepped back from public life in 2004 and has not been seen in public since the football World Cup finals in South Africa in 2010.
But Mandela still draws vast global interest, interest which now appears to be wearing on his family.
Mandela's oldest daughter Makaziwe on Thursday slammed the "crass" media frenzy around her critically ill father, likening the press to vultures.
"They violate all boundaries," she said accusing the foreign press of "a racist element" by crossing cultural boundaries.
"It's like truly vultures waiting when a lion has devoured a buffalo, waiting there you know for the last carcasses."
With his health now fading, Mandela's supporters are starting to show signs of resignation — while preparing to celebrate his legacy.
In the rural village of Qunu where he grew up amid cattle and mud-walled huts, 93-year-old Keqane Keledwane said she was not ready to say goodbye to her neighbour.
"I want him to get well. I don't want to be the only one left behind," said Keledwane, who lives across the road from Mandela's house. "I wish him a long life, my old friend."