By Babajide Komolafe
For eight weeks running, we have been discussing principles of profitable investment in shares. In the first edition published on Tuesday March 5th, 2013, we stated that notwithstanding the crash of the stock market between 2008 and 2009 and the colossal losses suffered by some investors, investment in shares is still profitable.
We said that there are  however principles that must be followed to make money in the stock market. The first principle is to buy shares with safe money, and we highlighted the dangers of buying with hot or unsafe money. Secondly, you must buy the shares of good companies, and we highlighted basic features of a good company.
The third principle is that you must be an informed investor. You cannot invest profitably in shares without making deliberate efforts to be informed. Most of the complaints received by Investors Forum indicate that the number one reason most people lose money investing in shares is ignorance. Once you invest your money in what you don't know, the possibility of losing your money is very strong.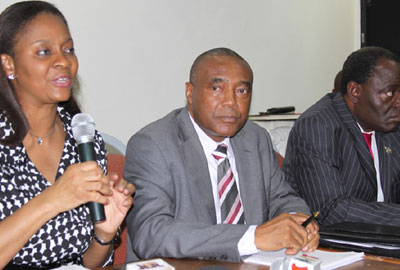 To help investors, we commenced a series that focus on organisations playing essential roles in the stock market. The roles they play are so crucial such that it is almost impossible for you as an investor to do without their services, especially if you want to be a profitable investor in shares. These are stockbrokers, registrars, Securities and Exchange Commission and the Central Securities Clearing System (CSCS). This edition focuses on the Nigerian Stock Exchange, NSE.
Like other exchanges, the NSE basically provides the platform for trading (exchange of shares). It has two basic segments, primary and secondary. The primary is for new shares issued by companies that want to raise money via public offers. The secondary is for trading of shares already owned by shareholders.
In addition to providing these platforms, it set rules for trading of shares, especially relating to pricing in the secondary segment. For example, one of its rules is that the price of any shares cannot not rise or fall more that 10 percent on any trading day. It also set rules for companies that want to list their shares or want their shares to be traded on its platforms.
Also like other stock exchanges, the NSE has dealing members. These are firms licensed or registered to trade in shares on its platform. They are called stockbrokers. Their primary responsibility is to trade in shares on behalf of buyers and sellers.
Of course, they can also buy or sell for themselves. Presently the NSE has about 242 dealing members. This means that before you deal with any stock broking firm, you need to check with the NSE to ensure the firm is a dealing member of the Exchange; otherwise, you may be dealing with a fake stockbroking firm.
Trading in shares happens on the NSE every working day, except for public holidays. At the end of each trading day, the NSE provides a summary of trading activity for that day. This is called the Daily Summary and among other things, it indicates price of the share of each quoted company at the end of the day.
Shares that recorded price gain or loss and the total value of all the shares listed on the Exchange i.e market capitalisation are also provided by the NSE. So, if you want to know what is going on in the stock market, especially with respect to prices, and major company announcements e.g periodic financial statement, which are helpful in gauging health of a company, you must be well acquainted with the NSE, by regularly visiting its website-www.nse.com.ng
Top 10 performing stocks
BY NKIRUKA  NNOROM
Among the top ten stocks that engaged investors' interest in the previous week are Chemical and Allied Products Plc (CAP), A G Leventis Plc, Wapic Insurance Plc, ABC Transport, Ikeja Hotel, Dangote Cement, UACN Plc, Access Bank, Stanbic IBTC Holdings Plc and Red Star Express Plc.
CAP is  listed on the building materials sector of the Nigerian Stock Exchange and it manufactures paints and coatings; as well as fire extinguishers. It  led the pack with highest percentage gain. At the end of transactions last week, the share price went up by N8.10 or 20.93 percent to close at N46.80 per share. It opened the week at N38.70.
The movement in the share price points to favourable disposition towards the stock by investors. Already, the stock has gained N239.62 percent between January and May 2013. It began the year at N13.78 and rose to Friday's  closing price. The company  evolved from the world-renowned British multinational Imperial Chemical Award Industries Plc, which formalised its Nigerian operations in 1957 under ICI Exports Limited.
AG Leventis gained N0.30 or 20.67 percent capital appreciation to close the week at N1.81 from N1.50. The stock has equally enjoyed high patronage from investors, as it rose from N0.71 at the beginning of the year to N2.08 before declining to Friday's figure.
By focusing on its core markets such as Power, Fast Moving Consumer Goods, FMCG, Logistics and Real Estate – AGL has become one of the major forces in Nigeria and  beyond. For over seven decades, the company has provided West Africa with reliable, innovative and affordable products and services.
The third on the list of top ten gainers – Wapic Insurance Plc – is one of the few insurance companies in Nigeria that have managed to cross the two digit region after falling massively during the 2008/2009 capital market crash. The share price rose by 20.42 percent or N0.19 from N0.93 at the begining of the  week to close at N1.12. Wapic started the year at N0.50 and rose to N1.55 before dropping to N1.21 on Friday.
Investors that staked their money in the firm have therefore seen 342 percent returns on their investments so far.
ABC Transport Plc followed with 19.40 per cent capital appreciation or an increase of N0.13 to close at N0.80 from N0.67 at the begining of the  week. As the sole road transport firm listed on the NSE, ABC has been able to diversify into other related businesses, including haulage and cargo business. This, according to the Managing Director, Frank Nneji, has reinforced the company's financial performance. At the close of trading on Friday, investors bought 1.3 million units of the shares.
Hospitality business, Ikeja Hotel garnered N0.13 or 16.88 percent capital appreciation to close as the fifth top gainer in the week. It has also enjoyed as much patronage as other leading stocks in the week as it opened the year at N0.64 and rose to N1.72 before  declining to N0.90 on Friday.
Others are Dangote Cement with N26.15 or 16.46 percentage gains, UACN, which rose 15.50 percent or N8.67. The rest are Access Bank, Stanbic IBTC Holding and Red Star Express that went up by 14.47 percent, 11.53 percent and 11.11 per cent  respectively.