Dr Samuel Valerie believes that when a woman is well empowered, she can do exploits. She has worked internationally for over two decades and has remarkably impacted Nigerian education sector since 1994.
She has a doctorate degree in Phonetics with teaching qualifications and decades of teaching and administrative experience. In this interview, she reveals how her divine calling and love for children has earned her a remarkable success in her career despite attempts by some Nigerians  to deprive her the reward of her labour.
Apart  from the  rich teaching and educational qualifications, versatile teaching experience at all levels and administrative leadership experience that she has, her  divine calling and love for children have earned her remarkable success in her career wherever she  has  worked . According to her, "it is my stern belief that education is a legacy that lasts a life time which can never be stolen and therefore educational standard cannot be compromised. What you sow in children today would determine the brighter future of a nation eventually". Excerpts:
How  did you develop the passion for child' training?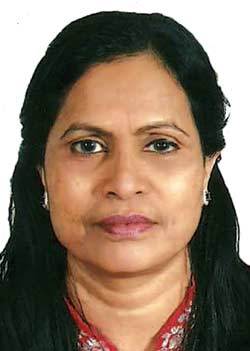 I never knew I had the calling of God upon my life for the teaching  profession until I was offered a job by a prestigious school in India to fill in a leave vacancy of a veteran teacher. To my utter surprise, I not only fit in beautifully but enjoyed teaching teens. Even though I  furthered my education after that wonderful experience, I decided to work on a project on "learning without tears" while acquiring my Post Graduate Diploma in teaching. Moved by my work, I was invited by one of the Regional Institutes of English equivalent to a university in Nigeria, to be a member of the team of professors/trainers on their "Train the trainers Campaign". We were moving from one  southern state to another organizing two weeks in-service  training for primary and secondary teachers, exclusively touching various areas of teaching in primary and secondary schools: "Specialized Teaching from Primary-3", cross-curricular approach to Teaching", "Thematic approach to teaching, Best ways to plan lessons", "Class & Time Management", "Application of modern principles, methods and technology in teaching", "Pro-active teaching and learning without tears", "Education for all", "Reaching  all students alike" and  other topics arising from the teachers in the field. Our training the trainer programme was a practical one with the students of various levels from the local community present in class while teachers observed the professors demonstrating  the strategies live and proving to the trainers first hand on how to achieve the set goals for every lesson. I witnessed the seasoned professors becoming little kids while on this mission. This further fuelled my burning desire and passion to impact lives through the noblest profession of teaching.
I was convinced then that God created all children alike and every child can be successful in what he/she is called to do provided teachers and administrators take time to help the child discover his potential and guide him/her to fulfill his/her dream.
How long have you been in the business of educating children  in Nigeria and what have been the achievements so far?
To be precise, I have impacted the Nigerian education sector since the year 1994. Though all my achievements cannot be quantified, as a principal of a low-profile school, I worked relentlessly to bring it up to the standard of a high profile school in every aspect. Standard Organization of Nigeria can vouch for the fact that I even helped the school attain the ISO certification for primary, secondary and administrative departments as their management representative. I was largely instrumental in reshaping and recreating the school to meet covertible standards in curriculum,  facilities, quality of teaching and learning and structure.
All the children I have worked with so far have been amazingly wonderful and achieved what they were set to achieve. This has been possible because I set high standards and higher order of thinking skills for gifted students through "Enrichment Classes and corresponding  assessment practices", while helping the struggling students to achieve their targets by developing interest in learning through exciting interactive teaching and learning methods and constant motivation.
I can proudly affirm that "Special Children" have brought out the best of  my calling through patience and endurance in making them learn and acquire life skills. Given the child-friendly atmosphere, tools and individual attention, the special children have always exceeded the  expectations of their parents and well-wishers. They can act and work like normal children when their mates stop differentiating them. Wherever I have been, I have always ensured that all children are treated alike and my emphasis  has always been on "mutual tolerance and respect for all in the school community."
I am very familiar with both the Nigerian and British curriculum. I have equally been associated with schools offering the American curriculum. This has greatly enhanced my integrated approach to teaching and learning to fill the gaps  in curriculum and focus on subject competence of a child according to age and levels.
Being an Indian, married to a Nigerian, what  has been your major challenges of  educating kiddies in this part of the world?
As an Indian married to a Nigerian, I faced a lot of opposition in my own country. In Nigeria too, I had to work very hard to rise  to the top despite all ordeals but I  faced it all with my husband by me. After my husband's death, even though we  have two children and I have been in Nigeria for two decades, I began to face such serious discrimination and reproach of  widowhood  by some defaming Nigerians that I could not understand why.
Indians are generally well known worldwide for their expertise in the education and medicine. Training students to achieve their target has never been a challenge. One of my major challenges has been making teachers teach academic discipline to students by being disciplined themselves. I strongly believe in the slogan, "A teacher fails when a student fails". Most of the Nigerian teachers do not like to be held accountable for the performances of  their students. These days, most of the teachers demand extra money  for every effort and would not want to go an extra  mile to train the child to succeed. They like to give hundred reasons why a child did/could not meet his/her target for the faults of his or his parents rather than working to  improve on their teaching mechanisms by reflecting on their lapses or learning from their past mistakes. Success can easily be achieved when gaps are identified and efforts are made to close the gaps for better successes ahead. Every teacher has to take accountability for the children entrusted in his/her care not only in his subject area but in students' attitude  towards learning, time management skills, meeting deadlines that are key  to learning to succeed.
Another major challenge is business men being allowed to commercialize education. The schools I have been a part of both as an employee and as a partner taught me a hard reality that  "education is a business " . "Betrayal of Trust" and "Politics" exist  in educational institutions more than anywhere else. A teacher who can make believe and overlook students' lapses and cover-up are considered commercially good teachers by the owners than those who work hard and believe in doing things right.
Businessmen have severally used my brain and strongwill to build the best institution and have stolen my vision to help set up or build on the standard but  have bitten the finger that built it by castigating me and tarnishing my image. As they know nothing about education, they do everything possible to eliminate the educator to sustain their commerciality instead of working hard to improve on the quality. Establishing a standard school to them is a "good business."
As the owner of Milhills School,  which area would you want government to help you while training children for future leadership?
As the owner of Milhills Schools , government should support me and my children who have given so much to Nigeria by assuring  us of our safety and security in Nigeria to practice education effectively and make a visible impact on the educational future of Nigeria for future leadership without being discriminated upon us as I am a widow.
I have always believed in creating a brand; teaching children from the age of  two to 18 and equipping them to uphold Christian and moral values, acquire specialist learning and life skills and sending  them to the world  to affect all walks of life in their future careers. It is my desire to make Milhills Schools the best and complete Christian school at all levels,that stands out for its Christian cum moral values, excellent standard of education and for molding compassionate world leaders.