As far as I know, many countries that have opted for a federal system of government have done so because it is the best known system for managing diversity; whether of tribes, nationalities, religion, ethnicity or language.
In this sense, this country and my country, especially my state, Lagos, are no different.
Lagos shares many similarities with New York: as former federal capitals, as current commercial capitals, as melting pots of different people from different walks of life.
Where would our two countries be without the diversity of their immigrant population? An immigrant population whose skills and financial resource help to keep the wheels of development turning.
I will let you ponder over these thoughts, and  move to the content of my speech.
As I mentioned,  I have been asked to speak about the challenges of governance and development in Lagos. In as much as I am a thoroughbred Lagosian, becoming governor has put me on a path of rediscovery; a path which yields new surprises at every turn.
In my view, the challenges of governance in Lagos are really no different from the challenges of governing any other mega-city. And make no mistake, with an estimated population of 21 million; Lagos is as mega as they come. Keep that figure in mind as I will keep coming back to it.  When I was growing up in the 1970s Lagos had a population of around 2 million. So that represents a tenfold expansion in about 40 years. Lagos has an annual growth rate of about 5%.
So I suppose the first major challenge is the population boom; rapid urbanisation and how we have dealt with it over the years.
Unfortunately the two decades that followed the 70s were characterised by lack of infrastructure development.
By the time we returned to democracy in 1999, the population had mushroomed without a corresponding rise in terms of development, especially the necessary infrastructure like roads, schools, hospitals, malls, and those things that support daily life and should be taken for granted.
We had to act. And we had to act fast.Lagos has always stood as a magnet, a factory of dreams and aspirations for many Nigerians.So even as the infrastructure was not improved, the population kept rising, people kept pouring in.
Transportation improvement (Light rail, ferry services, expanded road network)
More kids so more schools.
*** Headache for others a migraine for Lagos
The second major challenge is security.
21 million people remember!
We have to keep them all safe. We have to keep them safe from themselves. We have to keep them safe from the bad eggs of society, of which every country unfortunately has its own fair share.
When I was elected six years ago, we had to make some tough decisions on how we wanted to maintain peace and security in the state.
To restore a sense of order, we set up the Lagos State Security Trust Fund. Aside from a regular commitment from the government, this fund has been further endowed by private businesses and individuals in the state. Anyone can contribute.
One of the most touching contributions has come from a school. The children donated their pocket monies and asked the principal to hand it to me at the Trust's annual meeting where we present the accounts to the public.
It was a comparatively small gesture but it was huge in terms of self-sacrifice and a sense of duty. Through the fund, crucial equipment needed by the state police command has been procured and made available to fight crime. Beyond that it has also allowed the state to build their capacity with innovative and training and modernised policing techniques.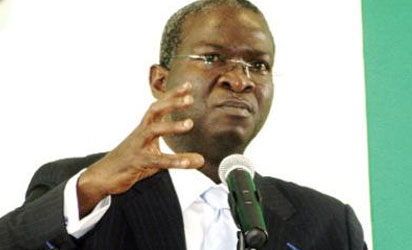 It has helped to democratise our police to the grassroots even if some people still play ostrich about the merits of state policing.
The Fund has enabled us to reduce violent crimes by over 80%. We went for 2 years without any crime during Christmas and other festive periods.
We went for 2 years with no reported bank robbery attempts in the state. We have lately suffered a few bank robbery attempts but none has been successful.
I don't know any city or state with our population size that has our security record in any part of the world
That leads me to the third challenge, unemployment.
How to ensure that 21 million people are gainfully employed?
LASTMA, skill acquisition centres, Agric – YES initiative, ENTRIDA, Services parties emerging middle class, catering, rental, music, event place, fashion
Other Challenges:
(i) Waste management
(ii) Housing
(iii) Education
They are no different from what any Governor in America is dealing with.
But perhaps the crux of the matter is which Government should do more? The State or the Federal?
The argument arises even here – and the debate was fierce in the last election – about whether the current Federal Government's desire for large government is not imposing too large a cost on the tax payers of America.
In my country the debate has an origin quite different from the cost of government alone.
It is based on our post-colonial history where we had three semi-autonomous regions and the central government.
Each of the regions kept the bulk of their resources and contributed to the central government to enable it to carry out its national responsibilities.
The system was not without its problems. But we had stable electricity. We had more food – enough to eat and enough to export. Illiteracy levels were higher but there was evidence to show that it was being addressed.
Our universities had more learning in them and acquired a respectable reputation.
It was a Golden Age for our country. But things started to fall apart and we quickly began to lose our lustre. The military came in and unified the regions and things have never been quite the same since.
Although we have a "Federal Government" the constitution was written by the military.
So we have state courts where judges are picked by the Federal Government.We have state legislators but no state police to enforce the laws they make.There are no state prisons so we rely on Federal officers to police our states and keep convicted persons away from law abiding citizens.
We have Federal Traffic Safety Officers to issue Driver's Licences to drivers in the state and also seek to regulate municipal traffic inside the states.
Many states cannot control their sources of finance such as local taxes on consumption, lotteries and hotels. (city and state taxes for drinks in new york)
The Federal Government holds on to these at worst; or encroaches upon them at the best.
Consequently all states get monthly allocations from the Federal Government, and the majority have few alternative sources of funding.
Lagos, of course, has chosen a different path. It lives largely on the revenue it raises by itself.
70% of its N499 Billion ($3.2 Billion) budget for year 2013 and the preceding years have been self-generated.
The Federal Government's monthly allocations only account for 30% of Lagos' annual resources-to-budget cost.
In order to maintain this financial hold, the Federal Government keeps 52% of the nation's resources.
The states, all 36 of them, get a 26% share between them.
The 774 local governments, including the 37 created by Lagos, share only 20.2% of the country's revenue amongst them.
The debate therefore is not only about the cost of such a large government but also about its effectiveness.
The Primary Health Care Centres, where newborn babies get vaccinated and immunised against disease, are not in the capital but within the 774 (plus 37) local governments.
Can the money held in large supply at the centre reach them in time and in good quantity before they die?
The primary schools, which are the foundations of early learning, are also in these local governments. (In Lagos there are 1,001 of such primary schools)
The impact of a behemoth Federal Government is no less exacting on the transport system in a sub-optimal way.
In Lagos the Local Governments have 6,415 roads, the state government has 3,028 and the Federal Government has only 117.
Yet the Local Governments have only their share of 20.2% (shared with 717 others) and the states have only their share of 26% (shared with 35 other states) of national revenues to fix these roads.
Remember the Federal Government owns the least number of roads. Yet she keeps 52% – the lion's share of the Federal resources.
How efficiently therefore can the Nigerian Governmental system provide roads that are so critical to prosperity for her people?
These are the structural challenges of Government that we must overcome.
They sum up the demand for a truer federal union that is being demanded by the 36 state governors in terms of fiscal and political federalism.
I associate myself with this demand in its entirety.
The realization of these demands on their own, may not necessarily leapfrog us into ElDorado. But without them the journey will be tortuous.
If they materialise they liberate the possibilities that lie inherent in the diverse capacities that the Nigerian states and local governments are blessed with.
In that event, the Federal Government will not be without authority or responsibility. But in my view it will be better able to co-ordinate the diversities for mutual prosperity. While these challenges exist we are not folding our arms and twiddling our thumbs.
On the contrary we have become more determined in Lagos and more resourceful:
Tax Reforms and more tax payers
10 MCCs and 57 Flagship PHCs
Lagos State Public Works Corporation
Let me conclude now by saying that whilst we contend with these challenges and struggle to build infrastructure, our most enduring infrastructure will be the one we build in people'sminds, especially the next generation.
This is why we have committed time and resources to rebuild our education. We are seeing results in the right direction but the journey is still long.
However even long journeys can be punctuated by delightful pit stops. One such encouraging pit-stop came via a text message from the Vice-Chancellor of the Lagos State University (LASU).
I must point out that LASU is the state owned university, different from the federal owned university of Lagos also in our state. They are our older, and if I must say for the time being, our more illustrious cousins.
The message from the Vice-Chancellor was that LASU has been ranked 11th amongst all the universities in Nigeria. We are the only state owned university in this ranking.
But this is not our destination. Our destination in the short term is to be the best in Nigeria. In the medium term to be the best in Africa and in the long term to be the best in the world.
That process has already started. We are already building affiliations for LASU across the world. Nothing would please me more than to establish such an affiliation with this school and the John Hopkins University. It would have made this trip really worth making.
Conclusion
I will only now ask you to put everything I have said into perspective. If at any point I sounded like I spoke from a place of contentment then that was certainly not my intention.
The truth is that all we have done is to lay down a marker for the sort of state we are trying to build.
If I can claim any success, it is that the dream I have always had for Lagos is now no longer just a picture in my head – it has taken manifestation into something more tangible. And more importantly, it has become a shared dream.
I would like to express, once more, my gratitude for being asked to speak in such esteemed company. I appreciate the time you have devoted to being here and hope to welcome you as visitors to Lagos in the near future.
Thank you for listening.
Babatunde Raji Fashola (SAN)
Governor of Lagos
Being TEXT OF SPEECH DELIVERED BY HIS EXCELLENCY,THE GOVERNOR OF LAGOS STATE, MR. BABATUNDE RAJI FASHOLA (SAN) AT THE PAUL H. NITZE SCHOOL OF ADVANCED INTERNATIONAL STUDIES, JOHN HOPKINS UNIVERSITY, WASHINGTON D.C, UNITED STATES ON APRIL 26TH 2013