By Emmanuel Aziken, Political Editor
Both sides in the face off between opposing factions of the Peoples Democratic Party, PDP in Rivers State have drawn the battle line. Former Deputy Speaker of the House of Representatives, Sir Austin Opara and incumbent member of the House, Dakuku Peterside, both from Rivers State in two different interviews present the case of the two factions with both men agreeing on one thing, that rascality on the part of each other is at the root of the crisis. Excerpts:
What is your assessment of Governor Rotimi Amaechi's time as governor of Rivers State?
Impressive and spectacular.  He has done very well in most areas of governance. Very few Nigerians will disagree with me that he is among the top three gold standards of this set of governors.  He is outstanding in security, education and health, he has done well in roads and power but above all has come to symbolize transparency and accountability.
So, how come he is surrounded with crisis everywhere at the Governors' Forum, Rivers PDP and with Mr. President. He is said to be too brash?
I am not aware that he is having any problems with the President of the country.  You see, in this country, being honest, bold and courageous could lead you into trouble.  Permit me to take the issues one after the other.  On Nigeria Governors Forum, there is absolutely no trouble.  Certain characters allowed themselves to be used for selfish reasons to destabilize an association that has helped stabilize the polity.  Governor Amaechi's only crime is that he puts a face to decisions made by his colleagues, very often for the interest of democracy and federalism.
Some persons also claim that he is too forthright and I don't know what crime that is called.  However, the biggest unsaid problem is the perception by certain persons in the presidency that Governor Amaechi has ambition to aspire to higher office.  The attempt to criminalize ambition, if any, is the root cause of the perceived problem in NGF.  The second strand is speaking truth to power as can be seen in Governor Amaechi's comments on sovereign wealth fund, excess crude account, Rivers-Bayelsa oil well issue, fuel subsidy, East-West road, Adamawa PDP amongst others.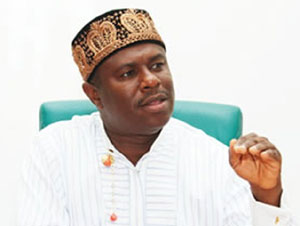 What of the crisis in Rivers PDP?    
Is there any crisis in PDP Rivers State?  There is absolutely no crisis.  What has happened is simple to understand. A party congress was conducted peacefully in March 2012.  Nobody raised issues until December 2012 when the interest of certain elements in the presidency converged with certain elements in Rivers State who are incurably ungrateful and who do not fear God, then some characters in the judiciary gave themselves to be used and a controversial judgment surfaced.  An Abuja high court gave judgment in an issue it has no business with.  One Felix Obuah who never participated in any of the party congress processes started parading himself as PDP Rivers Chairman.  The same Felix Obuah has gone about making inflammatory remarks.
If history teaches any lesson, it is that these ones too, will be consigned to the dust bin of history very soon.  I have watched how a certain colleague of mine from Rivers State sold his conscience and tried helplessly to defend the indefensible on TV camera to prove that the INEC monitored single PDP congress in Rivers State produced any other person other than Chief G. U. Ake as state Chairman of the party.  All members of PDP in Rivers State know who their leaders are and know who the charlatans are.  Rivers people are more intelligent than the ignorance being displayed by the characters parading themselves as officials of PDP in the State.  Rivers people know them and know their history.
Are you faulting the judgment of the Abuja high court?
I am not suggesting but the facts are clear.  Prof. Itse Sagay the respectable legal luminary said that single judgment delivered by Justice Ishaq Bello has the capacity of derailing our democracy.  He clearly said it has no basis in law and portends danger to our democracy.  Prof. Wole Soyinka expressed concern that the debasement and manipulation of the judiciary by politicians as exemplified by the judgment of Justice Ishaq Bello can lead to anarchy.  He acknowledged the effort of the current Chief Justice of Nigeria to reform the judiciary but recognized the fact that there are dark areas and that this dark area is responsible for the seeming crisis in Rivers State.
These are voices of reason.  What has happened is an attempt to sacrifice the entire democratic project to get to one man who is perceived to be a political opponent.  How do you explain a situation where there is a dispute among two persons who live in Rivers State over an event that occurred in Rivers State yet a resolution was reached by an FCT high court?  How do you explain a situation where the congress in dispute took place in March last year and only became a subject of litigation one year after?  What does the law say about the law courts entertaining purely intra party matter?  These are questions begging for answers.  I am optimistic the Court of Appeal will cure this malaise, restore sanity in the system and save our democracy from self destruction by a few desperate folks.  The judgment has done a serious damage to our democracy.
What is your reaction to the suspension of some members of the House of Assembly by the new party executive?
It is laughable.  It simply shows the degree of ignorance of the characters parading themselves as party officials in Rivers State.  They are displaying ignorance of lack of knowledge of the powers of state party officers.  Even if we admit that they can suspend elected officials and by extension party leaders, by our law they do not lose their seats in the legislature.
What is your reaction to the Police action at Obio-Akpor LGA headquarters and the expulsion of the caretaker officials of the council?
The use of brute force outside constitutional intendment is a childish display of poor sense of judgment and flawed articulation of application of federal might.  This is clearly another blunder.  This action makes it difficult for the presidency to deny that they have no hand in the unfolding drama in Rivers State.  How also do you explain the take over or occupation of a local government secretariat by the police without information or consent of the State governor?  This is clearly the height of lawlessness we are each day moving closer to anarchy.  It is unfortunate.
Are these forces responsible for grounding the Governor's plane too?    
No comment.  Nigerians now know the truth.  Every person who has lived in this country can distinguish between political persecution and doing the right thing.  The public perceives the grounding of Rivers State plane as complimentary to the crisis in Governors Forum and Rivers State PDP.  If that is the view of the vigilant public, it shows there is desperation amongst certain persons to bring Rivers State and her courageous Governor down at all costs.
Hon. can you in good conscience exonerate the President from all that is going on in Rivers State?   
Every man to his conscience and to his God, President is not exception.  I am no exception, Governor Amaechi is no exception.  Doyin Okupe, the Special Assistant to the President calls what is going on in Rivers State and around Governor Amaechi politics.  He too is left to his conscience and to his God.