Nigeria's track and field sensation, Blessing Okagbare revealed her excitement at breaking the 7.00 metre barrier for the first time at the first in the series of the Diamond league. Though the wind blew away what could have been a remarkable jump in Doha, Qatar, Okagbare is looking forward to repeating the 7.14m to put her name in the records book.
In Qatar, Okagbare demonstrated that  the heart breaks of 2012 when she failed to win a  medal in the long jump and sprints at the London Olympics were over, when she leaped a wind assisted 7.14m, which athletics statisticians in Nigeria have equated to a 7.08m jump without the wind. Chioma Ajunwa still holds the African women long jump record of 7.12m she did in 1996 to win the Olympic gold in Atlanta, USA.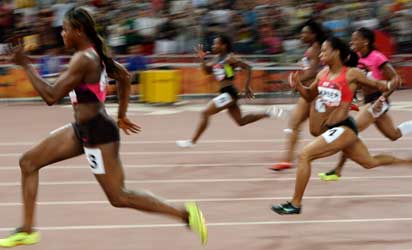 "Yes, I was very excited jumping seven meter for the first time. I am looking forward to improving on it, by God's grace," said the athlete during a chat.
Okagbare posted 11.00 in the 100m at the Shanghai Diamond league last weekend. It is the third fastest time of the season, she made a stop over in Beijing, China to run at the IAAF World Challenge, where she posted 11.04 seconds to win the race.
She beat US athlete Mikele Berber and Ruddy Zang Milama to second and third spots. The Milama, Gabonese who denied Okagbare the African championships title in Porto Novo last year ran 11.32. Okagbare has the leading time in the 200m at 22.31seconds she did in April.
However, Okagbare was not listed in any of the events in today's Diamond League meet in New York. Only Gloria Asumnu will be running in the women 100m.
"The 100m is not a Diamond League event. I am not doing the long jump because I have a long tiring trip from Beijing," said the athlete.