BY Kunle Adekoya
CHIEF Great Ovedje Ogboru has resonated as a political factor as a result of his bid to govern his home state of Delta since 2003. In this interview, Chief Ogboru who was emphatic that he had not lost any election speaks of the status of the legal battles for the governorship of Delta, attempts to ruin his businesses, amnesty a la militancy and Boko Haram, and President Goodluck Jonathan. Excerpts:
Less of you is being heard in your party, Democratic Peoples Party (DPP). Are you quitting?
That assertion is not correct. The Democratic Peoples Party, DPP is fully on ground and has its fair share of the news space.
There is this assumption that you appear to be winning at the polls and losing in the court?
This, unfortunately, is a topical issue of what we have come to know as the Nigerian factor, where things that are seemingly equal today are tomorrow not equal, or where one plus one in a particular situation becomes less or more than two in another situation even when the circumstances are exactly the same.
In trying to make a few people scapegoats by applying standards that are unholy, unethical and, of course, illegal and unlawful, you create a standard where the entire society suffers. That is what has been our experience in Delta State.
That is why we won at the polls all the time but when we got to the courts our cases were never heard.  We went to the Supreme Court three times and this is the fourth time we are going there yet the merit of our case has not been heard.
Will you still run as a gubernatorial candidate in Delta State in 2015 or are you moving on?
We have not even gotten to that bridge yet. We still believe that we won the election in 2011 and the Supreme Court in its wisdom will reverse itself, and will give the proper order and declare me the governor. When or if that happens, the issue of 2015 becomes very irrelevant.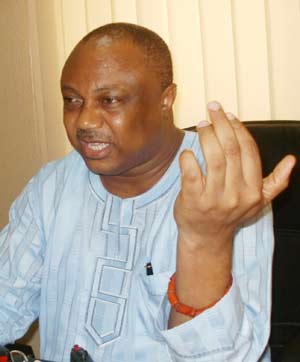 Will they not say that it has been overtaken by events?
That is not the law of our country.
How true is it that you gone bankrupt?
Let me explain. Sometime in 2005, we took a facility of $3 million from a bank and gave them security in excess of $3 million on a revolving Letter of Credit (LoC) finance basis. But we got there one day to operate our account and we could no longer operate the account! The facility had been unilaterally terminated by the bank without even a verbal communication. No tangible reason was given and every attempt to make them to see reason and change their mind failed.
Almost thereafter, we discovered that some ex-governors had bought shares worth N5 billion each in that bank. So we suspected that somebody was pulling the strings behind the scene to make sure that our business is scuttled. We took that matter to court because we felt injured by the unilateral, oppressive and draconian action of the bank to destroy our investment and create a state of indebtedness on us.
That matter was in court for four years. We finished our case in 2008. The bank could not establish its case against us for three years. At the point the judge was to give judgment, the lawyer representing the bank accused the judge of bias and the judge had to disqualify himself from the case and so judgment was not given.  The dispute then was about N200 million.
That is to say, if the counter claim of the bank succeeded against our claim, the bank would have received a maximum amount of about N200 million. However, the bank fraudulently handed this over to AMCON as a debt of N3.5 billion.
Interest calculation
AMCON is now telling us that for a debt dispute of N200 million, there is an interest of N3.3 billion. Of course you know that is untenable anywhere and there is no such arithmetic or mathematics or interest calculation that could result in such debt, which is to say that the debt is being cloned on you or you are being punished by creating a state of indebted status on your person and your business.
Our names were wrongly published in the newspapers, and we took the matter to court again for libel and that matter is still in court. Yet there was this other case with another bank where the outstanding principal amount was only N33 million by their own acknowledgement. We reached an agreement with that bank that interest inclusive, we should settle for N100 million.
We asked them to transfer our property title documents worth about N450 million at that time to Oceanic Bank in order to be paid the sum of N100 million, as agreed between us, the Managing Director of that bank, the executive Directors Operations, Finance, Legal and head of their risk management and recovery.
After about four to five months, (in the heat of AMCON emergence) the bank came back to us that the board did not approve the negotiation to which an agreement of settlement of N100 million was reached.
We said in that case, we have to go to court to determine how much interest is actually due, because they are charging us interest on amount not borrowed. The amount we borrowed from the bank is N33 million outstanding and you are charging us interest of N270 or N280 million.
Who is going to pay that? The amount, which they are charging us as interest is ten times the amount we borrowed. So they created a debt trap. Let us go to the court and let the court decide. In any case, the value of our collaterals held with the banks is far in excess of what we owe N33million to N450million.
Security requirements
Those are the debts that AMCON said it procured. And when they brought us a letter, we told them you are saying that we are owing you billions but we are not. 95 per cent of the so-called debt is illegal interest charged by these banks while these matters are in court. Curiously, one of the banks gave AMCON a document obtained by fraud.
The security requirements, in all our transactions, were legal mortgages or cash collaterals. But in an attempt to undo us because there is a grand plan to do some of these things by political enemies, they went and changed the legal mortgage title to a debenture. That debenture authorizes them to go against the properties of the company anywhere.
The legal mortgage is restricted to the specific security, which you offered to the bank. They were not satisfied with the security we offered to them because their agenda was not business. They were not looking to recover their monies in any way. They were looking to ensure that they foist on me the status of a bankrupt politician or businessman.
That will make it impossible for me to contest elections again, but they now started by proceeding with a forged document. That is to say, it will only take time. The truth will come out and it will become crystal clear that they are standing on quick sand.