By SAM EYOBOKA & CALEB AYANSINA
…Says Dokubo merely re-echoed Buhari's statement
ABUJA—NATIONAL President of Christian Association of Nigeria, CAN, Pastor Ayo Oritsejafor, Thursday, warned President Goodluck Jonathan not to waste tax payers' money on an amnesty programme for the  Boko Haram sect, describing it as 'a futile exercise'.
Pastor Oritsejafor who stated this after receiving the award of 'A True Servant of God' conferred on him by the Christian Elders Forum of Northern States, NOSCEF, in Abuja told President Jonathan not to waste any more time on the amnesty proposal because it would not work.
The CAN President who wept profusely while recalling what he described as religious cleansing/genocide, asked rhetorically, "how do you explain this (targeting worshippers in the Church on Sundays), is it the Church that is now bringing the poverty they claimed was one of the reasons for the killing?"
Dedicating the award to the memory of victims of the sect, he admonished the President "to beware of some Northern Muslim leaders and their few Christian allies who always come to him to seek regional concessions with religious biases. People who do not see anything wrong in Boko Haram killing Christians, but want amnesty for murderous and blood-thirsty sect members".
Oritsejafor further advised Jonathan to ignore some politicians who did not see anything when certain individuals from a section of the country vowed to make Nigeria ungovernable if "Jonathan becomes President in 2011", but want him to arrest Asari-Dokubo "for repeating what they said earlier. Such hypocrisy should never be tolerated in a secular country like Nigeria".
His words: "Today is historic, a day that the Lord has made and one of my best days. Indeed, this award of "A True Servant of God" will be a lasting memorial to me. All I have done in my over 40 years in ministry is to make people to witness the birth of a spiritual dynamic that will revitalise long-dominant moral values; an age of tolerance, understanding and total cooperation that will ultimately lead to a single but inclusive country.
"But, today, I am one of the most misunderstood men in Nigeria on account of my struggles to ensure that Christians and the Church in Nigeria are given a fair deal in the project called Nigeria, particularly in the North. This is why I have described this award as a memorial to me. This is why; also, I thank members of the Christian Elders Forum of Northern state, NOSCEF, for honouring me with this award. I can never thank you enough. Thank you! Thank you! Thank you!!!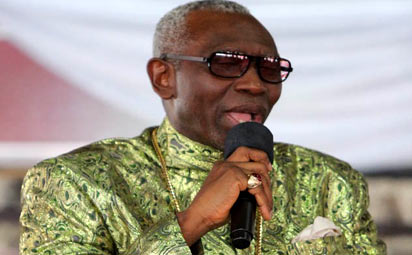 "Perhaps, this award is the "tonic" I need to make me work, more than ever before, for Christ in spite of the criticisms to my person. I now feel relieved, assured and healthier to work for Our Lord and Master, Jesus Christ.
"I dedicate this award to the memory of victims of the Islamic group commonly known as Boko Harm, those injured and are living, their widows, widowers, orphans and those whose businesses have been terminated because of the activities of the sect and, indeed, to all persecuted Christians in Nigeria.
"If we agree that poverty, injustice and inequality are the causes of the insurgency by Boko Haram, a largely Islamic group, the question would be: are Muslims the poorest people, the most deprived? What about Christians? Can we say injustice and inequality, as they say, is limited to Muslims alone? Can the claim of poverty be justified if the weapons and arms being used by the Boko Haram sect are calculated in terms of naira and kobo? Where is the justice when the Almajiris have special schools built for them and none for Christian children in the North and South?
"Where is the equality when in most government parastatals, the staffing is heavily skewed in favour of a particular religion? With amnesty to the bargain for the Boko Haram sect members, would the Christian youths whose fathers have been killed benefit? Yet justice is an open wound, only truth can heal it.
"Here we are with an amnesty plan that would be futile in future and which aim is to divert the attention of reasonable Nigerians and the world from the cruelty of Boko Haram to Christians. From what is happening in this hall today, it is clear that the position of a few outspoken clergies remain unpopular among Christians in Nigeria. As the major victims of Boko Haram, we, the leaders of the Christian Association of Nigeria, CAN, cannot afford the luxury of being quiet. Those groups with huge debt of integrity and credibility to pay and whose members are the ones terrorising our members can afford that.
"For us, Christians in Nigeria, the terrorism that is going on now is in pursuit of jihad. Again, it becomes difficult to separate if we consider the statements of the Boko Haram spokesman, Abu Qaqa, on August 1, 2012.
"Hear him: "The fact that we are the warriors of the Almighty and even the security forces are finding it difficult to contain our activities. We want to stress that in our struggle, we only kill government functionaries, security agents, Christians and anyone who pretends to be a Muslim but who engages in assisting security agents to arrest us".
"This was the same day that the Emir of Fika in Yobe State, was attacked. The Shehu of Borno, had been attacked a month earlier. So, we can understand that the Muslims being attacked are those singled out for killing because of their critical stance against the activities of the sect. We utterly sympathize with the families of the clerics killed by the sect members because they stood for the truth. May the Almighty God grant them aljana fidausi. We also salute the courage of the traditional rulers who have been attacked at one time or the other and say that the truth in your mouths will continue to see you through".
"Mallam Qaqa went further to state, "our crusade is meant to ensure the establishment of an Islamic state by liberating all Muslims from the excesses of the infidels. We strongly believe that Almighty Allah will reward us with his famous paradise in the hereafter as He rightly said in Charpter 9 verse 111 of the Holy Qu'ran".
"With the above quotes, it is apparent that terrorism without jihad cannot be; they appear to have been created together. This is why Boko Haram is using terrorism to achieve its mission of Jihad. After all, what is Jihad? Jihad means using all one's strength as well as moving toward an objective with all one's power and strength and resisting every difficulty.
"This is why we insist that the primary targets of Boko Haram are Christians and their Churches. If this is not so, why is it that the attacks are mostly on Sundays when innocent Christians are in their Churches worshipping. Only this Sunday, gunmen as they are also called, attacked members of the Ekklisiyar Yan'uwa a Najeria (EYN) Church in Jilang village of Maiha Local Council in Adamawa State, killing 10 persons and injuring 12 others.
"The gunmen stormed the church at about 11.00 am while the Sunday Service was on going. According to one of the Newspaper reports, upon gaining entry, they started shooting at worshippers in the Church, who were listening to the preacher.
"Reports we in CAN get on daily basis from Borno, Yobe, Kano and some of the adjoining states are mind boggling. Do we speak of Christians pushed out of moving vehicles on the highway or those slaughtered like cow? What about those abducted from their homes and nothing is ever heard of them? There are other unreported cases of Christians shot in cold blood. You begin to wonder where these human rights groups are.
"Indeed, the arrogant and deriding manner with which Boko Haram dismissed the amnesty deal coupled with the earlier quoted statement by Abu Qaqa have both reinforced our stance that the sect's only interest is to eliminate Christians and enthrone an Islamic state in Nigeria. This is why we are again calling on President, Dr. Goodluck Jonathan not to waste tax payers' money on a futile exercise.
"President Jonathan should review the amnesty deal for Boko Haram in view of the bravado by the sect leader, Mallam Shekau. Boko Haram is not only a local terrorist organization. It has a ring of international connection to it. Do not waste time pampering the sect members because the amnesty deal will not work.
"I do not intend to bore you with this issue of Boko Haram. But this is a subject that touches us most today as Christians. Permit me to call on President Jonathan to beware of some Muslim leaders in the North and their very few Christian allies who always go to him in droves to seek regional concessions with religious biases; people who do not see anything wrong in Boko Haram killing Christians but want amnesty for the murderous and bloodthirsty sect members.
"He should beware of those who kept mum when Odi and Odioma in Balyesa State and Zaki Biam in Benue state were destroyed by solders but now want Heavens to fall when Baga village came under military attack. He should beware of those who kept mum when Buhari and other Muslim leaders in the North said the country will be made ungovernable if President Jonathan becomes the President in 2011, but wants him to arrest Alhaji Mujahid Asari-Dokubo for repeating what they said earlier. Such hypocrisy should never be tolerated in a secular country like Nigeria.
"Nevertheless, we in CAN believe in peace and will continue to work for peace because without peace there can be no good governance that would yield the dividends of democracy. This is why I urge all Nigerians to work for peace in the interest of our generations yet unborn.
"I salute the resilience of our people and urge them to be more security conscious. I also salute our security agencies who in spite of attacks on them by the enemies of progress, have come to the rescue of our people. May the Almighty God continue to protect you all."
Speaking on the choice of Pastor Ayo Oritsejafor, the Chairman of NOSCEF, Evang. Matthew Owojaiye said Oritsejafor was chosen because of his commitment and dedication for the things of Christ, noting that when others tried to save their head, he dared to speak the truth.
He described Pastor Ayo Oritsejafor as a true servant of God and a man of the people, who is willing to lay down his life for the people.