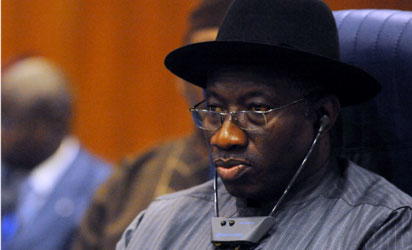 President Goodluck Jonathan
BY Emma Elebeke
President Goodluck Jonathan has said that Africa lacks enough scientists and engineers for the continent to migrate into the emerging global knowledge-based economy.
President Jonathan stated this at the weekend, during the  4th commencement of the African University of Science and Technology, Abuja held at the weekend.
The president, represented by the Minister of Science and Technology, Prof. Ita Okon Bassey Ewa said there is urgent need  for Africa to develop strategies that will enable her raise enough information and communication technology, ICT driven scientists and engineers  that will create the jobs required for the over a billion population living in the continent, which the times demand.
He described science and technology as engines of economic growth and prosperity, which he said is evidenced in Western and Eastern countries of the last few centuries, where industrial revolution was driven by science and technology initiated in leading European universities.
This according to him, informed the decision of federal government to support the establishment of the university in 2007, with a donation of 24,000 acres of land and subsequent funding through the Petroleum Technology Development Fund, PTDF.
President Jonathan, who expressed satisfaction with the partnership between the university and the oil and gas industry in Nigeria, since inception, described the partnership as a progressive and beneficial partnership that should be extended to other industries, in order to support Nigeria's bid to join Africa's technological emergence into the country of the future.
''The government of Nigeria is pleased to see that AUST has welcomed students from 19 African countries. This is a progressive and beneficial partnership that should be extended to other industries, as Nigeria joins Africa's technological emergence into the century of the future.
''We are pleased to see graduates of AUST beginning to have impact on higher education in Africa, with graduates now occupying positions in Ghana, Sierra Leone and Liberia. AUST is emerging as a source of well-trained graduate assistants, contributing to the development of a critical mass of human capacity in science and technology that can address Africa's development needs.
"Here in Nigeria, our target is to develop into one of the top twenty global countries by the year 2020. This is a goal that can only be achieved,  if we consolidate on our development of world-class capacity in science and technology.
"As we look into the future, in which we hope that Nigeria will make its much desired mark in the global economy, we shall assiduously promote the emergence of AUST as a research university that will contribute new discoveries and innovations vital to the growth of knowledge-based economy in Nigeria," he added.
In her address, the Chairperson, Board of Directors on the university and Co-coordinating minister of the economy, Dr. Ngozi Okonjo-Iweala expressed delight with the pace of development of the university, which she said had since inception is quickly becoming a little gem in the heart of Africa, as a great source of science and technology experts.
'' AUST is quickly becoming a little gem in the heart of Africa. Since, our inception, we have educated students from 19 countries in sub-Sahara countries.
"In just five years, our students have started to make the type of impact that we hoped for, when the institution was established. Many of our students have found jobs in companies such as Schlumberger. Our most precious achievements are embodied in our students. This year, they have come from 10 African countries with diverse backgrounds that make AUST a truly rich mosaic of Africa culture and talent," she said.
Dr. Iweala, however urged the students to lead lives of service as they use their knowledge of science, technology and innovation to contribute to the sustainable development of Africa.
In his goodwill message, Minister of Information, Mr. Labaran Maku commended the University for standing out in its commitment to serve African continent.
"I came to show solidarity to this university, which is working for African continent as a whole. I rejoice with you graduands and urge you to face the challenges of the future with optimism and dedication to service, not only your respective countries, but to Africa as a whole," he added.
Earlier inn his welcome address, the President of the University, Prof. Wole Soboyejo asked the graduating  students to prepare ahead of the task of using their knowledge of  science and technology to develop Africa .
"You are the agent of change that we hope will transform our continent. You should, therefore, use your skills and knowledge to do things that add value to our continent and its people.
"As you make your choices, let wisdom be your guide and do not be afraid to take calculated risks. Follow your passion, strive towards perfection and lead lives of service. You will also live through a period in which Africa will become the fastest growing continent and you must be one of the drivers.