By JOSEPHINE IGBINOVIA
Addressing her by the conventional title "First Lady…" should have been the norm here, but this is one unique woman who has refused to be addressed by that title. She simply prefers to be called "Wife of the Governor of Ogun State".  In her opinion, such bourgeois titles like "First Lady of.." are distracting.
A graduate of English Education from the University of Ife with a Masters in Guidance and Counseling from the University of Lagos, this charming woman started her education in the United Kingdom where she concluded her primary school education before moving to Yejide Girls Grammar School in Ibadan.
She returned to the UK where she began her working career in the 1990s, after graduating from Ife. As the wife of a former senator and now a governor, she's over the years contributed her own quota to societal development by supporting her husband's foundation, Senator Ibikunle Amosun-SIA Foundation.
Through her Understanding People's Limiting & Inhibiting Factors Today- UPLIFT Development Foundation, she has through the years demonstrated her commitment towards the well-being of the people of Ogun State. Little wonder she was recently awarded the 2013 City People Award for Excellence as the Best First Lady of the Year.  In this interview with Vista Woman, Her Excellency, Mrs.Olufunso Amosun, talks about her UPLIFT Foundation amongst sundry issues.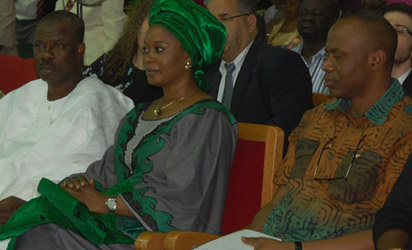 What's your pet project all about?
No. I do not have a pet project; I simply reach out to anybody that I can help in the society. UPLIFT Development Foundation has always existed even before my husband became a governor. The foundation's activities are divided into six groups namely: Uplifting the Widows, Uplifting Unemployed Graduates, Uplifting Women, Free Eye Camp, Uplifting the Aged and Uplifting SS3 Students. In the course of our work with widows, we've supported indigent widows with business start-up items such as salon starter kits, table top gas cookers, sewing machines, soft drinks business starter kits, to mention but a few.
May & Baker has also supported us by registering interested widows as bonafide distributors, waving cumbersome requirements or monetary deposits. To address youth unemployment amongst university graduates, we also empower graduates with vocational skills, business start-up seminars and materials.
As a demonstration of our sensitivity, for graduate mothers, we provide emergency crèches so they too could have the chance to take advantage of the programme. These graduates are taught skills such as barbing, wireworks, millinery, fabric beading, small chops and pastry, event decoration, manicure and pedicure, shoe making, makeup and gele tying, to mention but a few.
We've also placed priority on the empowerment of women in the state. Therefore, we've distributed deep freezers, motorcycles, generating sets, sewing machines, grinding machines, among other items at distributorship prices to be purchased by members of established cooperatives within the state. They are given the chance to spread the repayment for these items over a 12-month interest-free period.
You also highlighted the organization of a free eye camp; of how much value has this been to the people in the state?
I would humbly say this has been of great benefit to thousands of indigent people in Ogun State. Eyesight is something that can be easily taken for granted and that's why we've stepped up our awareness campaign to reduce loss of sight in the state. We are generally passionate about the health of the people in our state, especially the less privileged.
In February 2012, UPLIFT collaborated with Tulsi Chanrai Foundation and Enpee Group to organize a free eye camp for over 4,000 people from the 20 local government areas of the state. An event such as this became particularly necessary with my observance over the years.
I mean, it's painful to see people go blind simply because of cataract, a disease that could have been cured easily through medical treatment. Ignorance has caused a lot of less privileged people their sights, and that breaks my heart. After the free eye camp, we also carried out free surgeries where necessary.
A huge number of senior citizens have over the years decried neglect, both by government and even their children. How is Uplifting the Aged addressing this situation?
That's a beautiful question. Through our programmes, we're giving a sense of belonging to aged people in the state. During my husband's birthday in 2012 for example, instead of felicitations, we invited over 1000 aged persons to join him in celebrating his day.
We gave them health tips at the event, including free medical screening. Realising this was just one day in the life of these people, on my birthday last year, 100 of these indigent aged citizens were identified and have now been put on a monthly plan to receive essential commodities and a monthly stipend to assist them in their daily lives. We also have other programmes for these people which time will not allow me mention.
You said earlier that you also work with SS3 students; why have you chosen this category of students?
Over the years, the standard of education has pitifully dropped in Nigeria as a whole for various reasons. Choosing SS3 students is a strategy aimed at increasing the motivation of students and to also complement the free education scheme and free text books given all students by my husband's administration.
As a guidance counselor by profession, I believe in motivating people through a reward system of some sort. Throughout the Senior Secondary Certificate Examination in 2012, we had jingles on radio and television, informing all SS3 students of the cash gifts and all-expense paid travel trip rewards that awaited the best 20 students. This strategy, to the best of my judgment, actually worked.
You were recognized by the City People recently as the Best First Lady of the Year 2013. If you were to be your own judge, would you say you deserved and actually earned this award?
I would like to believe so to the glory of God. I've never gone personally to receive any award, but when that came, stating all the work that I had done, I knew I had to be there myself since it was obviously being given based on merit.
You seem a calm and easy-going person; how are you able to manage the home front for a top politician like your husband?
Well, I guess it has become part and parcel of me and also a way of life because we're not new in politics. As you know, my husband had been a senator before becoming a governor. So, it's just basically a way of life for me.