BY JOHN EGBOKHAN
Ex-internationals Christian Nwokocha, Andy Atuegbu and Dehinde Akinlotan have said that the  disengagement of some members of the Super Eagles technical crew was capable of derailing Nigeria's bid to qualify for the 2014 World Cup in Brazil.
1980 Nations Cup winner, Sylvanus Okpala was the highest ranking member of the coaching crew who was relieved of his position by the Nigeria Football Federation and reacting to the development yesterday, the former Green Eagles heroes, who now live in the United States of America, said that they were baffled with the decision to sack these key actors in the middle of an ongoing World Cup assignment.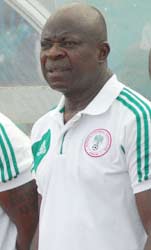 According to Nwokocha and Atuegbu,"the Super Eagles have very crucial games coming up and we feel coach Keshi should be allowed to work in the best environment in order to continue with his progressive agenda. Despite winning the African Cup of Nations, it seems that he is walking on a thin ice, because all his moves are being scrutinized by the football administration.
"The covert plan to fire him is very myopic by the football administrators. For the Super Eagles to maintain their successful path, Keshi, his staff and the players he picks, should be given all the utmost tools and encouragement to succeed', they added.
The duo also urged the Presidency to wade into the issue by constituting an independent body to immediately look into this ugly crisis that is about to derail the progress of the Super Eagles.
"Association of Nigerian Ex-international in the Diaspora is in total support of Pauk Okoku's statement alluding that there is vendetta against the coaching staff. ANED are imploring on our President, Dr Jonathan Goodluck, Gov. Peter Obi,Gov. Fashola , Alhaji Aminu Maigari , Commissioner of Sports and sports loving Nigerians to stand firmly behind the National team. A winning team should not be dismantled piece by piece by offering lame excuses; the team should instead be augmented. ANED, are justifiably concerned that the post victory assurances and promises were delusional.
In his own reaction, Akinlotan said that "I believe we are all on the same page about the unjust treatment given to Keshi. I think by now the NFF should be thinking of the way forward to the 2014 World Cup in Brazil and not picking up fights with the Chief Coach or his backroom  staff. And from the look of things, I don't think the NFF is happy that we won the Nations Cup, and the idea that everyone recognizes the team and the coaching crew with laurels and gifts is a major problem for the NFF because they are not making any profit from all the goodies bestowed on the Super Eagles".
Subscribe for latest Videos