LAGOS –  LAGBUS Assets Management Ltd.– Operator of LAGBUS intra-city buses in Lagos State, has ordered its members of staff to start screening passengers and luggage to enhance security.
Mr Babatunde Disu, LAGBUS Managing Director, who gave this order, noted that the development became necessary following the current security challenges in the nation.
Disu advised commuters to co_operate with the routine checks and urged LAGBUS staff to be polite and courteous to passengers.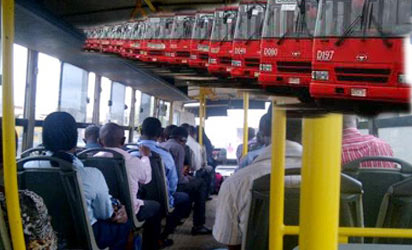 "We need to be security conscious in times like this, and we must not be careless in our operations; our lives and that of our users are very important to us.
"You have the right to check the passengers and their luggage, and anyone who fails to summit should forfeit boarding.
"I am using this medium to urge our passengers to support this development as it became necessary following the recent bombing attack at a Kano motor park by the Boko Haram sect," he said.
Speaking on the development, ASP John Umore, Officer_in_charge of the Bomb Detection Squad, Nigeria Police, Lagos Command, urged LAGBUS staff to be watchful and vigilant of strange persons and luggage at bus stations and parks.
"You need to be watchful in the course of your duty. Check your buses properly before and after loading.
"We also want to encourage proper monitoring of goods brought to the parks, check what comes in and goes out of buses," Umore said.
The police officer noted that Improvised Explosive Devices, I.E.D, – favoured by terrorists–  could be in containers, like soft drink cans
Umore added that drivers should guard against abandoning of luggage, filthy environment and indiscriminate movement of strange persons and visitors.
Olu Ogunmankin, Deputy Head of Operations, LAGBUS, urged its staff to desist from all forms of embarrassment of passengers, stressing that they should learn to be polite.
Ogunmankin advised LAGBUS drivers to always ensure that their vehicle doors were always closed when buses are waiting for loading, so as to prevent the throwing of susceptible objects into them.
He called for the cleanliness of LAGBUS buses, and ordered that no dirty bus should be allowed to ply any route henceforth.
"I have received lots of complaints that our buses are dirty. As from now, officers should monitor the cleanliness of buses. A vehicle that is dirty should not be allowed to load passengers again," he said.
Mr Yemi Odubela, Executive Director, LAGBUS, directed its members of staff to always wear their identity cards to distinguish them when on routine checks.
"LAGBUS is one of the eyes of government in this time of insecurity; so, we want all our staff to be at alert in the various parks and put on their identity cards for identification''.