By Emmanuel Aziken, Henry Umoru, Victor Ahiuma-Young & Abdulwahab Abdulah
ABUJA—THE Presidency, Thursday, declared that the stabilising role the former Governor of Bayelsa State, Diepreye Alamieyeseigha played to ensure that oil in the Niger Delta was not cut off earned him the state pardon even as the Nigerian Labour Congress and civil society groups insist that the state pardon granted Alamieyeseigha was unacceptable.
Addressing journalists in Abuja, Thursday, Senior Special Assistant to President Jonathan on Public Affairs, Dr. Doyin Okupe, argued that since his release from the prison, Alamieyeseigha had been assisting President Goodluck Jonathan silently to ensure that the amnesty programme of the Federal Government succeeds.
He noted that no state pardon will remove the fact that the former Bayelsa governor was criminal, stressing that state pardon was for criminals.
The Presidency, however, appealed to Nigerians and members of the civil societies for open mindedness on the pardon granted the former Bayelsa governor, even as it reminded Nigerians that Alamieyeseigha was removed from office in a manner that was suggested by many as not being entirely above board.
Okupe stressed that the former governor had suffered enough for his sins these years and demonstrated enough soberness after he served his sentence. He added that with the pardon he was now a free man to engage in any endeavour he would wish to go into, even contesting for elective positions.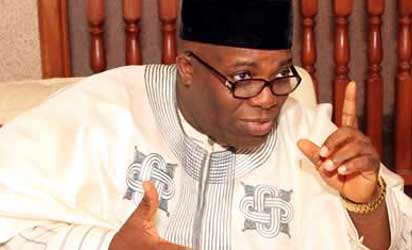 "Pardon is for criminals"
Okupe said: "I want to state categorically here, that state or presidential pardon is not intended for nobility or saints. In general, a state pardon is for those who have committed crimes and breached the laws of the land and may or may not have been tried or convicted regardless of their social status.
"He lost his position, forfeited the property illegally acquired and has demonstrated enough soberness after he served his sentence. It is out of place to suggest that the pardon is tantamount to abandoning the fight against corruption in Nigeria. This is too far from the truth.
"People have stated that President Jonathan said publicly that Alamieyeisegha was his political benefactor. This is a display of extreme humility and honesty on the part of Mr. President.
"In this day that virtually all political benefactors usually turn into enemy number one and are therefore hounded to the ground by the incumbents.
"It was God and providence that lifted President Jonathan over and above his former political boss. But in truth Alamieyeisegha, since he left prison, has been working strenuously and silently to assist the President stabilise the amnesty in the Niger Delta Region.
"Alamieyesiegha is a foremost leader of the Ijaw nation, and his political and stabilising influence in that region have impacted positively on the overall economy of the nation, bringing crude oil exports from the abysmally low level of 700,00 bpd to over 2.4 million bpd.
"Therefore, it is obvious that Alamieyeseigha has been a major player since his release from prison in ensuring that the blood that runs through the Nigerian economic artery is not cut off."
Okupe, who asked why the state pardon must form the centre of discourse now, said late Chukwuemeka Odumegwu Ojukwu, whose actions led to the loss of thousands of lives and property, was equally granted state pardon.
The Presidential aide said: "In Nigerian history, great and eminent men, who have been crucified for one crime or the other have been pardoned by past Presidents and such men have lived thereafter to further enhance our political and socio-economic development.
"Amongst those are our respected departed sage, Chief Obafemi Awolowo and the revered Ikemba Nnewi, Chief Odumegwu Ojukwu, who continued after their pardon to contribute immensely to Nigeria's social, political and economic growth till death.
FG deceiving Nigerians— Falana
Meanwhile, Lagos lawyer and right activists, Mr. Femi Falana, has described the amnesty granted some former military bigwigs, including Gen. Oladipo Diya, late Gen. Abdulkareem Adisa and other condemned military officers by late Gen Sani Abacha as a hoax.
He maintained that all the military officers condemned for military coup by the late Head of State as well as Senator Chris Anyawu, have been granted amnesty by the former Head of State, Gen. Abdusalami Abubakar before he handed over the rein of power in 1999.
He said: "Generals Oladipo Diya, late Abdulkareem Adisa, Col. Fadipe, Sen Chris Anyawu and others were pardoned by Gen Abdusalami Abubakar in 1999. There is statutory instrument that backed this up.
"The presidency should stop playing on the collective intelligence of Nigerians since there is no provision for double pardon under the law. In view of the grave official error, the list of the convicts granted unconditional pardon should be reviewed to avoid any further embarrassment."
He, therefore, called for an immediate review of the exercise to redeem the damages.
Pardon's a setback — Civil society
Civil society groups, working on anti-corruption and good governance, in Nigeria expressed shock at the presidential pardon granted to former Alamieyeseigha, saying it was a serious setback for the anti-corruption battle in the country.
The groups, at a joint press conference in Abuja, yesterday, said beside sending the wrong message that corruption pays, they alleged that it could also discourage anti-corruption agencies in the country.
The press conference was addressed by Auwal Ibrahim Musa, Executive Director of the Civil Society Legislative Advocacy Centre, CISLAC, and other heads of the civil society community in Abuja, including Babatunde Oluajo, EzenwaNwagwu, Y. Z. Yau, Jaye Gaskiya and Tunde Aremu.
They represent groups including Zero Corruption Coalition, United Action for Democracy, Alliance for Credible Election, Acton Aid Nigeria, Women in Nigeria and Policy and Legislative, among others.
While calling on President Goodluck Jonathan to reverse the action, the groups said: "This action of the Jonathan's administration raises concerns about its commitments to the acclaimed fight against corruption.
"It is a naked dance in the public place, especially when weighed against the arrogant and contemptuous manner with which the Presidency has told Nigerians that it has no apology for the presidential pardon.
"We in the civil society are convinced that the focus of the whole presidential pardon of President Jonathan was Mr. Alamieyeseigha, except that it was only deceitfully window-dressed by adding a few other names."
NLC reacts
On its part, Nigeria Labour Congress, NLC, yesterday, said the entire Nigerian workers were alarmed by the decision of the National Council of States to pardon Mr. Diepreye Alamieyeseigha and Mr. Shetima Bulama a former Managing Director of the Bank of the North, saying it was not in the national interest.
NLC, in a statement by its President, Abdulwaheed Omar, said while Alamieye-seigha was impeached as Governor of Bayelsa State and eventually convicted by a properly constituted court for stealing public funds, Bulama was also convicted for misappropriating the bank's funds.
According to the statement, while Council of States did have a constitutional responsibility to pardon citizens who obviously had been convicted or punished in the past for offences, it was totally unacceptable that those who committed economic crimes in such magnitude that affected public interest be granted state pardon.
The statement read in part: "We still wonder what message the National Council of State is sending to Nigerians if at the height of unprecedented corruption in the country those who have been prosecuted and jailed for stealing public money are granted state pardon.
"The Congress finds incongruous the state pardon granted to the former governor of Bayelsa State, Chief Diepreye Alamieyeseigha and Mr. Bulama.
"While like other citizens, they may be entitled to state pardon, Congress believes that the crimes committed are too weighty for state pardon.
"It is our view that state pardon remains an act of mercy or reprieve dispassionately exercised or granted by the highest authority in the land for and on behalf of the government and people, and it should be a last act of mercy sparingly exercised for the good of the nation."