By Laju Arenyeka
Congratulations to Nigerian music icon, Two Face Idibia and wife Annie who had their white wedding in Dubai during the weekend. Finally, the man has given all his 'body and soul' to one 'African queen.' You can read all about it somewhere else, but there are some memories that the Dubai wedding conjures up; one of them is when U.S pop singer, Nicki Minaj was nearly arrested in the UAE capital for hugging a guy.
Narrating her experience, the singer said: "I went to Dubai. I almost got in so much trouble because the guys in Dubai are so cute. It's not even funny. One of the rules is you can't hug a man if you're not married to the man. And so when we were leaving, there was this one guy that was so freakingly cute, I was like, 'Bye!' because I just wanted to have this one last moment to…savor the moment with him…"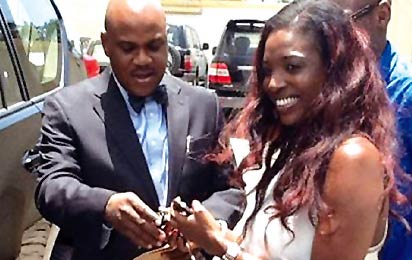 Two Face and Annie are married, but aren't we a little bit concerned about the other celebrities who travelled? Dubai authorities let an American citizen off the hook, but all those Nigerian celebrities should please come home and not show their love till they are safely on Naija soil.
Then um…there's this other gist about Senator David Mark giving the Idibias a N47 million   sports car. However, in a statement by his spokesperson, Kola Ologbondiyan, Mark did not give a N47m Ferrari car to Idibia contrary to reports on social sites.  Such reports are wicked, ridiculous and irresponsible."
He said. Mark's spokesman went on to say that the Senator did not present any such gift to the Idibias and that he was not present at their wedding. Forgive the sensationalism, but one can't help but wonder: if the scandal was that David Mark could not send any representative to the wedding of such an international superstar, no doubt the press statement would be on the flip side.
One more thing, Akwa Ibom state government governor Godswill Akpapio actually gave the couple a Toyota Prado. The car costs about N11 m.  The Governor also said that he sent 20 of Annie Idibia's family members to Dubai with about "N3m only."
Two face has more fans in Nigeria than Kim Kardashian, so we will not mention what benefit N14m could have been to the citizens of Akwa Ibom state…besides no one asked the state governor for an expensive wedding present. Enough said, let Akpabio face the fury of the hundreds of widows in Akwa Ibom State who trooped to the Government House, Uyo, urging him to empower them financially so as to enable them establish small-scale businesses. After all, they are also true daughters of the state who stood with their husbands through thick and thin.
Just one last thing to consider before we sign out: if Senator David Mark didn't give the couple that car, then who did?
PS: Welcome home, Peaceful Peace-Ngozi Nwosu, the devil has been put to shame in your life. Continue being an inspiration to those who look to God for good health!