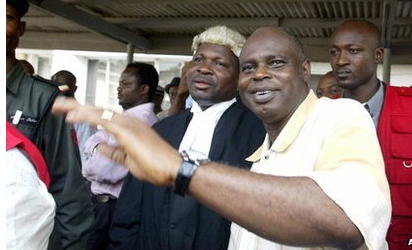 file: Alamieyeisegha
By Emmanuel Edukugho
President Goodluck Jonathan is facing scathing criticism from a cross section of the Nigerian people which seemed unabated, over a presidential pardon granted to impeached former governor of BayelsaState, Chief Diepreye Solomon Peter Alamieyeseigha, convicted for money laundering and corrupt enrichment.
Former Managing Director, Bank of the North, Mr. Shettima Bulama, also convicted of fraud, are the duo in the list of VIP ex-convicts whose pardon vis-a-vis the fight against corruption caused intense public outrage.
The target of the presidential pardon was Chief Alamieyeseigha, erstwhile boss of President Jonathan who was Bayelsa Deputy Governor before Alamieyeseigha was impeached and later convicted for financial crimes, paving way for him to become Governor, then picked as running mate of late President Umaru Yar'Adua in the 2007 presidential vote. As fate would have it, President Yar'Adua died of a terminal illness shrouded in utmost secrecy while in office and Goodluck Jonathan emerged president to finish Yar'Adua's term, fielded by the PDP in 2011 presidential election and won convicingly.
So it was pay back time for President Jonathan to reward Alamieyeseigha (Governor-General fo the Ijaw Nation) with a presidential pardon to a political benefactor.
Others who got the pardon announced after the council of state meeting presided over by President Jonathan with some former heads of state, ex-presidents, retired Chief Justices of the federation and others in attendance, were: Late General Shehu Musa Yar'Adua, one-time Chief of General Staff during the dreadful military regime of General Sani Abacha, late Major-General Abdulkareem Adisa, former Minister of Works in the Abacha administration, Rtd. Major Bello Magaji, Rtd. Major Segun Fadipe, Mohammed Lima Biu.
These persons mainly implicated in an alleged coup to topple Gen Abacha, their conviction was seen as political to get rid of those perceived as opponents or enemies of the ruling junta, were probably used as cover to grant pardon to Alamieyeseigha.
His inclusion on the list was Jonathan's master stroke to reconstruct the political life of his mentor and reintroduce him back not only into Bayelsa politics, but also to national political relevance after a highly disgraceful, shameful and criminal antecedent.
There is no gainsaying that the president was exercising the prerogative of mercy granted him in the relevant provisions of the 1999 constitution of the Federal Republic of Nigeria.
In a statement by the National Chairman of the People's Democratic Party, PDP, Alhaji Bamanga Tukur, he affirmed that the pardon was granted within the law.
"The PDP did not see President Jonathan committing any breach of our laws by granting the amnesty. He allowed the constitution to guide his steps. Moreover, he consulted widely before taking the step and don't forget that the government announced the amnesty after a council meeting. We should stop harrassing him because…" Alamieyeseigha became Bayelsa governor in 1999 during the return to democratic dispensation after a long military rule and got re-elected in 2003 for a second term.
Trouble started for him in 2001 over allegation of N50 billion fraud. He was alleged by a former speaker of Bayelsa House of Assembly to have looted the state's funds by using his companies to transfer some of the loot to his foreign accounts.
At that time, it was not ascertained the exact amount BayelsaState received from the derivation fund, allocations from the Federal Government or Internally Generated Revenue (IGR).
Later petition was written against him in which he was accused of approving contracts and payments to eight fictious companies without following due financial regulations. Some of the contracts were said to be non-existent while the beneficiary companies were fake.
Under his administration, the Bayelsa State Tenders Board was alleged to be issuing contracts to fake companies. He was alleged to have acquired landed property with ill-gotten wealth make from the deals.
His action conflicted with a secton (19) of the corrupt practices and other Related Offences Act (2000).
An investigation thoroughly conducted by the Independent Corrupt Practices and other Related Offences Commission (ICPC) indicted the governor. The investigation was completed in January 2003 with report written and submitted accordingly.
While in Britain sometime in 2005, he was arrested for money laundering as the London metropolitan police found one million pounds cash in his London house. He escaped from detention by allegedly disguising as a woman in December 2005 and returned to Nigeria. He was subsequently impeached on December 9, 2005 by the Bayelsa State of Assembly and arrested immediately after by operatives of EFCC to face trial on charges bordering on money laundering and corrupt enrichment. He was sentenced to 12 years in imprisonment in July 2007 by a federal high court in Lagos for corrupt practices.
The Nigeria Labour Congress (NLC), reacting to the state pardon, in a statement titled, "Withdraw state pardon in National interest," flayed FG's decision to grant pardon to Alamieyeseigha convicted for stealing public funds when he was the governor of Bayelsa State and Shetima Bulama, former MD, Bank of the North convicted for misappropriating the bank's funds.
"It is totally unacceptable that those who committed economic crimes in such magnitude that affected public interest be granted state pardon.
We still wonder the message the national council of state is sending to Nigerians if at the height of unprecedented corruption in the country, those who have been prosecuted and jailed for stealing public money are granted state pardon. The congress funds it incongrous the state pardon granted to Alamieyeseigha and Bulama," the NLC bemoaned.
While calling on the National Assembly to begin the process for Jonathan's impeachment over the controversial state pardon to Alamieyeseigha, Congress for Progressive Change CPC, described it as "pardon for brazen criminality."
By this action, the CPC asked if the Jonathan government is not  festering the cankerworm of corruption and implicity encouraging the succeeding generation on  imbibing that culture.
Several Civil Society Organisations have condemned the pardon to Alamieyeseigha and wanted the decision reversed to enable the fight against corruption and graft to be seen to be on course and get world support, confidence and assistance.
On its own part, the United States of America has denounced the pardon, calling it a setback to the fight against graft in the country.
The US is likely to cut aid amounting to billions of naira to Nigeria.
Its embassy in Nigeria said it was deeply disappointed over the pardon to a convicted looter of public funds.
There are indications from US sources that President Obama's likely visit to Nigeria may be shelved as a result of the pardon even as this country has been excluded from a planned summit between President Barack Obama and some African leaders on how to strengthen democratic institutions in the continent.
Nobel Laureate Wole Soyinka joined the bandwagon of Nigerians who are condemning the pardon granted to Alamieyeseigha while speaking at a press conference recently in Lagos.
His words: "The pardon given to a notorious felon who is still a wanted man in the United Kingdom on certain charges. He jumped bail and this is not a credit to you and me.
It is not a question of the money laundering and corruption, but for the fact that an officer of the law, which a governor is in this country went to another country and broke the laws of that nation, I believe that such a person should stay quiet and not bring himself into prominence or be brought into prominence as being representative of what is pardonable in the society."