BY DAPO AKINREFON
Mr James Okpara is Special Adviser to Abia State Governor on Public Relations. Okpara, who is a member of the Peoples Democratic Party (PDP) in Bende Local Government Area of the state explains why the local chapter resolved not to re-admit the former governor, Dr Orji Uzor Kalu. Excerpts:
There is controversy between the Abia State Government and former Governor Orji Uzor Kalu on his membership of the PDP. While the former governor says he is a legal card carrying member of your party, the government insists he is not. What is the true position of things? 
There is no iota of controversy in this matter. The State PDP chairman and chairman of PDP in Bende Local Government Area and other party leaders and stakeholders have severally addressed this issue.  But to answer your question, Orji Kalu is not a bona fide member of the PDP. The party card he is brandishing is fake. It is not genuine.
The reasons are very simple and I will enumerate them as follows. First, every ward has her own serial number and the number of Orji Kalu's purported card is different from that allocated to his ward by the party. Second, there is a Register of PDP members and Orji Kalu's name is not in this Register. Can you validly be a member of an association without your membership being registered in the Register of members? Third, The Ward chairman and executives who purportedly gave him the card were no longer members of the PDP on the date they gave him the card. Can you give what you don't have?
Fourthly, in a resolution made on November 14, 2012 by members of the Bende PDP, it was unanimously decided that Orji Kalu shall not be readmitted into the party because "Chief Orji Uzor Kalu has a minus electoral value and we do not want to be infected by his political virus which will irreparably damage our great party".
Please note that the Igbere Ward chairman who purportedly gave him the membership card attended the meeting and signed the resolution. This resolution was published in many newspapers including The Nation newspaper of November16, 2012 and Thisday of November 21, 2012 . What actually happened is that somebody in his usual way of believing that he is smarter than every human being alive went and printed his own membership card and started shouting that he is a member of PDP. If I want, I can get any printer to print the membership card of any party for me. It is the simplest thing in the world to do.
Fifth, can you be a member of two different political parties at the same time? On the day Orji Kalu purportedly received PDP card, executives of Progressive Peoples Alliance (PPA) visited him. Kalu is the founder and owner of PPA. Therefore, can he be a member of PPA and that of PDP at the same time? The answer is no.
But by rejecting Kalu's readmission into PDP, isn't the state government infringing on his freedom of association? 
It is wrong to imply that the rejection of his purported readmission back to PDP is being driven by the state government.
Please remember that  it is his own people, those who belong to the same constituency with him that vehemently said no when the rumours were strong that he was planning to come back to PDP. Stakeholders of the party and members from Bende have, at least two separate occasions, unanimously stated that they do not want Orji Kalu in their party.
On your question of infringing on his freedom of association, don't you think that the freedom of association of 99.9% of PDP Bende members will be breached by the readmission of Orji Kalu into their party?  The Bende PDP members in their Resolution of November 14, 2012 stated that "the constitution and the extant laws of Nigeria recognizes freedom of association.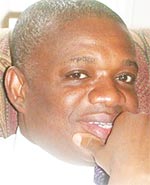 That friendship or association is by choice and not by compulsion, fiat or coercion". In order words, you cannot force me to be your friend or associate with you. You have the right to say that you want to associate with me but in the spirit of freedom of association, I have the right to say sorry, I do not want to be your friend or associate with you. Is friendship or association by force?
What exactly is the reason for this massive opposition? 
The antecedent of Orji Kalu is negative. During his administration, there was no development in Abia State . Government affairs became a family business.  Let Orji Kalu take you around Abia State and point out one thing that he did in his eight years in power. There is nothing positive that will come out from him and our people are tired of quarrels and distractions.
But many people will say the present administration has not fared better in terms of developing the state. The refrain is that nothing is happening in Abia…?
Honestly, I am not saying this because I work for Chief T A Orji. He is doing an excellent work in Abia State. This is one of the distractions we are talking about. Some people have been specifically instructed to run down the government. Let those who are alleging non-performance by the present administration come to Abia and see things for themselves.