By Nnamdi Ojiego
The Nigerian national coach, Stephen Okechukwu Keshi has reportedly tendered his resignation letter to the Nigerian Football Federation, NFF, in less than 24 hours after he guided the Super Eagles to 3rd Afcon glory in South Africa.
According to goal.com, Keshi's resignation was as a result of his purported sack by the federation before the quarter final match as NFF had booked a plane back to Nigeria as soon as they found out that Eagles would play the star-studded Ivory Coast.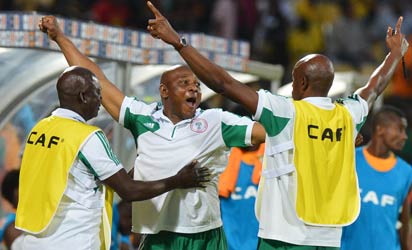 According to the website, Keshi had claimed on Metro FM that "he heard about the arrangement made by the NFF after the Mali game, and that he did not want to take it to mind as it would have affected his teams preparations."
Goal.com also said that the Super Eagles handler had informed it few days before the final, that he would 'pack his bags and leave' if he felt he was not wanted.
Meanwhile, Keshi's resignation letter still has to be discussed by the NFF. However, the coach says he is unlikely to change his mind, because he believes that NFF did not trust and respect his tactics as a coach.