By Victor AHIUMA-YOUNG
AGGRIEVED job seekers have petitioned the Senate and the Federal Character Commission, FCC, urging them to probe recent recruitment exercise conducted by the Petroleum Equalisation Fund, PEF, claiming it was without due process and the principle of Federal Character.
In a petition by no fewer than 11 applicants, dated January 21, 2013, to both the Senate and the FCC, they claimed to be graduates of different universities in the country and that the management of PEF recruited over 80 persons without recourse to rules and regulations governing recruitment into the public service.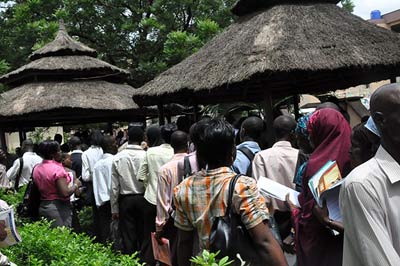 According to them, PEF management did not give a level playing field to all Nigerians in their recruitment process, to favour their alleged candidates, saying "the management of PEF did not follow due process by publishing/advertising existing vacancies in any national news daily as stipulated by the statute thereby depriving us of the opportunity to participate in the interview or selection exercise which was held between 3rd and 17th January, 2013," they stated in the petition.
The protesting applicants explained that, while they bore no grudges against those employed by the organisation, they were offended by the process that clandestinely gave them "employment without regards to the principle of Federal Character as enshrined in the 1999 Constitution of the Federal Republic of Nigeria."
They said that it was saddening since the promise of the Federal Government to create jobs for unemployed Nigerians and give equal opportunity to all irrespective of religious affiliation, financial capacity, ethnic and social background, were being undermined.
The aggrieved job seekers argued that the FCC was established, which the National Assembly was in support, to check flagrant abuse of processes and procedures of recruitment by various government establishments, including PEF.
They urged the Senate and the FCC to seriously look into their petition alongside similar petitions such as the Nigeria Immigration Service.