By Denrele Animashaun
"I have been impressed with the urgency of doing. Knowing is not enough; we must apply. Being willing is not enough; we must do."- Leonardo da Vinci.
The blinkers are finally slipping off the eyes of die-hard Nigerians, who have just cotton  on to what many have been saying so loudly, for so long. It is one that they customarily brushed aside, with the usual "God save Nigeria! Or "Nigeria will get better".
Such gullible people do so because they are fearful of  causing  a ripple or they do not want to face the facts that Nigeria has been progressively  declining for so long and they failed to be part of the solution. Well, the penny (or the Kobos) has finally dropped.
The perception index of Transparency International ranked Nigeria 144th out of the 146 countries, beating Bangladesh and Haiti to the   enviable last position, is  nothing  to  be  proud  of.
The United States was amongst the countries that have been  very vocal that Nigeria is not doing enough to tackle corruption and they went as  far as  to describe the Jonathan led administration as ineffectual; not implementing the law,  but perpetuating and engaging in corrupt practices with unrivalled impunity.
They said in 2011, that "There was a widespread perception that judges were easily bribed and that litigants could not rely on the courts to render impartial judgments," and that "citizens encountered long delays and alleged requests from judicial officials for bribes to expedite cases or obtain favourable rulings."  Sounds  familar then?  So nothing  has   changed then?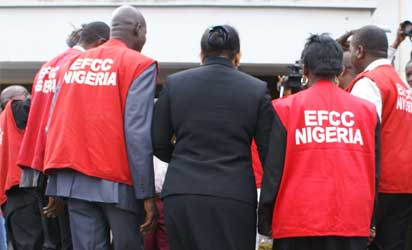 Anti-corruption laws in Nigeria seem to be about  window dressing, grand standing as the practice pervades thevery stratum of our society. The worse of all is that the practice continues unabated without fear of consequences. It seems the higher up the corruption, the more the licence to continue without scrutiny or they  seem immune and above the law.
Pardon me  for  stating  the  obvious: Our  justice  is an ass. We have known  this all along but we hoped that there are those  who are sworn to  uphold the  law  and  dispense justice to deter  wrong  doings and   punish  the guilty will adjudicate without  bias  and dispense appropriate sentence that  fits  the  crime .
Ordinary Nigerians  are  left exposed and  with  no system to  protect  and serve the  interest  of  any law abiding citizens.
So when will we collectively realise why there is so such fecund jungle justice, mob rule and anarchy in the country? We all know what is wrong with Nigeria but it is exasperating that it took this long for people to seek restorative justice?
The latest miscarriage  of  justice  is the  final  nail in  the coffin  on  common decency.
Here is  the present situation in Nigeria: the  police  cannot serve  or  protect  the  citizens; our   politicians  are hell-bent  in plundering the national coffers, misappropriating funds  meant  for essential services, safe  roads, health  care, education and maintenance of  structures  and systems. So the  last  bastion of legal protection  and  the defender  of   law can  be   bought and it is  patently peddling its services  to every get rich, disgraceful law breaking common, grand- scale thief.
In  Abuja, there was an  understandably public  outcry to   reaction of    the   two-year  sentence   for John Yusuf, a  former  director on the  police  pension  office, who  pleaded  guilty   for stealing N23 billions of  N40 billion stolen  from  the  Police  Pension fund  ( as  if  the  police  aren't  in enough trouble  already) was  staggering, it  is shocking the  amount  that  was  stolen.
Then what  happens next  could  have  been  the  stuff of  movies, sadly it  was  not, the Presiding Justice, Abubakar Talba  in  his immeasurable  wisdom,  gave  this  grand thief a get  out  of  jail  card… an option of N750, 000 fine. Of   course, the thief took the option, it  is nothing  to  him just  loose change. He paid and went home to his ill-gotten wealth. So who tells you that crime   does not pay? John Yusuf knows so!
What  message  is  this  man  of  the  robe sending  out to the  likes of Yusuf; that  crimes pay  and it buys legal  preferential treatment. Six days prior to the Abuja judgement, an Abeokuta Magistrate Court sentenced 49-year-old, Mustapha Adesina, to two years imprisonment for stealing vegetables worth N5, 000. Adesina had an option of N10, 000 fines.
He was jailed under Section 309 of the Penal Code Act, Cap. 532, Laws of the Federal Capital Territory, Abuja, Nigeria. The law says Adesina who stole vegetables worth N5,000  is   far  worse  than someone who  stole N23 billion,  and  besides, he  was not   clever enough. He   should  have  stolen more  so that he  can   buy  his freedom with a  relative  paltry  sum.
It is natural for people to act when they have been pushed so far and there is nowhere left to go. So when pushed  to  the  absolute  edge,  there are only   two  options: to  fight  or  flee . They have to fight with whatever is left.