By Onochie Anibeze
Finidi George is one of the heroes of the revolution Clemens Westerhof launched in Nigerian football, a tremendous effort that saw Nigeria rank the 5th best football country in the world. It was a feat many doubt if it can ever be achieved again in this millennium. We called Finidi's house in Spain and asked him what he thought of the two teams, advice to the Eagles and what it feels like playing in a cup final of this nature. He said the following:
"I'm excited about the performance of Stephen Keshi and his team. Sometimes, it is good to enter a tournament as underdogs. It reduces the pressure on you. We have a good team and we should be able to win. I'm particularly hoping that we win so that our authorities can begin to respect indigenous coaches. Our people easily fall for European coaches. And most times they hire the ones who are not better than our coaches.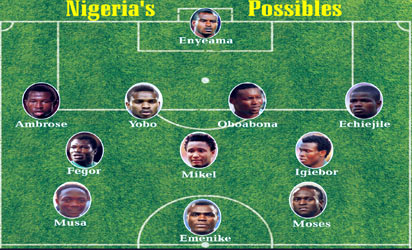 "The only difference is the skin and that's what they respect. I'm not condemning foreign coaches but we appear to generally have complex and we go for any white man in the name of foreign coach. What Keshi is doing now is good. Even if he is no longer there in Nigeria, his success can open the door for other indigenous coaches who should be inspired by the success he has achieved so far and begin to work hard. When you give somebody a national team coaching job, give him about four to five years to perform. If at the end of this period it is clear that he is not performing, you can then disengage him. But it is not so for our people. They sack under one year.
"We'll not develop that way. I want Keshi to win so that some people can shut up and respect indigenous coaches and encourage them to succeed. We should learn from our mistakes and move on. On the match against Burkina Faso, we will be playing against a team that can run for 90 minutes and they are not tired. They are physically strong, very strong players. I think that what we can do is to pass the ball around. Let the ball run and let Burkina players chase the ball. We must not go into duels with them because of their physical nature. Let the ball do the running. We pass, look for space and attack it. We should try to score and lead well just like we did against Mali. We need to play the way we played our last two matches. If we do, we will win the cup.
"The atmosphere is always electric on cup final days. We didn't enter the competition as favourites and we marched on to the final where some people now feel we are favourites. We should handle the pressure well and remember that we went in as underdogs. We should not, therefore, be carried away. You play in a cup final to win. No second chance. You must do more than playing. You fight as a team too. The fighting spirit must be there. You must fight on till the referee's last whistle. I think that we can win the cup and that will make not only our day but also our year."