By Denrele Animashaun
"We shouldn't be looking for heroes; we should be looking for good ideas." — Noam Chomsky
The world was reeling from the announcement that Pope Benedict XVI had announced that he would step down at the end of the month. It  was  a seismic announcement where I  was  and there all  manners  of conspiratory theory abound among which is; he is going to make  a  confession or  was  there an inside  job  in the  Vatican?
My  Italian friend, tells  me  that the  Italian  people had  seen this  coming.  Meaning  his frailty in the last  couple  of  mass  leading to  Christmas has deteriorated markedly but they did not  think  he  would  step down. I mean, no Pope had stepped down in the last 600 years.
So now the speculations  are mounting ; who  is to  replace the  pope? In living memory, the Pope could be an African, a Nigerian and a Ghanaian- two cardinals of African descent- Cardinal Peter Turkson and Cardinal Francis Arinze are rumoured to be on the short list.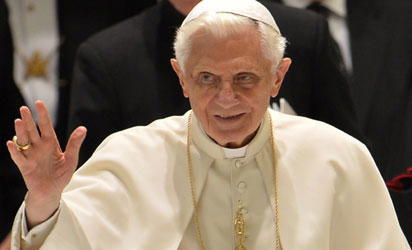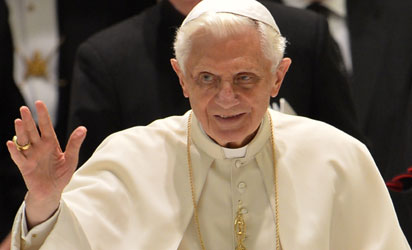 So if Cardinal Arinze  were to succeed the Pope, it  won't  be  a  first, according  to Catholic encyclopedia. There have been  three African popes : Victor (around AD 183-203), Mechiades or Militiades (possibly AD 311-314), and Gelasius (AD 492-496).
The  Cardinal's background is  impressive: he  was ordained 1958; consecrated bishop (Africa's youngest) 1965; first black archbishop of Onitsha 1967; called by John Paul II to Vatican in 1984; elevated cardinal 1985; president of Pontifical Council for Inter-religious Dialogue 1984-2002; prefect of divine worship and discipline of sacraments, 2002 to date. He wrote several books: Sacrifice in Ibo Religion, 1970; Answering God's Call, 1983; Alone with God, 1986; Church in Dialogue, 1990; Meeting Other Believers, 1997; Holy Eucharist, 2001; Religions for Peace, 2002.
Arinze said on family: "In many parts of the world, the family is under siege, opposed by an anti-life mentality as is seen in contraception, abortion, infanticide and euthanasia". The Nigerian papal candidate  is a favourite and on the  shortlist  was described by Gerard O'Connell, a Vatican analyst as "very  bright and astute, able  to  communicate in  simple  language. And that he has a great sense of joy""It has been a meteoric rise, who this week published a book of interviews with the cardinal, called God's Invisible Hand.
Moreover, Cardinal Francis Arinze shows his character in his own words:" I will not manoeuvre, I will not do politicking, I will not try to arrange my future."
And the pope, in the past had welcome the ideas that "electing an African pope "would be a positive sign for the whole of Christendom".   After all, the majority of Catholics are in the developing world and in thriving congregations. Cardinal  Francis should be elected the  new Pope, the papacy  will  be  in  safe  hands and Nigerians will be jubilant to  have  one  of  our  own in as  the  head of  the  Vatican.
The leaders of Nigerians should please note: if the holy  father, the pope could step  down, on the grounds of ill health and  the inability to carry out such  huge responsibility of  over one  billion  Catholics  then  it is  about  time mere  mortals  like  our  politicians step down or  loosen grip on  power  with  grace and  dignity!
What have we achieved?
"Wrong does not cease to be wrong because the majority share in it." — Leo Tolstoy
1960 was when Nigeria gained independence from Britain, but prior to that there was no country called "Nigeria". So pre -1914 it was a  collection  of  empires mostly part of modern day Ghana and Cameroon. Within geographical area there were the people, Ijaws, Igbos, Urhobos, Itsekiris, Yorubas, Hausas, Fulanis, Nupes, Kanuris, Ogonis, Gwaris, Katafs, Jukars, Edos, Ibibios, Efiks, Idomas, Tivs, Junkuns, Biroms, Agnas, Ogojas and many more. There were kingdoms like, Oyo, Lagos, Calabar, Brass, Itsekiri, Benin, Tiv, Borno, Sokoto Caliphate, Kano,Ilorin, Zaria and so on. These empires were independent states that traded with one another and co- existed.
It all changed in 1914, with the amalgamation of the Colony and Protectorate of Southern Nigeria, and the Protectorate of Northern Nigeria ruled by Governor-General, Lord Lugard.  Okay, the history lessons over.  What have we achieved as a country since 1914? Why should we celebrate failure, mediocrity and abandoned generations. For those who are old enough will remember the good and the bad. But there was more good than bad.
Well done!
My  hearty congratulations  to  Super Eagles  for  a fantastic  win at the  African cup  of Nations, it  was  well  deserved. The players were committed and disciplined. The boys deserve our respect and admiration. I hope it has  inspired a lot  of  young  people and  it  really  did inspire Nigerians  in  and  outside  the country
I   want  to  mention  the  efficient   service  at  the  Nigerian  High  Commission in  London. I have been told by quite a number of people using the visa office they have been happy with the result. They say that it  has improved so much that there is  no  need to wait ages for their  visa.